Did you know?
Asthma is one of the most prevalent chronic diseases worldwide
Most asthmatics have low Vitamin D levels
Adding Vitamin D decreases asthma: proven by many random controlled trials
(More Asthma info below)
Learn how Vitamin D is essential for good health
Watch a 5 minute video "Does Less Sun Mean more Disease?"
Browse for other Health Problems and D in left column or here
see also Supplementing and More in the menu at the top of every page
If you have a disease associated with low Vit D take Vit D
Raising your Vit D levels will substantially prevent other low-Vit D health problems
Often your specific health problem will also be treated
See VitaminDWiki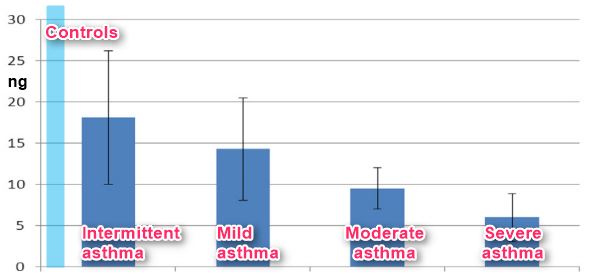 Related pages in VitaminDWiki
Meta-Analyses in VitaminDWiki

Recent studies in Breathing and Intervention categories (give vitamin D and see what happens) in VitaminDWiki:
---
Breathing and Vitamin D Binding Protein:
---
See also on the web
Asthmatics exhale better if higher level of Vitamin D - 2018
Correlation between the vitamin D levels and asthma attacks in children: Evaluation of the effects of combination therapy of atomization inhalation of budesonide, albuterol and vitamin D supplementation on asthmatic patients.
MEF25 = Maximal Expiratory Flow at 25% of Forced Vital Capacity

&nbspDownload the PDF from VitaminDWiki
Clinical Trials 70 Vitamin D intervention trials for Asthma of Nov 2020, including
Studies Suggest an Acetaminophen-Asthma Link NYT Dec 2011 - NOT vitamin D

The sharp worldwide increase in childhood asthma over the past 30 years has long perplexed researchers,
Doctors stopped giving aspirin to children with fevers, opting instead for acetaminophen. (Reyes - 1980's)

VitaminDWiki wonders if this association deals with world-wide, latitude, etc.

International patent for vitamin D and analogs to prevent asthma
Why are asthma rates higher among children now than in the past? Medical Expresss Nov 2012

Have given up on many previous hypothesis, and now considering vitamin D deficiency]

Effects of vitamin D levels on asthma control and severity in pre-school children 2016

Ages 1-4, winter, free PDF online
10 ng/ml in the asthma group and 15 ng/ml control group
5X less likely to be hospitalized for Asthma if adequate vitamin D
&nbspDownload the PDF from VitaminDWiki

---
The worse the asthma in children, the lower their vitamin D level - Feb 2019

Serum 25-hydroxy vitamin D in asthmatic children and its relation to disease severity
International Journal o fCommunity Medicine and Public Health, DOI: http://dx.doi.org/10.18203/2394-6040.ijcmph20185510
Ihab Hafez El Sawy, Passant Al-Said Moaz, Ghada Mohamed Farouk El Deriny, Mohamed Sami Abd El Moniem El Kholy
Background: Asthma is a chronic immunological disorder of the lungs. Vitamin D has several effects on the innate and adaptive immune systems. Little is known about vitamin D level and its impact on severity of asthma in children. This study aimed to determine vitamin D levels in asthmatics versus control children; studying the relation if any between these levels and asthma severity.
Methods: This cross-sectional study was conducted on 60 asthmatic children and 20 apparently healthy children as controls. Asthma patients were divided into 3 groups (mild, moderate, severe; 20 each). Asthma severity was based on GINA criteria. Vitamin D level was measured to all study group.
Results: The difference between the mean values of vitamin D level in control and asthmatic patients was statistically significant (p<0.001). This difference between control group and each asthma subgroup and between asthma subgroups versus each other were statistically significant being highest in control and lowest in patients with severe asthma (p<0.001). Differences in vitamin D status in control and all asthmatic patients were statistically significant (p<0.001). The difference between control group and each asthma subgroup according to vitamin D status were statistically significant (p<0.001). Concerning asthma subgroups the difference in vitamin D status between severe versus mild and moderate asthma were statistically significant (p<0.001), while between mild and moderate asthma it was not.
Conclusions: Significantly lower vitamin D level in asthmatic children compared to controls and a differential decrease in vitamin D levels in asthmatic children being lowest in severe asthma was confirmed.
&nbspDownload the PDF from VitaminDWiki
---
Asthma Drug Therapy (nothing about Vitamin D)
---
Asthma is the most common health problem in children, inhalers not used properly - March 2019
Using an Asthma Inhaler Correctly NYT
"Asthma is the most common chronic disease of childhood, and using an asthma inhaler is often a first step toward medical autonomy for a child with asthma"
"Once or twice a day, children may take what are called controller therapies, most often inhaled corticosteroids which decrease chronic inflammation in the lungs and make exacerbations less likely. And then, when they feel symptoms coming on, or find themselves in a situation where symptoms seem likely, they use what are called rescue medications, bronchodilators which relax the smooth muscle so that air can move through those tubes."
"You have to take off the cap, shake the inhaler for three to five seconds and connect it to the spacer (a chamber between the inhaler and the patient's mouth that holds the drug suspended and makes it easier to breathe it in). Then you are supposed to exhale completely, and put the mouthpiece or mask in or around your mouth correctly, forming a tight seal. Then you release the medication from the inhaler by pressing the canister down, breathe in slowly and deeply through the spacer (for spacers with a whistle, you do not want to hear the whistle), and hold your breath for 10 seconds. Finally, you exhale again — and then you wait a minute and repeat the process."
"Eighty-four percent of the patients did not wait the 30 seconds that the researchers felt was the absolute minimum time between inhalations. More than 50 percent waited less than 15 seconds."
---
Asthma reduced by Diet, Magnesium, Vitamin D, Tumeric, Breathing Exercises, Pine Bark, Vit B6
8 Proven Ways To Relieve Asthma Naturally GreenMed Info Jan 2019
"Asthma affects about 300 million people worldwide.It is growing by 50 percent every decade and causes upwards of 180,000 deaths per year"
"In a study of 1,531 children in Manitoba, Canada, researchers found that the risk of developing asthma by the age of seven was cut in half when the first diphtheria, pertussis, tetanus (DPT) immunization was delayed by more than two months. Delaying all three doses of DPT vaccines cut asthma risk by 60 percent."

Items in both VitaminDWiki categories of Breathing and Magnesium:
---
Factoids from The Body by Bill Bryson, 2019
The U.K.:30 percent of children have shown asthma symptoms.

The lowest rates are in China, Greece, Georgia, Romania, and Russia, with just 3 percent.

Pearce. "I have spent thirty years studying asthma, and the main thing I have achieved is to show that almost none of the things people think cause asthma actually do. They can provoke attacks if you have asthma already, but they don't cause it. We have very little idea what the primary causes are. We can do nothing to prevent it."
with some asthmatics if you put their feet in a bucket of ice water, they begin to wheeze immediately. Now, that can't be due to inflammation, because it happens too fast.
Asthma is very different from other lung disorders in that it is normally present only some of the time.
Even when there are no symptoms present, other diseases will nearly always be evident in blood or sputum tests. In asthma, in some cases, the disease just vanishes."
---
Items in both categories Breathing and Dark Skins are listed here: