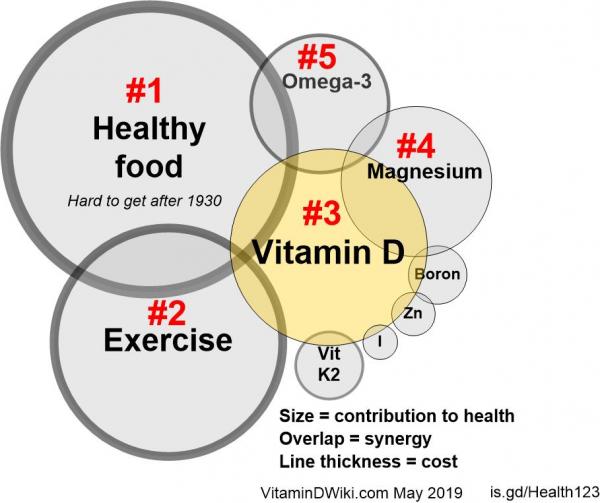 My opinion - which is based on reading >20,000 related studies
I would love to see attempts at quantifying this
Henry Lahore, founder of VitaminDWiki, 2019
---
Cost effective for US Medicare/Medicaid to give a 30% discount on healthy food - March 2019
"Prescribing" fruits and veggies would save $100 billion in medical costs Fast Company
Cost effectivity results from the simulation of healthy foods decreasing direct medical cost due to just heart and diabetes problems

They would have found far bigger savings if they laos considered the reduction in many other health problems

They note that

86% of health care costs are due to lifestyle diseases
76% of physician visits result in a drug prescription

They apparently assumed a 30% decrease in cost of healthy food ==> 37% increase in healthy food purchase

A previous meta-analysis found that 1% decrease in the price of healthy food ==>1.24% increase in purchase

They assumed 20% additional cost for administrating the program
Calculated just the direct medical cost reductions and ignored other cost savings - such as time on job
Apparently assumed that Medicare/Medicaid increasing health foods late in life will result in improved health

VitaminDWiki is unsure if that assumption is correct
Cost-effectiveness of financial incentives for improving diet and health through Medicare and Medicaid: A microsimulation study PLOS-Medicine
&nbspDownload the study PDF from VitaminDWiki
---
Vitamin D Receptor
Vitamin D Receptor table shows what compensates for low VDR activation
Compensate for poor VDR by increasing one or more:
Note: If you are not feeling enough benefit from Vitamin D, you might try increasing VDR activation.
You might feel the benefit within days of adding one or more of the above
---
Supplements
Supplements category in VitaminDWiki has the following
Example: Vitamin K
---

A lot more categories @ Information is Beautiful
---
Yet again, review of poor nutrition education for doctors - JAMA March 2019
Nutrition Education in Medical School, Residency Training, and Practice
"Beginning with medical school, the time devoted to nutrition is limited, with an average of 19 total hours..."
"Similarly, requirements for nutrition education are lacking in specialty training programs. For example, the current Accreditation Council for Graduate Medical Education Program Requirement document for internal medicine residency has 42 pages, and the document for cardiovascular disease fellowship has 41 pages, but neither document includes the words "nutrition" or "diet."
"In a 2017 survey of 646 cardiologists, 90% reported that they had not received adequate nutrition education to counsel their patients, even though 95% believed it was their personal responsibility to do so"
"Is it appropriate to serve pizza and soft drinks at a resident conference while bemoaning the high prevalence of obesity and encouraging patients to eat healthier? A similarly poor example exists in medical conferences, including national meetings, where some morning sessions are accompanied by foods such as donuts and sausage"
&nbspDownload the PDF from VitaminDWiki
Note: Doctors are paid for treating health problems, not preventing them.
Doctors and hospitals have a negative financal incentive for preventing health problems
Founder of VitaminDWiki
---
Exercise
Short URL = is.gd/Health123