---
Vitamin D in the Prevention and Treatment of Oral Cancer: A Scoping Review
Nutrients. 2023 May 17;15(10):2346. doi: 10.3390/nu15102346.
Man Hung 1 2 3 4 5, Konstantinia Almpani 1, Bao Thao 1, Kaili Sudweeks 6, Martin S Lipsky 1 7
Introduction: Oral cancer is a serious health problem with an increasing incidence worldwide. Researchers have studied the potential anti-cancerous action of vitamin D and its association with several cancers including oral cancer. The purpose of this scoping review is to synthesize the existing literature on the role of vitamin D on oral cancer.
Methods: A scoping review of the literature was conducted using the framework developed by Arkey and O'Malley and the PRISMA-ScR guidelines. Nine databases were searched for peer-reviewed human studies published in English that either investigated the association of vitamin D with, or its impact on either the prevention or treatment of oral cancer. The authors then extracted data using a predefined form to summarize information about article type, study design, participant characteristics, interventions, and outcomes.
Results: Fifteen articles met the review criteria. Among the 15 studies, 11 were case-control, 3 were cohort studies, and 1 was a clinical trial. In four studies, the evidence supported a preventive action of vitamin D against oral cancer and a reduction in the negative side effects associated with chemo- and radiotherapy. Several studies that focused on genetic polymorphisms and the expression of the 1,25 dihydroxyvitamin D3 receptor (VDR) suggested significant associations with vitamin D and increased oral cancer risk and worse survival rates. In contrast, two studies did not reveal a strong association between vitamin D and oral cancer.
Conclusions: The current evidence suggests an association between vitamin D deficiency and an increased risk of oral cancer. VDR gene polymorphisms might also be a part of future preventive and therapeutic strategies against oral cancer. Carefully designed studies are required to explore and define what role, if any, vitamin D might play in the prevention and treatment of oral cancer.
No such attachment on this page
---
---
VitaminDWiki - Genetics chart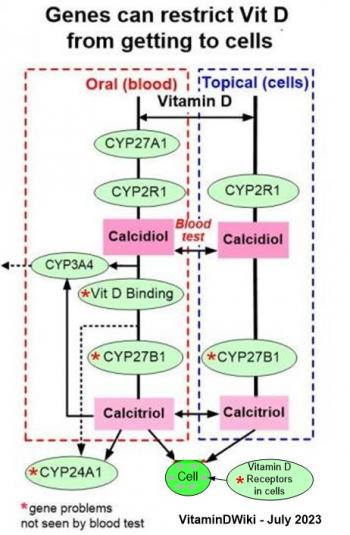 ---
80+ VitaminDWiki Vitamin D Receptor pages with CANCER etc. in the title
This list is automatically updated
| Title | | Modified |
| --- | --- | --- |
| Cervical Cancer is prevented by Vitamin D, and treated if caught early (genes are important) – May 2023 | | 27 May, 2023 |
| Non-Hodgkin's lymphoma associated with poor Vitamin D receptor – Feb 2021 | | 27 Jan, 2023 |
| Colon Cancer protects itself by changing the VDR and CYP3A4 genes – Dec 2022 | | 06 Dec, 2022 |
| Breast cancer spreads to bone if poor vitamin D Receptor (no surprise) – Oct 2022 | | 31 Oct, 2022 |
| 2X more Thyroid Cancer malignancy if less than 15 ng of vitamin D – June 2012 | | 16 Sep, 2022 |
| Cancers are associated with low vitamin D, poor vaccination response and perhaps poor VDR – July 2022 | | 15 Aug, 2022 |
| Poor prognosis of solid childhood cancers 14.7 X more likely with a poor Vitamin D Receptor – July 2022 | | 27 Jul, 2022 |
| Breast Cancer, Vitamin D, and genes – Welsh Nov 2021 | | 09 Feb, 2022 |
| How cancer is fought by Vitamin D (Ovarian this time) - Feb 2020 | | 01 Nov, 2021 |
| Lung Cancer is up to 7 X more deadly if poor vitamin D genes – Oct 2021 | | 25 Oct, 2021 |
| Cancers and Vitamin D Receptors, including change with race – Feb 2021 | | 24 Oct, 2021 |
| Breast Cancer reduces receptor and thus blocks Vitamin D to the cells – several studies | | 18 Oct, 2021 |
| After lactation Vitamin D levels are low, increased risk of Breast Cancer, vitamin D should decrease risk – Aug 2021 | | 20 Aug, 2021 |
| Breasts process Vitamin D and change gene activation, might prevent breast cancer if given more Vit. D – July 2021 | | 10 Jul, 2021 |
| Vitamin D Receptor and Cancer | | 17 Feb, 2021 |
| Oral Cancers - increased risk if low vitamin D or poor vitamin D genes | | 22 Jan, 2021 |
| Colon cancer risk increases 30X if you have the worst vitamin D receptor mutation – Jan 2021 | | 15 Jan, 2021 |
| Book: Sunlight, UV, Vitamin D and Receptor, Skin and other Cancers - Dec 2020 | | 09 Dec, 2020 |
| Colorectal Cancer Patients 2.4 X more likely to have poor Vitamin D receptors (less D to cells) – April 2020 | | 02 May, 2020 |
| Colorectal cancer linked to poor Vitamin D Receptor (yet again) – Jan 2020 | | 22 Jan, 2020 |
| 8 ways that Cancer might be prevented by Vitamin D - June 2019 | | 26 Dec, 2019 |
| Liver Cancer – higher risk if poor genes (Vitamin D receptor etc) – meta-analysis Dec 2019 | | 14 Dec, 2019 |
| Prostate Cancer associated with various genes, including Vitamin D Receptor and CYP24A1 – Nov 2019 | | 15 Nov, 2019 |
| Risk of Cancer increased if poor Vitamin D Receptor – meta-analysis of 73 studies Jan 2016 | | 09 Nov, 2019 |
| Cancer is leading cause of death - Vitamin D and Receptor activators help | | 09 Nov, 2019 |
| Melanoma cancer growth slowed by increased Vitamin D Receptor (yet again) – Oct 2019 | | 06 Nov, 2019 |
| Breast cancer associated with Vitamin D Receptor (14th study) – Oct 2019 | | 19 Oct, 2019 |
| Colorectal Cancer risk increases when genes reduce the vitamin D levels – Aug 2019 | | 23 Aug, 2019 |
| Breast Cancer death 1.8 X more likely if poor Vitamin D Receptor – April 2019 | | 29 Jul, 2019 |
| Multiple Myeloma (blood cell cancer) treated by vitamin D - many studies | | 14 Jun, 2019 |
| Blood cell cancer is associated with a 3X worse Vitamin D Receptor – June 2019 | | 14 Jun, 2019 |
| Lung Cancer more likely if poor Vitamin D Receptor – meta-analysis June 2019 | | 13 Jun, 2019 |
| After breast cancer treatment 4,000 IU of Vitamin D was not enough to help if have poor Vitamin D receptor – June 2019 | | 04 Jun, 2019 |
| Hodgkin's lymphoma and Vitamin D Receptor - June 2012 | | 29 Apr, 2019 |
| Effects of Resveratrol against Lung Cancer in mice – Nov 2017 | | 28 Apr, 2019 |
| The Role of Resveratrol in Cancer Therapy – Dec 2017 | | 27 Apr, 2019 |
| Good Vitamin D receptor reduced bladder cancer and cisplatin deaths – April 2019 | | 11 Apr, 2019 |
| A poor Vitamin D Receptor is associated with many cancers (oral cancer in this case) – Jan 2019 | | 26 Mar, 2019 |
| Breast Cancer and Vitamin D review – March 2018 | | 17 Mar, 2019 |
| Overview of Vitamin D Actions in Cancer – 31 page chapter in a book – 2018 | | 15 Mar, 2019 |
| Women with Breast Cancer were 16.9 times more likely to have a poor Vitamin D Receptor – Jan 2019 | | 11 Feb, 2019 |
| Risks of Colorectal Cancer, IBD, etc slightly increased if poor Vitamin D Receptor – Aug 2018 | | 09 Dec, 2018 |
| Ovarian Cancer risk reduced if higher vitamin D, more UVB, or better vitamin D receptor – Nov 2018 | | 10 Nov, 2018 |
| Cancer treatment by Vitamin D sometimes is restricted by genes – Oct 2018 | | 01 Nov, 2018 |
| Brain cancer in 175 countries related to low UVB and low vitamin D – Oct 2010 | | 03 Oct, 2018 |
| Pancreatic Cancer – live a year longer if have high vitamin D and good Vitamin D Receptor – Aug 2018 | | 15 Aug, 2018 |
| Endometriosis, Endometrial Cancer, and poor Vitamin D or Receptor – Aug 2018 | | 08 Aug, 2018 |
| Risk of colon cancer increases in mice with no Vitamin D receptor in colon - July 2018 | | 07 Jul, 2018 |
| Vitamin D receptor is essential for both normal and cancerous cells in the lab – June 2018 | | 16 Jun, 2018 |
| Active Vitamin D reduces Ovarian Cancer stem cells growth by 4X (via Vitamin D receptor in lab rat) – March 2018 | | 28 Mar, 2018 |
| Two chemicals increase the Vitamin D receptor and decrease the growth of breast cancer cells in the lab - March 2018 | | 17 Mar, 2018 |
| Ovarian Cancer in Asia is 1.5 X more likely if poor Vitamin D receptor – meta-analysis Dec 2017 | | 14 Dec, 2017 |
| Nonmelanoma Skin Cancer 2X more likely if poor Vitamin D Receptor – Oct 2017 | | 19 Oct, 2017 |
| Cancer and the Vitamin D Receptor, a primer – Sept 2017 | | 01 Oct, 2017 |
| Thyroid Cancer rate has increased 3X in 3 decades, Vitamin D Receptor decreases, Calcium increases – Aug 2017 | | 26 Aug, 2017 |
| Advanced Colon Cancer risk is doubled or halved with 1000 IU of Vitamin D, depends on Vitamin D Receptors – RCT May 2017 | | 19 Aug, 2017 |
| Cancer risks and Vitamin D Receptors – association is unclear – 2017 | | 19 Aug, 2017 |
| Increased Breast Cancer metastasis if low vitamin D or poor VDR – Feb 2016 | | 09 Aug, 2017 |
| Colon Cancer survival 3.1 X less likely if poor Vitamin D Receptor – Aug 2017 | | 02 Aug, 2017 |
| Lung Cancer patients were 2.4 times more likely to have a poor Vitamin D Receptor gene – July 2017 | | 27 Jul, 2017 |
| Pancreatic Cancer massively deregulates the local Vitamin D receptors and CPY24A1 – July 2014 | | 25 Jul, 2017 |
| Gastric Cancer 2.7 X more likely if poor Vitamin D Receptor (Chinese) – 2015 | | 15 Jun, 2017 |
| Skin Cancers, Vitamin D, Vitamin D Receptor and Genes – Jan 2015 | | 17 Mar, 2017 |
| Prostate cancer in black men is 1.6 times more likely if a poor Vitamin D Receptor – Feb 2017 | | 06 Mar, 2017 |
| 2X more likely to survive a form of esophageal cancer in China if have good vitamin D receptor – Feb 2017 | | 04 Mar, 2017 |
| Urinary Bladder Cancer survival is associated with vitamin D receptor: 14 months vs 53 months – Oct 2015 | | 02 Mar, 2017 |
| Vitamin D receptor as a target for breast cancer therapy (abstract only) – Feb 2017 | | 01 Mar, 2017 |
| Ovarian Cancer 5.8 X more likely if both low vitamin D and Fok1 gene change – May 2013 | | 27 Feb, 2017 |
| Vitamin D receptor may suppress skin cancer – Dec 2013 | | 27 Jan, 2017 |
| Aggressive Prostate Cancer in blacks with low vitamin D – 7X more likely if added Calcium – Jan 2017 | | 28 Dec, 2016 |
| Breast Cancer was 4.6 times more likely if have a poor Vitamin D Receptor – Dec 2016 | | 06 Dec, 2016 |
| Vitamin D, Vitamin D Receptor and Cancer – Nov 2016 | | 05 Dec, 2016 |
| High PSA readings with Prostate Cancer 4 times more likely if poor Vitamin D receptor – March 2016 | | 14 Nov, 2016 |
| 2X less prostate cancer in A-A with low Calcium is due vitamin D receptor gene – July 2013 | | 14 Nov, 2016 |
| Vitamin D receptor polymorphisms are risk factors for various cancers – meta-analysis Jan 2014 | | 12 Nov, 2016 |
| 10 percent of colon cancer linked to Vitamin D Receptor – meta-analysis April 2012 | | 23 Sep, 2016 |
| Vitamin D Receptor role in Autoimmune Diseases and or cancers – Nov 2013 | | 17 Mar, 2016 |
| Skin cancer 20 percent more likely with some Vitamin D receptor gene polymorphisms – Oct 2015 | | 06 Jan, 2016 |
| Pancreatic Cancer treatment by calcipotriol (a synthetic vitamin D) improves outcome by 57 percent – Sept 2014 | | 13 Dec, 2015 |
| Poor Bladder Cancer survival associated with poor Vitamin D receptor – Oct 2015 | | 18 Oct, 2015 |
| Increased risk of some female cancers if low vitamin D (due to genes) – meta-analysis June 2015 | | 03 May, 2015 |
| Free vitamin D (VDR) may be more important than total for bladder cancer – March 2013 | | 06 Jan, 2014 |
| Genes breast cancer and vitamin D receptor - Sept 2010 | | 08 Jul, 2013 |
| Breast Cancer incidence change by 40 percent with vitamin D receptor genes – Oct 2012 | | 08 Jul, 2013 |
| Vitamin D receptor in breasts and breast cancer vary with race – March 2013 | | 08 Jul, 2013 |
| Hours of sun per week decreased probability of NH lymphoma by 32 percent – April 2012 | | 26 Oct, 2012 |