---
The Preventive Role of the Vitamin D Endocrine System in Cervical Cancer
Int J Mol Sci. 2023 May 12;24(10):8665. doi: 10.3390/ijms24108665.
Euclides Avila 1, Bryan Javier Noriega-Mejía 1, Jocelyn González-Macías 1, Ulises Cortes-Hernández 1, Janice García-Quiroz 1, Rocío García-Becerra 2, Lorenza Díaz 1
Vitamin D along with its active metabolite calcitriol and its metabolic and signaling system, known as the vitamin D endocrine system, have been widely recognized as a pivotal regulator of calcium homeostasis in addition to non-calcemic antitumoral effects in a variety of human cancers, including cervical cancer. Several studies have found an inverse relationship between the incidence of cervical neoplasia and vitamin D levels.
This narrative review updates the current evidence supporting the notion that the vitamin D endocrine system has a preventive role on cervical cancer, mainly in the early phases of the disease, acting at the level of
suppressing cell proliferation,
promoting apoptosis,
modulating inflammatory responses, and
probably favoring the clearance of human papillomavirus-dependent cervical lesions.
Although an optimal vitamin D status helps in the prevention and regression of low-grade squamous intraepithelial lesions of the cervix, it appears that vitamin D alone or combined with chemotherapeutic agents has little effectivity once advanced cervical cancer is established. These observations suggest that an optimal vitamin D status might exert beneficial actions in the early phases of cervical cancer by preventing its onset and progression.
&nbspDownload the PDF from VitaminDWiki
---
4+ VitaminDWiki pages with CERVICAL in title
This list is automatically updated
---
VitaminDWiki - Genetics chart shows the vitamin D genes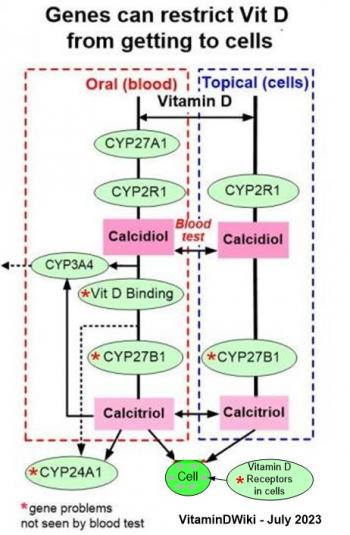 ---
80+ VitaminDWiki Vitamin D Receptor pages with CANCER in the title
This list is automatically updated
| Title | | Modified |
| --- | --- | --- |
| Cervical Cancer is prevented by Vitamin D, and treated if caught early (genes are important) – May 2023 | | 27 May, 2023 |
| Colon Cancer protects itself by changing the VDR and CYP3A4 genes – Dec 2022 | | 06 Dec, 2022 |
| Breast cancer spreads to bone if poor vitamin D Receptor (no surprise) – Oct 2022 | | 31 Oct, 2022 |
| 2X more Thyroid Cancer malignancy if less than 15 ng of vitamin D – June 2012 | | 16 Sep, 2022 |
| Cancers are associated with low vitamin D, poor vaccination response and perhaps poor VDR – July 2022 | | 15 Aug, 2022 |
| Poor prognosis of solid childhood cancers 14.7 X more likely with a poor Vitamin D Receptor – July 2022 | | 27 Jul, 2022 |
| Breast Cancer, Vitamin D, and genes – Welsh Nov 2021 | | 09 Feb, 2022 |
| How cancer is fought by Vitamin D (Ovarian this time) - Feb 2020 | | 01 Nov, 2021 |
| Lung Cancer is up to 7 X more deadly if poor vitamin D genes – Oct 2021 | | 25 Oct, 2021 |
| Cancers and Vitamin D Receptors, including change with race – Feb 2021 | | 24 Oct, 2021 |
| Breast Cancer reduces receptor and thus blocks Vitamin D to the cells – several studies | | 18 Oct, 2021 |
| After lactation Vitamin D levels are low, increased risk of Breast Cancer, vitamin D should decrease risk – Aug 2021 | | 20 Aug, 2021 |
| Breasts process Vitamin D and change gene activation, might prevent breast cancer if given more Vit. D – July 2021 | | 10 Jul, 2021 |
| Vitamin D Receptor and Cancer | | 17 Feb, 2021 |
| Oral Cancers - increased risk if low vitamin D or poor vitamin D genes | | 22 Jan, 2021 |
| Colon cancer risk increases 30X if you have the worst vitamin D receptor mutation – Jan 2021 | | 15 Jan, 2021 |
| Book: Sunlight, UV, Vitamin D and Receptor, Skin and other Cancers - Dec 2020 | | 09 Dec, 2020 |
| Colorectal Cancer Patients 2.4 X more likely to have poor Vitamin D receptors (less D to cells) – April 2020 | | 02 May, 2020 |
| Colorectal cancer linked to poor Vitamin D Receptor (yet again) – Jan 2020 | | 22 Jan, 2020 |
| 8 ways that Cancer might be prevented by Vitamin D - June 2019 | | 26 Dec, 2019 |
| Liver Cancer – higher risk if poor genes (Vitamin D receptor etc) – meta-analysis Dec 2019 | | 14 Dec, 2019 |
| Prostate Cancer associated with various genes, including Vitamin D Receptor and CYP24A1 – Nov 2019 | | 15 Nov, 2019 |
| Risk of Cancer increased if poor Vitamin D Receptor – meta-analysis of 73 studies Jan 2016 | | 09 Nov, 2019 |
| Cancer is leading cause of death - Vitamin D and Receptor activators help | | 09 Nov, 2019 |
| Melanoma cancer growth slowed by increased Vitamin D Receptor (yet again) – Oct 2019 | | 06 Nov, 2019 |
| Breast cancer associated with Vitamin D Receptor (14th study) – Oct 2019 | | 19 Oct, 2019 |
| Colorectal Cancer risk increases when genes reduce the vitamin D levels – Aug 2019 | | 23 Aug, 2019 |
| Breast Cancer death 1.8 X more likely if poor Vitamin D Receptor – April 2019 | | 29 Jul, 2019 |
| Multiple Myeloma (blood cell cancer) treated by vitamin D - many studies | | 14 Jun, 2019 |
| Blood cell cancer is associated with a 3X worse Vitamin D Receptor – June 2019 | | 14 Jun, 2019 |
| Lung Cancer more likely if poor Vitamin D Receptor – meta-analysis June 2019 | | 13 Jun, 2019 |
| After breast cancer treatment 4,000 IU of Vitamin D was not enough to help if have poor Vitamin D receptor – June 2019 | | 04 Jun, 2019 |
| Effects of Resveratrol against Lung Cancer in mice – Nov 2017 | | 28 Apr, 2019 |
| The Role of Resveratrol in Cancer Therapy – Dec 2017 | | 27 Apr, 2019 |
| Good Vitamin D receptor reduced bladder cancer and cisplatin deaths – April 2019 | | 11 Apr, 2019 |
| A poor Vitamin D Receptor is associated with many cancers (oral cancer in this case) – Jan 2019 | | 26 Mar, 2019 |
| Breast Cancer and Vitamin D review – March 2018 | | 17 Mar, 2019 |
| Overview of Vitamin D Actions in Cancer – 31 page chapter in a book – 2018 | | 15 Mar, 2019 |
| Women with Breast Cancer were 16.9 times more likely to have a poor Vitamin D Receptor – Jan 2019 | | 11 Feb, 2019 |
| Risks of Colorectal Cancer, IBD, etc slightly increased if poor Vitamin D Receptor – Aug 2018 | | 09 Dec, 2018 |
| Ovarian Cancer risk reduced if higher vitamin D, more UVB, or better vitamin D receptor – Nov 2018 | | 10 Nov, 2018 |
| Cancer treatment by Vitamin D sometimes is restricted by genes – Oct 2018 | | 01 Nov, 2018 |
| Brain cancer in 175 countries related to low UVB and low vitamin D – Oct 2010 | | 03 Oct, 2018 |
| Pancreatic Cancer – live a year longer if have high vitamin D and good Vitamin D Receptor – Aug 2018 | | 15 Aug, 2018 |
| Endometriosis, Endometrial Cancer, and poor Vitamin D or Receptor – Aug 2018 | | 08 Aug, 2018 |
| Risk of colon cancer increases in mice with no Vitamin D receptor in colon - July 2018 | | 07 Jul, 2018 |
| Vitamin D receptor is essential for both normal and cancerous cells in the lab – June 2018 | | 16 Jun, 2018 |
| Active Vitamin D reduces Ovarian Cancer stem cells growth by 4X (via Vitamin D receptor in lab rat) – March 2018 | | 28 Mar, 2018 |
| Two chemicals increase the Vitamin D receptor and decrease the growth of breast cancer cells in the lab - March 2018 | | 17 Mar, 2018 |
| Ovarian Cancer in Asia is 1.5 X more likely if poor Vitamin D receptor – meta-analysis Dec 2017 | | 14 Dec, 2017 |
| Nonmelanoma Skin Cancer 2X more likely if poor Vitamin D Receptor – Oct 2017 | | 19 Oct, 2017 |
| Cancer and the Vitamin D Receptor, a primer – Sept 2017 | | 01 Oct, 2017 |
| Thyroid Cancer rate has increased 3X in 3 decades, Vitamin D Receptor decreases, Calcium increases – Aug 2017 | | 26 Aug, 2017 |
| Advanced Colon Cancer risk is doubled or halved with 1000 IU of Vitamin D, depends on Vitamin D Receptors – RCT May 2017 | | 19 Aug, 2017 |
| Cancer risks and Vitamin D Receptors – association is unclear – 2017 | | 19 Aug, 2017 |
| Increased Breast Cancer metastasis if low vitamin D or poor VDR – Feb 2016 | | 09 Aug, 2017 |
| Colon Cancer survival 3.1 X less likely if poor Vitamin D Receptor – Aug 2017 | | 02 Aug, 2017 |
| Lung Cancer patients were 2.4 times more likely to have a poor Vitamin D Receptor gene – July 2017 | | 27 Jul, 2017 |
| Pancreatic Cancer massively deregulates the local Vitamin D receptors and CPY24A1 – July 2014 | | 25 Jul, 2017 |
| Gastric Cancer 2.7 X more likely if poor Vitamin D Receptor (Chinese) – 2015 | | 15 Jun, 2017 |
| Skin Cancers, Vitamin D, Vitamin D Receptor and Genes – Jan 2015 | | 17 Mar, 2017 |
| Prostate cancer in black men is 1.6 times more likely if a poor Vitamin D Receptor – Feb 2017 | | 06 Mar, 2017 |
| 2X more likely to survive a form of esophageal cancer in China if have good vitamin D receptor – Feb 2017 | | 04 Mar, 2017 |
| Urinary Bladder Cancer survival is associated with vitamin D receptor: 14 months vs 53 months – Oct 2015 | | 02 Mar, 2017 |
| Vitamin D receptor as a target for breast cancer therapy (abstract only) – Feb 2017 | | 01 Mar, 2017 |
| Ovarian Cancer 5.8 X more likely if both low vitamin D and Fok1 gene change – May 2013 | | 27 Feb, 2017 |
| Vitamin D receptor may suppress skin cancer – Dec 2013 | | 27 Jan, 2017 |
| Aggressive Prostate Cancer in blacks with low vitamin D – 7X more likely if added Calcium – Jan 2017 | | 28 Dec, 2016 |
| Breast Cancer was 4.6 times more likely if have a poor Vitamin D Receptor – Dec 2016 | | 06 Dec, 2016 |
| Vitamin D, Vitamin D Receptor and Cancer – Nov 2016 | | 05 Dec, 2016 |
| High PSA readings with Prostate Cancer 4 times more likely if poor Vitamin D receptor – March 2016 | | 14 Nov, 2016 |
| 2X less prostate cancer in A-A with low Calcium is due vitamin D receptor gene – July 2013 | | 14 Nov, 2016 |
| Vitamin D receptor polymorphisms are risk factors for various cancers – meta-analysis Jan 2014 | | 12 Nov, 2016 |
| 10 percent of colon cancer linked to Vitamin D Receptor – meta-analysis April 2012 | | 23 Sep, 2016 |
| Vitamin D Receptor role in Autoimmune Diseases and or cancers – Nov 2013 | | 17 Mar, 2016 |
| Skin cancer 20 percent more likely with some Vitamin D receptor gene polymorphisms – Oct 2015 | | 06 Jan, 2016 |
| Pancreatic Cancer treatment by calcipotriol (a synthetic vitamin D) improves outcome by 57 percent – Sept 2014 | | 13 Dec, 2015 |
| Poor Bladder Cancer survival associated with poor Vitamin D receptor – Oct 2015 | | 18 Oct, 2015 |
| Increased risk of some female cancers if low vitamin D (due to genes) – meta-analysis June 2015 | | 03 May, 2015 |
| Free vitamin D (VDR) may be more important than total for bladder cancer – March 2013 | | 06 Jan, 2014 |
| Genes breast cancer and vitamin D receptor - Sept 2010 | | 08 Jul, 2013 |
| Breast Cancer incidence change by 40 percent with vitamin D receptor genes – Oct 2012 | | 08 Jul, 2013 |
| Vitamin D receptor in breasts and breast cancer vary with race – March 2013 | | 08 Jul, 2013 |