---
Safety and effectiveness of vitamin D mega-dose: A systematic review
Clin Nutr ESPEN. 2021 Dec;46:115-120. doi: 10.1016/j.clnesp.2021.09.010
Fernanda Lauar Ataide 1, Larissa Matos Carvalho Bastos 2, Matheus Franklin Vicente Matias 2, Thelma Larocca Skare 3, Jozélio Freire de Carvalho 4
Hyper: calcemia, calciuria

Introduction: Supplementation with high doses of vitamin D, known as mega-dose or "stoss therapy," refers to administering high doses of vitamin D by oral or intramuscular route in short periods of time. In this sense, conducting a review to organize this knowledge in a single article will generate a helpful instrument for researchers working in this area and for health professionals who use this therapeutic tool.
Objective: To carry out a literature review on safety and efficacy (normalization of serum vitamin D level, and changes in the clinical picture) of vitamin D mega-dose use.
Methodology: This is a systematic review of the literature searching data through the electronic banks of PubMed, Scielo, and LILACS, using the following keywords: "vitamin D," "mega-dose," "stoss therapy," "cholecalciferol," in different combinations. CONSORT questionnaire was used to assess the quality of the included studies.
Results: Of the 59 articles screened for this review, 10 were included in the review, studying patients with rickets, osteoporosis, and critically ill patients. Two studies compared the exact dosage of vitamin D by different routes of administration, and three studies compared different doses by the same route. All others studied vitamin D mega-dose versus placebo. Adverse effects were observed through the presence of hypercalcemia/hypercalciuria. Serum vitamin D levels were normalized between 70 and 100% of patients, and adverse effects ranged between 1.9 and 18.5%.
Conclusion: The study demonstrated that vitamin D mega-dose therapy is effective in normalizing serum vitamin levels, and the toxicity assessed through adverse effects was low, with no expressive clinical significance. Despite this, there is still a need for further studies in the area to confirm the results found.
---
VitaminDWiki observations
Vitamin d is perhaps the only nutrient that can be restored via a loading dose
Loading doses have beenin use around the world for >50 years
Loading doses can quickly raise Vitamin D Levels
Injection loading provides the slowest rise - many weeks
Oral loading is most frequently used - response peaks in 3-10 days
Sublingual loading may have the fastest response time - 1 day not delayed by gut)
Loading doses can be made in a single session, or across many days

France, for example, has >200 loading dose protocols

Many groups have found that the loading doses should be smaller for humans with lower weight
People with poor guts should use gut-friendly forms of Vitamin D
---
194
items in category
see also Overview Loading of vitamin D Overview Toxicity of vitamin D
Better than Daily 1: Fewer chances to forget, 2) Gets past receptor barrier
Injection category has
61
items

It appears that over 1 million Vitamin D loading doses have been taken
Doses ranged from 100,000 to 600,000 IU over a period of a day to a month
No reports of serious adverse reactions
Many studies report on the benefits resulting from loading doses

TOP articles in Loading Dose of Vitamin D
---
VitaminDWiki - Injection category contains
61
items in Vitamin D Injection category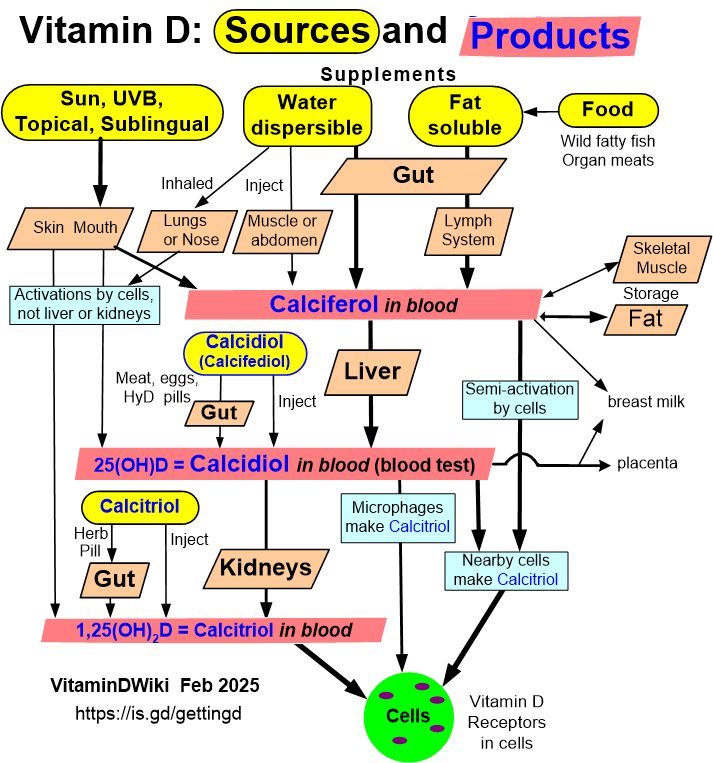 Injections are currently made by medical professionals into muscle
Home injection of Vitamin D appears to be possible in the future
Injections are useful for people who might forget to take their periodic supplement (children, elderly, etc) and those who cannot swallow or have poor digestion
While Vitamin D2 is historically the common form, Vitamin D3 is far better
Should check (if there is time) for possible allergic reaction to Vitamin D or lack of Magnesium for both for loading dose and injection
Note 600,000 IU Vitamin D loading dose via capsules is 1/20th the cost($2.40) of an injection, and does not require a prescription
100,000 IU single dose of vitamin D - 2010 has the following

---
VitaminDWiki - Children and Loading dose studies
---
VitaminDWiki pages with HIGH-DOSE in title (65 as of Nov 2022)
This list is automatically updated
| Title | | Modified |
| --- | --- | --- |
| Multiple Sclerosis prevention with high-dose vitamin D (in rats in this case) - July 2023 | | 19 Sep, 2023 |
| Knee Osteoarthritis treated by vitamin D if use more than 2,000 IU daily or non-daily high dose – meta-analysis Aug 2023 | | 21 Aug, 2023 |
| Doctor got MS and was later cured by high-dose Vitamin D - Aug 2023 | | 10 Aug, 2023 |
| Cluster headaches virtually eliminated in 7,000 people with high-dose vitamin D and cofactors - Feb 2022 | | 16 Jul, 2023 |
| Rheumatoid Arthritis pain is reduced by Vitamin D, high doses also reduced inflammation (CRP) – Meta-analysis July 2023 | | 13 Jul, 2023 |
| COVID predicted to be a pandemic that could be stopped by high dose vitamin D - Feb 2020 | | 25 Mar, 2023 |
| Muscular Dystrophy probably treated by high-dose Vitamin D plus muscle rehab | | 23 Mar, 2023 |
| Fracture 4X less likely following kidney transplant if high-dose Vitamin D (100,000 every 2 weeks) – RCT Jan 2023 | | 25 Jan, 2023 |
| High-Dose | | 18 Jan, 2023 |
| Some pathogens and health problems restrict Vitamin D from being used – Coimbra high-dose protocol – April 2021 | | 18 Jan, 2023 |
| Diseases treated by high-dose Vitamin D - many studies | | 18 Jan, 2023 |
| 50,000 IU and other high dose vitamin studies | | 15 Jan, 2023 |
| Coimbra protocol using high-dose Vitamin D is safe – April 2022 | | 22 Dec, 2022 |
| High dose vitamin D fights Folate gene changes by COVID, autoimmune, CVD, ALZ – Oct 2022 | | 06 Oct, 2022 |
| Treat COVID with early high-dose Vitamin D (20th as of June 2022) | | 16 Jun, 2022 |
| High-Dose Vitamin D puts surplus calories into muscles instead of fat (mice) – May 2022 | | 20 May, 2022 |
| Comparing High-dose vitamin D therapies | | 04 May, 2022 |
| High-dose Vitamin D safe for children (10,000 IU daily, 600,000 IU bolus) – meta-analysis April 2022 | | 15 Apr, 2022 |
| Several rheumatic diseases treated by high-dose vitamin D, but made worse if Calcium was added – April 2022 | | 28 Mar, 2022 |
| Cluster Headaches treated by high-dose Vitamin D, etc. (interview and transcript) - Feb 2022 | | 23 Feb, 2022 |
| Beyond vitamin D - book of testimonials on high-dose Coimbra Protocol - Aug, 2021 | | 16 Feb, 2022 |
| High-Dose Vitamin D Therapy – book July 2018 | | 11 Feb, 2022 |
| High-dose Vitamin D is safe and effective – review of 10 studies – Sept 2021 | | 08 Feb, 2022 |
| HIV treatment augmented by high-dose vitamin D, daily or weekly – Dec 2021 | | 30 Jan, 2022 |
| High-dose Omega-3 fought COVID in 2 hospital trials (6x reduction in ICU, reduced time) – Masterjohn Oct 2021 | | 14 Oct, 2021 |
| Multiple Sclerosis treated by Vitamin D, recommends investigating high dose Coimbra - Oct 2021 | | 07 Oct, 2021 |
| Those getting high dose vitamin D were 7 X less likely to die of COVID-19 - Dec 11, 2020 | | 30 Sep, 2021 |
| Vitamin D3 better than D2, especially if non-daily or high dose - meta-analysis Sept 2021 | | 23 Sep, 2021 |
| High-dose vitamin D improves health (presentation) - Aug 30, 2021 | | 30 Aug, 2021 |
| High dose vitamin D for Autoimmune diseases - Portuguese - 2019 | | 01 Jul, 2021 |
| High Dose Vitamin D for autoimmune diseases -blog June 13, 2021 | | 20 Jun, 2021 |
| Kidney patients who happened to be getting high-dose Calcitriol were 9X less likely to die of COVID-19 - April 6, 2021 | | 13 Apr, 2021 |
| Autoimmune and high-dose vitamin D (Dr. Coimbra) - Dr. Mahtani video and transcript - Nov 2020 | | 11 Apr, 2021 |
| Vitamin D Resistance hypothesis confirmed by Coimbra high-dose vitamin D protocol – April 2021 | | 11 Apr, 2021 |
| Crohn's Disease reduced for a year by 7 weeks of high dose Vitamin D – RCT March 2021 | | 26 Mar, 2021 |
| COVID-19 and high-dose Vitamin D - Video interview of Dr. Coimbra - May 2020 | | 09 Aug, 2020 |
| High doses vitamin D may prevent or treat COVID-19 - June 2020 | | 31 Jul, 2020 |
| Many doctors believe that high dose vitamin D can fight COVID-19 – BMJ April 2020 | | 14 Apr, 2020 |
| Lowering Calcium Risk when having High Dose Vitamin D3 – Cawley Dec 2019 | | 18 Dec, 2019 |
| The use of high dose Vitamin D (Coimbra Protocol) for multiple sclerosis in Germany – 2019 | | 26 Nov, 2019 |
| Cystic Fibrosis is safely treated by high-dose Vitamin D – Sept 2019 | | 26 Nov, 2019 |
| Rheumatoid Arthritis sometimes helped by very high dose vitamin D2 – 1935 | | 29 Oct, 2019 |
| High-dose Vitamin D for Multiple Sclerosis is OK while pregnant – Sept 2019 | | 10 Sep, 2019 |
| Cardiovascular Prevention with Omega-3 (finally using high doses) – Sept 2019 | | 09 Sep, 2019 |
| Treat autoimmune diseases with high-dose vitamin D – Germany online Aug 24, 25 2019 | | 17 Aug, 2019 |
| Successful high dose vitamin D (Coimbra Protocol) should be evaluated – June 2019 | | 09 Jun, 2019 |
| Hypertension gene expression reduced by high-dose vitamin D (hypertensive rats) – March 2019 | | 27 Mar, 2019 |
| High-dose vitamin D forum – for Multiple Sclerosis and many other diseases – Jan 2019 | | 05 Jan, 2019 |
| Vitamin D nanoemulsion corrected deficiency and improved bones in 1 week (high dose in rats) – Jan 2019 | | 05 Jan, 2019 |
| Multiple Sclerosis - Coimbra Protocol (high-dose Vitamin D) - by one of the 120 doctors of 20,000 patients - Dec 2018 | | 08 Dec, 2018 |
| Problem with vitamin C if high dose Vitamin D for MS and have gene problem – Sept 2018 | | 10 Oct, 2018 |
| Replies to doctor's comments about high dose Vitamin D for Multiple Sclerosis– Nov 2016 | | 27 Jun, 2018 |
| Guide for patients on high doses of Vitamin D – Coimbra 2017 | | 21 Jun, 2018 |
| Multiple Sclerosis treated when use high doses of vitamin D – meta-analysis May 2018 | | 16 May, 2018 |
| Liver cancer nicely treated by high dose vitamin D for 16 weeks (early stage, in rats) – April 2018 | | 23 Apr, 2018 |
| Gene activation by high dose vitamin D - both quick and long term - April 2015 | | 27 Jun, 2017 |
| ICU cost reduced by at least 27,000 dollars if get high dose vitamin D in first week - April 2017 | | 02 May, 2017 |
| High dose vitamin D to treat Multiple Sclerosis etc. – protocol April 2017 | | 27 Apr, 2017 |
| High dose Omega-3 probably reduces heart problems – American Heart Association – March 2017 | | 18 Mar, 2017 |
| Video by Dr. Coimbra – 95 percent of auto-immune cured with vitamin D in high doses - April 2014 | | 15 Jan, 2017 |
| Caution When Prescribing High Dose Vitamin D (100,000 IU D2 daily for is too much after 4 years) – Nov 2016 | | 26 Nov, 2016 |
| Hospital ICU added high dose vitamin D - malpractice lawsuit costs dropped from 26 million dollars to ZERO - Oct 2016 | | 20 Nov, 2016 |
| 70 percent of people with IBS had symptoms relieved with high dose vitamin D – 2012 | | 04 Nov, 2016 |
| Pediatric trials of high dose vitamin D -163 are in a single online database – Feb 2016 | | 07 Aug, 2016 |
| Kidney disease helped by active or high dose Vitamin D - Feb 2014 | | 28 Apr, 2016 |
| Dr. Coimbra explains his treatment with high dose vitamin D for multiple sclerosis – Feb 2015 | | 27 Apr, 2016 |
| High dose vitamin D (20,000 IU per kg) safe for pigs – Aug 2015 | | 08 Aug, 2015 |
| High dose vitamin reduced pain of fibromyalgia, osteoarthritis, and rheumatoid arthritis - July 2015 | | 11 Jul, 2015 |
| Brazillian petition to permit high vitamin D doses for autoimune diseases – Aug 2014 | | 08 Feb, 2015 |
| Update on Treating Multiple Sclerosis with high dose vitamin D - Sept 2013 | | 08 Feb, 2015 |
| Video by Dr. Coimbra – auto-immune cures with high-dose vitamin D in Brazil - April 2014 | | 19 Apr, 2014 |
| Response to high dose vitamin D is limited by vitamin A - July 2013 | | 13 Apr, 2014 |
| Liverpool is starting universal supplementation and needs high dose vitamin D – March 2014 | | 26 Feb, 2014 |
| 4 clinical trials not find change in disease risk markers with high dose vitamin D – March 2013 | | 13 Apr, 2013 |
| Is High Dose Vitamin D Harmful – Dec 2012 | | 20 Dec, 2012 |
---
Calcium often causes major health problems
Many studies have identified many health problems with Calcium supplementation
< 750 mg of Calcium supplement daily - VitaminDWiki has recommended for 7 years
Some believe that the health problems are due to the spike in blood Calcium from
Perhaps there would be a shorter Calcium spike (and less of a problem) if take Calcium multiple times a day
Perhaps also less of a problem if the Calcium is plant-based
Calcium from milk also causes 5+ major health problems 2015 Dr. Greger

No apparent health problems from processed dairy products (cheese, yogurt, etc)

Calcium supplements are less of a problem if have adequate Vitamin K

which keeps Calcium from forming blood-system plaque

2.7X increase in rate of Colon polyps in 6-10 years RCT March 2018
This page is in the following categories (# of items in each category)