The Gut-Brain Axis in Alzheimer's Disease and Omega-3. A Critical Overview of Clinical Trials
Nutrients 2018, 10(9), 1267; https://doi.org/10.3390/nu10091267
Francesca La Rosa 1, Mario Clerici 1,2, Daniela Ratto 3, Alessandra Occhinegro 3, Anna Licito 4, Marcello Romeo 3, Carmine Di Iorio 3 and Paola Rossi 3,*
1 IRCCS Fondazione Don Carlo Gnocchi, 20100 Milan, Italy
2 Department of Physiopathology and Transplants, University of Milano, 20100 Milan, Italy
3 Department of Biology and Biotechnology, University of Pavia, 27100 Pavia, Italy
4 Istituto per lo Studio e la Cura del Diabete [ISCD], Casagiove, 81022 Caserta, Italy
VitaminDWiki
---
Cognitive category starts with the following
Very brief summary of Cognitive decline
Treatment : Vitamin D intervention slows or stops progression
Prevention : Many observational studies - perhaps Vitamin D prevents
Omega-3 both prevents and treats cognition
Wonder the benefits if both Vitamin D AND Omega-3 were to be used
Dementia page - 50 items
365
items in Cognition category

see also Overview Alzheimer's-Cognition and Vitamin D
Overview Parkinson's and Vitamin D

Studies in both categories of Cognition and:
Cardiovascular (
7
studies), Genetics (
9
studies), Vitamin D Receptor (
16
studies), Omega-3 (
48
studies), Intervention (
19
studies), Meta-analyses (
22
studies), Depression (
22
studies), Parkinson's (
21
studies)
Click here for details

Poor cognition 26 percent more likely if low Vitamin D (29 studies) – meta-analysis July 2017
Every schizophrenia measure was improved when vitamin D levels were normalized – June 2021
Cognitive Impairment and Dementia often associated with low Vitamin D – April 2020
IQ levels around the world are falling (perhaps lower Vitamin D, Iodine, or Omega-3)
Search VitaminDWiki for "WHITE MATTER" 325 items as of March 2023

Types of evidence that Vitamin D helps brain problems - 2014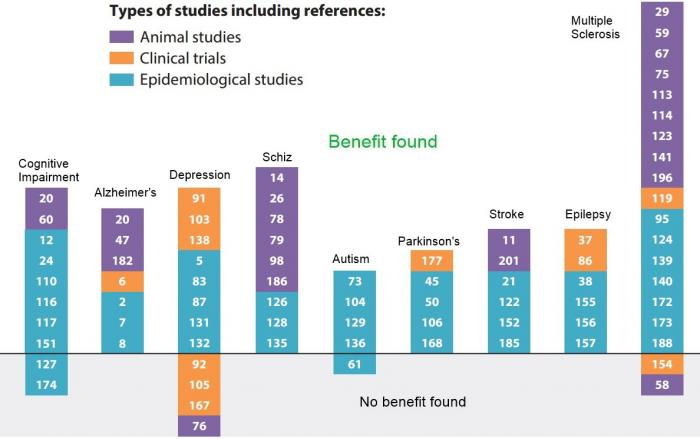 ---
Items in both categories Cognitive and Omega-3 are listed here:
&nbspDownload the PDF from VitaminDWiki

Despite intensive study, neurodegenerative diseases remain insufficiently understood, precluding rational design of therapeutic interventions that can reverse or even arrest the progressive loss of neurological function. In the last decade, several theories investigating the causes of neurodegenerative diseases have been formulated and a condition or risk factor that can contribute is described by the gut-brain axis hypothesis: stress, unbalanced diet, and drugs impact altering microbiota composition which contributes to dysbiosis. An altered gut microbiota may lead to a dysbiotic condition and to a subsequent increase in intestinal permeability, causing the so-called leaky-gut syndrome. Herein, in this review we report recent findings in clinical trials on the risk factor of the gut-brain axis in Alzheimer's disease and on the effect of omega-3 supplementation, in shifting gut microbiota balance towards an eubiosis status. Despite this promising effect, evidences reported in selected randomized clinical trials on the effect of omega-3 fatty acid on cognitive decline in Alzheimer's disease are few. Only Mild Cognitive Impairment, a prodromal state that could precede the progress to Alzheimer's disease could be affected by omega-3 FA supplementation. We report some of the critical issues which emerged from these studies. Randomized controlled trials in well-selected AD patients considering the critical points underlined in this review are warranted.
This page is in the following categories (# of items in each category)