Low Vitamin D and Its Association with Cognitive Impairment and Dementia
J Aging Res. 2020; 2020: 6097820. doi: 10.1155/2020/6097820
Sadia Sultan,corresponding author Uzma Taimuri, Shatha Abdulrzzaq Basnan, Waad Khalid Ai-Orabi, Afaf Awadallah, Fatimah Almowald, and Amira Hazazi
VitaminDWiki
Cognitive category starts with the following:
Very brief summary of Cognitive decline
Treatment : Vitamin D intervention slows or stops progression
Prevention : Many observational studies - perhaps Vitamin D prevents
Omega-3 both prevents and treats cognition
Wonder the benefits if both Vitamin D AND Omega-3 were to be used
354
items in Cognition category

see also Overview Alzheimer's-Cognition and Vitamin D
Overview Parkinson's and Vitamin D

Studies in both categories of Cognition and:
Cardiovascular (
6
studies), Genetics (
9
studies), Vitamin D Receptor (
16
studies), Omega-3 (
48
studies), Intervention (
18
studies), Meta-analyses (
21
studies), Depression (
21
studies), Parkinson's (
20
studies), Click here for details

Dementia is associated with low vitamin D - many studies 50+
Poor cognition 26 percent more likely if low Vitamin D (29 studies) – meta-analysis July 2017
Every schizophrenia measure was improved when vitamin D levels were normalized – June 2021
Cognitive Impairment and Dementia often associated with low Vitamin D – April 2020
IQ levels around the world are falling (perhaps lower Vitamin D, Iodine, or Omega-3)
Search VitaminDWiki for "WHITE MATTER" 325 items as of March 2023

Types of evidence that Vitamin D helps brain problems - 2014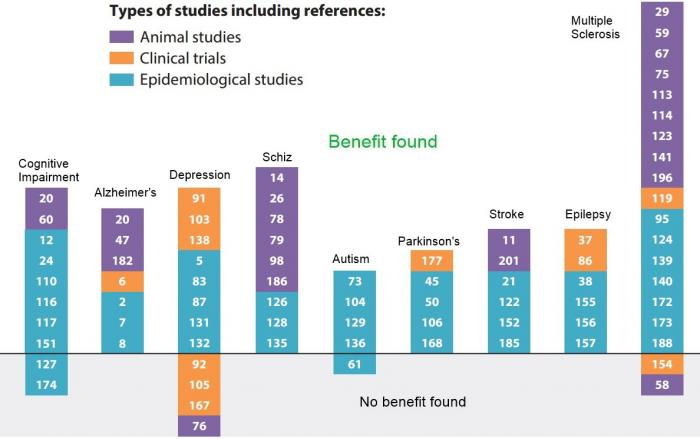 ---
Cognitive intervention trials with Vitamin D
&nbspDownload the PDF from VitaminDWiki
Vitamin D is a neurosteroid hormone that regulates neurotransmitters and neurotrophins. It has anti-inflammatory, antioxidant, and neuroprotective properties. It increases neurotrophic factors such as nerve growth factor which further promotes brain health. Moreover, it is also helpful in the prevention of amyloid accumulation and promotes amyloid clearance. Emerging evidence suggests its role in the reduction of Alzheimer's disease hallmarks such as amyloid-beta and phosphorylated tau. Many preclinical studies have supported the hypothesis that vitamin D leads to attentional, behavioral problems and cognitive impairment. Cross-sectional studies have consistently found that vitamin D levels are significantly low in individuals with Alzheimer's disease and cognitive impairment compared to healthy adults. Longitudinal studies and meta-analysis have also exhibited an association of low vitamin D with cognitive impairment and Alzheimer's disease. Despite such evidence, the causal association cannot be sufficiently answered. In contrast to observational studies, findings from interventional studies have produced mixed results on the role of vitamin D supplementation in the prevention and treatment of cognitive impairment and dementia. The biggest issue of the existing RCTs is their small sample size, lack of consensus over the dose, and age of initiation of vitamin D supplements to prevent cognitive impairment. Therefore, there is a need for large double-blind randomized control trials to assess the benefits of vitamin D supplementation in the prevention and treatment of cognitive impairment.
This page is in the following categories (# of items in each category)