Genome-Wide Association Study of Serum 25-Hydroxyvitamin D in US Women.
Front Genet. 2018 Mar 1;9:67. doi: 10.3389/fgene.2018.00067. eCollection 2018.
O'Brien KM1, Sandler DP2, Shi M1, Harmon QE2, Taylor JA2, Weinberg CR1.
VitaminDWiki
Study of genes of sisters with and without Breast Cancer
Items in both categories Breast Cancer and Genetics are listed here:
---
This study does not contain the word RECEPTOR.
The Vitamin D RECEPTOR is an important breast cancer gene
Items in both categories Breast Cancer and Vitamin D Receptor are listed here:
---
Genetics category listing contains the following
242
articles in the Genetics category

see also
287
articles in Vitamin D Receptor,
109
articles in Vitamin D Binding Protein

Vitamin D blood test misses a lot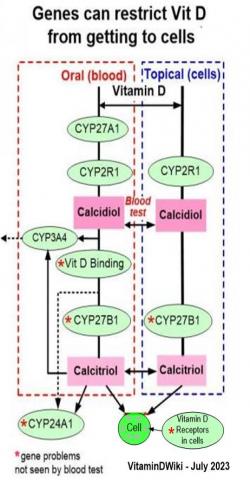 Snapshot of the literature by VitaminDWiki - (subject to many future developments)
Vitamin D from coming from tissues (vs blood) was speculated to be 50% in 2014, andi in 2017 is speculated to be 90%
Note: Good results from a blood test (> 40 ng) does not mean that a good amount of Vitamin D actually gets to cells
A Vitamin D test in cells appears feasible (personal communication)
However test results would vary in each tissue due to multiple genes
Good clues that Vitamin D is being restricted from getting to the cells
1) A vitamin D-related health problem runs in the family
especially if it is one of

51+

diseases related to Vitamin D Receptor
2) Slightly increasing Vitamin D show benefits (even if conventional Vitamin D test shows an increase)
3) Vitamin D Receptor test (<$30) scores are difficult to understand in 2016
easier to understand the VDR 23andMe test results analyzed by FoundMyFitness in 2018
4) Back Pain
probably want at least 2 clues before taking adding vitamin D, Omega-3, Magnesium, Resveratrol, etc
The founder of VitaminDWiki took action with clues #3&4
&nbspDownload the PDF from VitaminDWiki
Genetic factors likely influence individuals' concentrations of 25-hydroxyvitamin D [25(OH)D], a biomarker of vitamin D exposure previously linked to reduced risk of several chronic diseases. We conducted a genome-wide association study of serum 25(OH)D (assessed using liquid chromatography-tandem mass spectrometry) and 386,449 single nucleotide polymorphisms (SNPs).
Our sample consisted of 1,829 participants randomly selected from the Sister Study, a cohort of women who had a sister with breast cancer but had never had breast cancer themselves. 19,741 SNPs were associated with 25(OH)D (p < 0.05). We re-assessed these hits in an independent sample of 1,534 participants who later developed breast cancer. After pooling, 32 SNPs had genome-wide significant associations (p < 5 × 10-8).
These were located in or near GC, the vitamin D binding protein, or CYP2R1, a cytochrome P450 enzyme that hydroxylates vitamin D to form 25(OH)D. The top hit was rs4588, a missense GC polymorphism associated with a 3.5 ng/mL decrease in 25(OH)D per copy of the minor allele (95% confidence interval [CI]: -4.1, -3.0; p = 4.5 × 10-38). The strongest SNP near CYP2R1 was rs12794714, a synonymous variant (p = 3.8 × 10-12; β = 1.8 ng/mL decrease in 25(OH)D per minor allele [CI: -2.2, -1.3]). Serum 25(OH)D concentrations from samples collected from some participants 3-10 years after baseline (811 cases, 780 non-cases) were also strongly associated with both loci. These findings augment our understanding of genetic influences on 25(OH)D and the possible role of vitamin D binding proteins and cytochrome P450 enzymes in determining measured levels. These results may help to identify individuals genetically predisposed to vitamin D insufficiency.
PMID: 29545823 PMCID: PMC5838824 DOI: 10.3389/fgene.2018.00067