Vitamin D supplementation for improvement of chronic low-grade inflammation in patients with type 2 diabetes: a systematic review and meta-analysis of randomized controlled trials.
Nutr Rev. 2018 Feb 27. doi: 10.1093/nutrit/nux077. [Epub ahead of print]
Mousa A1, Naderpoor N1, Teede H1, Scragg R2, de Courten B1.
1 Monash Centre for Health Research and Implementation, School of Public Health and Preventive Medicine, Monash University, Melbourne, Australia.
2 School of Population Health, University of Auckland, Auckland, New Zealand.
VitaminDWiki
From Hypponen - 7X less diabetes for children taking 2,000 IU of vitamin D
CLICK HERE for details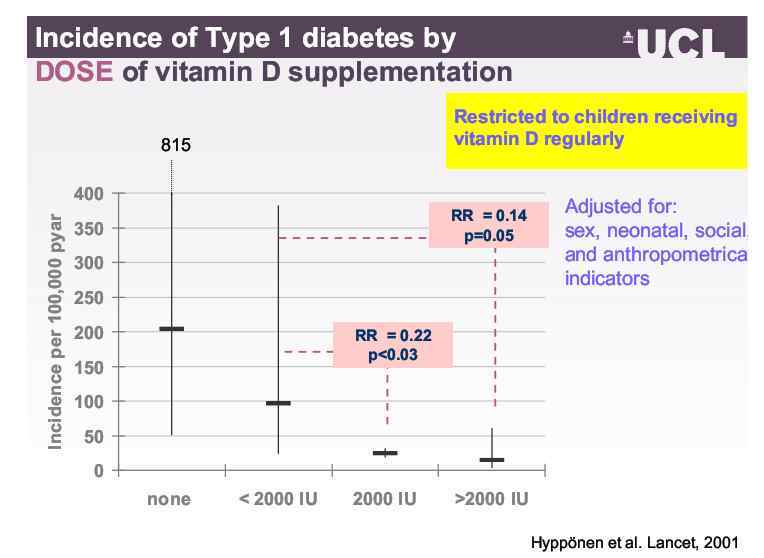 Increasing diabetes from CDC Diabetes Report Card 2012
(attached at bottom of this page)
- perhaps associated with decreasing vitamin D, even though the word vitamin does not occur once in the CDC publication
It is amazing that there are so many trials trying to confirm that vitamin D intervention can prevent/treat diabetes,
yet the CDC does not have a single word on Vitamin D in their report card.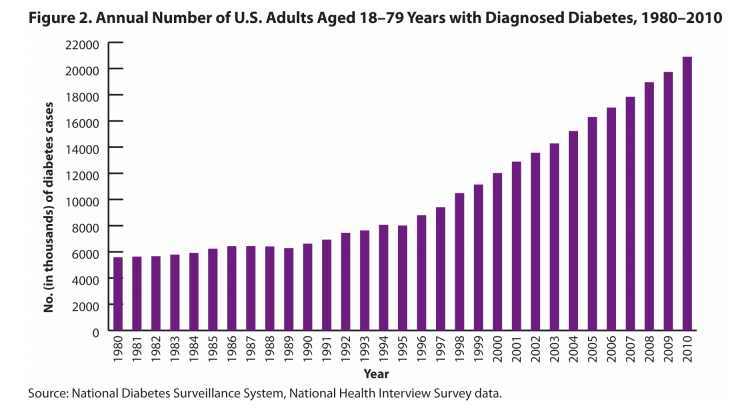 Vitamin D Council
Children with type II diabetes Vitamin D Council Aug 2012
Children with T2 were 3X more likely to be vitamin D deficient than children with T1
Note: only 3,700 children in US are newly diagnosed with with T2 annually
Type II Vitamin D Council, Jan 2016
9.3% of US adults as of 2014, describes symptoms and risk factors
Type I diabetes Vitamin D Council Feb 2014
One of their Patient-Friendly guides. Summary points, 7 recent references
Research has shown that babies with high vitamin D intake during their first year of life are less likely to develop T1D later in life.
Research has shown that pregnant mothers with high vitamin D levels during pregnancy are less likely to have children that get T1D later in life.
However, this research is less strong compared to vitamin D intake during early childhood and infancy.
Some research has shown that vitamin D may help improve insulin sensitivity and help manage blood glucose in those with T1D, though we can't say for sure if vitamin D helps at all in T1D.
The majority of studies that have been done so far have been observational meaning we cannot say for sure if vitamin D is a main factor in the prevention or treatment of T1D.
More experiments are needed to clearly answer whether vitamin D supplementation can prevent or treat T1D.
Diabetes complications (nothing about Vitamin D) - 2016
Briefly Discusses
Skin Complications, Eye complications, Neuropathy, Foot Complications
Ketoacidosis & Ketones, Kidney Disease (Nephropathy)
High Blood Pressure (Hypertension), Stroke
Hyperosmolar Hyperglycemic Nonketotic syndrom (HHNS)
Gastroparesis. Heart Diseases, Mental Health, Pregnancy
No such attachment on this page
Finger blood sugar tests do not help unless using Insulin
Is the Finger-Stick Blood Test Necessary for Type 2 Diabetes Treatment? June 2017
"Blood glucose testing does not offer a significant advantage in blood sugar control or quality of life for patients with type 2 diabetes who are not treated with insulin, according to a study published online by JAMA Internal Medicine."
"In the MONITOR trial, 450 patients were assigned to no blood sugar monitoring, once daily glucose monitoring, or enhanced once-daily glucose monitoring with an internet-delivered tailored message of encouragement or instruction for 1 year."
"Results showed no significant differences in blood glucose control across the 3 groups. There were no significant differences in health-related quality of life or for hypoglycaemia, hospitalisations, and emergency room visits."
"There was also no difference in the number of individuals who had to start using insulin treatment to better control blood glucose levels."
New type of Insulin (GMO) results in increased deaths - Aug 2017
GMO Insulin Increases Morbidity and Mortality in Type 2 Diabetics GreenMedInfo
The GMO forms have a different struction and 4X as much of GMO form is needed to get the same benefit
# of references at GreenMedInfo for other diabetic treatments: ginger (37), spirulina (38), and black cumin seed (39), nutraceuticals such as L-arginine (40), vitamin C (41), magnesium (42), omega-3 fatty acids (43), and vitamin D (43), and both high intensity interval training (44) and aerobic exercise (45)
---
Diabetes category starts with the following
---
As with virtually all meta-analyses, the amount of vitamin D is not considered.
Note – The study showing the most benefit happens to have used a lot of vitamin D (50,000 IU every 2 weeks: Razzaghi doi: 10.1016/j.jdiacomp.2016.06.017)
&nbspDownload the PDF from VitaminDWiki

BACKGROUND:
Vitamin D has been proposed to have anti-inflammatory properties; however, the effect of vitamin D supplementation on inflammation in type 2 diabetes has not been established.
OBJECTIVE:
The aim of this systematic review and meta-analysis was to examine the effect of vitamin D supplementation on inflammatory markers in patients with type 2 diabetes and to identify relevant gaps in knowledge.
DATA SOURCES:
MEDLINE, CINAHL, Embase, and EBM Reviews were searched systematically from inception to January 25, 2017.
STUDY SELECTION:
Randomized controlled trials (RCTs) investigating the effects of vitamin D supplementation (any form, route, and duration, and with any cosupplementation) compared with placebo or usual care on inflammatory markers in patients with type 2 diabetes were selected.
DATA EXTRACTION:
Study and sample characteristics and aggregate outcome data were extracted, risk of bias was determined, and quality of evidence was assessed using the Grading of Recommendations, Assessment, Development, and Evaluation (GRADE) approach.
RESULTS:
Twenty-eight RCTs were included, 20 of which had data available for pooling. In meta-analyses of 20 RCTs (n = 1270 participants), vitamin D-supplemented groups had lower levels of C-reactive protein (standardized mean difference [SMD] -0.23; 95%CI, -0.37 to -0.09; P = 0.002) and tumor necrosis factor α (SMD -0.49; 95%CI, -0.84 to -0.15; P = 0.005), a lower erythrocyte sedimentation rate (SMD -0.47; 95%CI, -0.89 to -0.05; P = 0.03), and higher levels of leptin (SMD 0.42; 95%CI, 0.04-0.81; P = 0.03) compared with control groups. No differences were observed for adiponectin, interleukin 6, or E-selectin (all P > 0.05). In meta-regression and subgroup analyses, age, sex, body mass index, duration of diabetes, baseline vitamin D status, and dose and duration of supplementation did not alter the results.
CONCLUSIONS:
This meta-analysis provides level 1 evidence that vitamin D supplementation may reduce chronic low-grade inflammation in patients with type 2 diabetes.
SYSTEMATIC REVIEW REGISTRATION: PROSPERO CRD42016047755. Available at: https://www.crd.york.ac.uk/prospero/display_record.php?RecordID=47755 (9/15/2016).
PMID: 29490085 DOI: 10.1093/nutrit/nux077