Ways to increase your vitamin D levels even if you:
- Do not like to, want to, cannot remember to swallow pills/capsules
- Have a poorly functioning gut
Source of vitamin D
Not Swallow
Not Absorb
Notes
Sun/

UVB

Great
Great

Sun is best, UV is good

, vitamin D is OK - but lowest cost and easiest to get

Sublingual/liquid

Great
Great
Several suppliers, 3X to 5X the cost of vitamin D in capsules, which is still low cost

Bio-emulsified drops

Great
Great
Designed for this purpose, amazingly just as low cost as vitamin D capsule
Injection
Great
Great
Lasts many months, requires going to doctor each time
Calcidiol
?
Great - if inject
click on chart below
Calcitriol
?
Great - if inject
click on chart below
Skin Patch
Great
Great
Expensive?
Vaginal
Great
Great
Use powder from capsule
Great
perhaps
water-soulable
Bio-Tech and several others

Bulk

Great
no
Add it to juice, food, etc.
Getting Vitamin D into your body has the following chart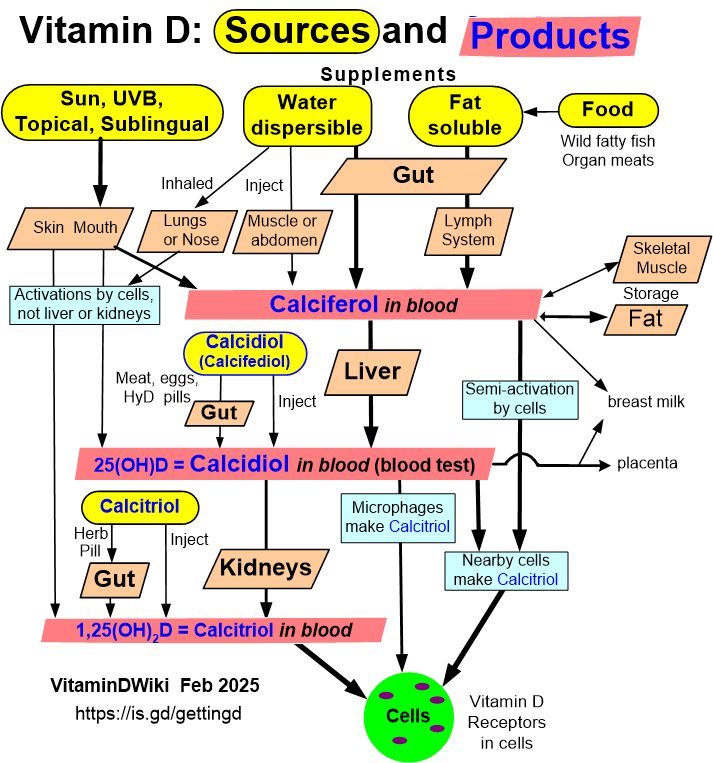 See also VitaminDWiki
Vitamin D from low-cost UVB lamps
Vaginal suppository of 6300 IU vitamin D stopped vaginal infection – Feb 2011
Spray vitamin D inside cheek in case of emergency - Nov 2012
Optimize vitamin D from the sun
Topical vitamin D raised blood level to 38 ng (used Aloe Vera gel) – RCT March 2014
Reasons for low response to vitamin D