Vitamin D receptor activation influences the ERK pathway and protects against neurological deficits and neuronal death.
Int J Mol Med. 2017 Nov 9. doi: 10.3892/ijmm.2017.3249. [Epub ahead of print]
Yuan J1, Guo X2, Liu Z3, Zhao X4, Feng Y5, Song S6, Cui C7, Jiang P8.
VitaminDWiki Summary
Calcitriol was injected into rats abdomens 12 and 24 hours after ischaemic stroke-like event
This provides insight as to the exact nature of the Vitamin D benefits to stroke
---
Having a good level of vitamin D before a stroke greatly reduces the impact/occurrence of strokes
Getting Vitamin D to the brain quickly is essential to reduce the impact of a stroke
Very fast-acting vitamin D results from injection, IV, sublingual, and mouthwash
Standard-acting oral Vitamin D appears to take about 12 hours,
which was the time delay for the first injection, so oral may be OK
See also VitaminDWiki
20 Most-visited pages in Stroke category in VitaminDWiki
---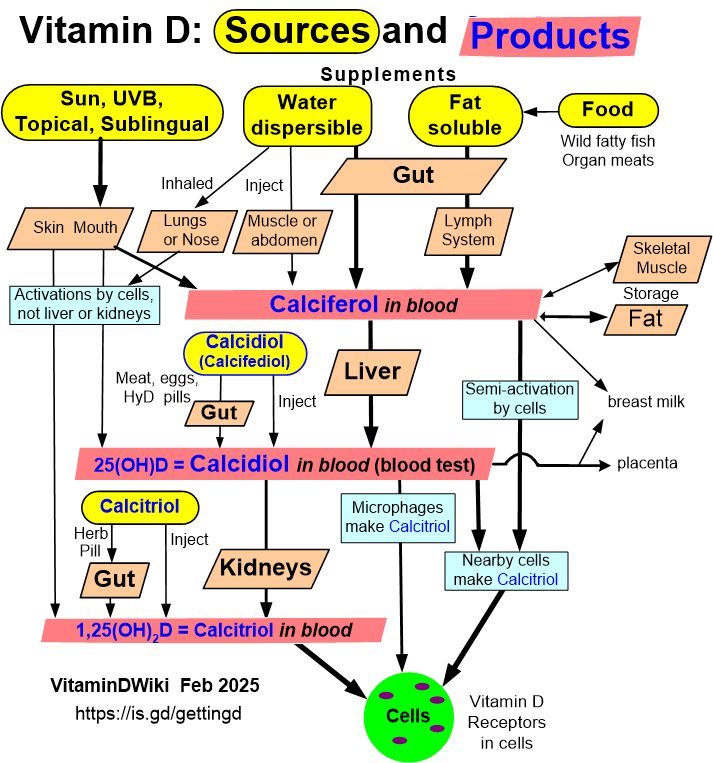 &nbspDownload the PDF from VitaminDWiki
Previous studies have demonstrated that global cerebral ischemia (GCI) causes neurological deficits and neuronal cell apoptosis. Calcitriol, a biologically active metabolite of vitamin D, exerts its endocrinological influence via nuclear vitamin D receptor. It is being assessed as an emerging therapeutic strategy in models of various medical conditions, including acute brain injury. The purpose of the present study was to investigate the neuroprotective effects of calcitriol on GCI and further refine the potential underlying mechanisms. A total of 145 male rats were assigned to 5 groups as follows: Sham group, GCI group, calcitriol treatment group, PD98059 treatment group and vehicle-treated group. Brain water content and neurologic severity score were assessed to evaluate the brain edema and neurological deficits of rats. Histopathological changes and ultrastructures of cells were observed via hematoxylin and eosin stain and transmission electron microscopy, respectively. Immunofluorescent staining and western blot analysis were used to assess the expression of proteins and their co-localization at the molecular level. The results demonstrated that post-GCI administration of calcitriol attenuated brain edema and improved neurological function in rats.
Calcitriol also caused marked extracellular signal-regulated kinase 1/2 pathway activation, and thereby attenuated neuronal apoptosis.
The present study provided novel clues for understanding the mechanisms by which calcitriol exerts its neuroprotective activity in a rat model of GCI.
Edema at 7 days
Vitamin D Receptor activation increased by Calcitriol
Cell death indicator at 3 days
PMID: 29138801 DOI: 10.3892/ijmm.2017.3249