---
Correlation of Vitamin D Levels with Pigmentation in Vitiligo Patients Treated with NBUVB Therapy - July 2014
ISRN Dermatology, Volume 2014 (2014), Article ID 493213, 6 pages, http://dx.doi.org/10.1155/2014/493213
Manu Sehrawat,1 Tarlok Chand Arora,1 Amrita Chauhan,1 Hemanta Kumar Kar,1 Amitabh Poonia,2 and Vijayeeta Jairath2
1PGIMER, Dr. RML Hospital, New Delhi, India
2Pt. B.D. Sharma Post Graduate Institute of Medical Sciences, Rohtak, Haryana 124001, India
Cholecalciferol (vitamin D) might play a physiological role in photo-induced melanogenesis in human skin. We estimated the levels of 25-hydroxy vitamin D [25(OH)D] before, during, and after Narrow Band Ultraviolet B (NBUVB) radiation in patients of vitiligo and their correlation with NBUVB induced pigmentation. Thirty patients of vitiligo and equal number of age and sex matched controls were recruited for the study. Vitiligo patients were treated with NBUVB thrice weekly for 12 weeks. [25(OH)D] levels and Vitiligo Area and Severity Index (VASI) were calculated at 0 (baseline), 6, and 12 weeks. Baseline [25(OH)D] levels were measured in controls. Significant reduction in VASI score was observed after 12 weeks of therapy. Comparison and correlation between mean improvement in VASI and [25(OH)D] levels at 12 weeks showed moderate correlation, and the results were statistically insignificant. Mean reduction in VASI and increase in [25(OH)D] levels after 12 weeks of NBUVB showed moderate correlation. Thus, vitamin D might play a significant role in photo-induced melanogenesis. However, there might be additional effects of the phototherapy on melanogenesis. The complete mechanism of NBUVB induced pigmentation in vitiligo needs to be elucidated.
---
A 2nd article in July 2014
Narrowband ultraviolet B phototherapy in combination with other therapies for vitiligo: mechanisms and efficacies.
J Eur Acad Dermatol Venereol. 2014 Jul 30. doi: 10.1111/jdv.12619. [Epub ahead of print]
Yazdani Abyaneh M1, Griffith RD, Falto-Aizpurua L, Nouri K.
1Department of Dermatology and Cutaneous Surgery, University of Miami Leonard M. Miller School of Medicine, Miami, FL, 33136, USA.
Vitiligo is a disorder of pigmentation affecting about 1% of the global population. It is a psychologically devastating disease with suboptimal treatment options. Narrowband ultraviolet B (NB-UVB) phototherapy has become a first-line choice for treating generalized disease. In recent years, topical calcineurin inhibitors, vitamin D analogues, antioxidant agents and other therapies have been combined with NB-UVB to improve its efficacy. This article will address what is known about the mechanisms of action of these treatments and how they may complement NB-UVB on a cellular level, as well as offer a comprehensive, evidence-based review of clinical outcomes with combination therapies.
© 2014 European Academy of Dermatology and Venereology.
Publisher provides low-cost access to the PDF
PMID: 25073648
---
Vitamin D (50,000 IU every 2 weeks for 8 weeks) + narrowband UVB treated vitiligo - RCT Jan 2018
Is vitamin D supplement accompanied with narrow band UVB effective for treatment of vitiligo?
Comparative Clinical Pathology, https://doi.org/10.1007/s00580-018-2651-3
Mohammad Omidian,Nader PazyarZahra-al Sadat Mousavi
Vitiligo is an acquired autoimmune depigmenting disorder that is the result of white macules formation in the skin and mucous membranes, caused by the loss of melanocytes. It has affected 0.4 to 2.0% of world's population. It has been hypothesized that Vitamin D is important for skin pigmentation, but the correlation between vitamin D and vitiligo treatment response needs to be evaluated. To evaluate vitamin D supplementation effect on the vitiligo area severity index in patients treated with narrow band UVB (NB UVB). This clinical pilot randomized study was carried out on 48 vitiligo patients who admitted to the Department of Dermatology at Imam Khomeini Hospital. Patients were randomly divided into two groups: intervention group which received vitamin D supplementation with a dose of 50,000 units once every 2 weeks, for 8 weeks.
The rest of the patients were put in control group and consumed placebo. Treatment with NB UVB irradiation with a starting dose of 0.3 j/CM2 was carried out twice a week for all patients. Our study included 21 males and 27 females. The mean age of patients was 28.08 years old. The disease's duration ranged from 1 to 15 years, with the mean of 4.52 ± 4.2 years. Sex distribution and mean age were not significantly different in either groups.
Vitamin D deficiency was seen in 32 (66.7%) of the patients.
Vitiligo area severity index (VASI) score significantly decreased from 27.14 to 4.4 in intervention group and from 7.7 to 3.28 in control group.
The correlation between mean 25(OH)D serum levels and VASI before and after intervention was statistically insignificant. NB UVB could significantly improve regimentation in vitiligo patients. Moreover, it significantly increased the serum level of vitamin D. But we have failed to demonstrate any significant correlation between serum level of vitamin D and VASI score in vitiligo patients.
---
See also VitaminDWiki
Two out of 16 vitiligo patients showed no repigmentation of the affected areas;
four patients showed 1–25% repigmentation,
five patients showed 26–50% repigmentation,
five patients showed 51–75% repigmentation and
none showed more than 75% repigmentation of the affected areas

See also web
Images from the web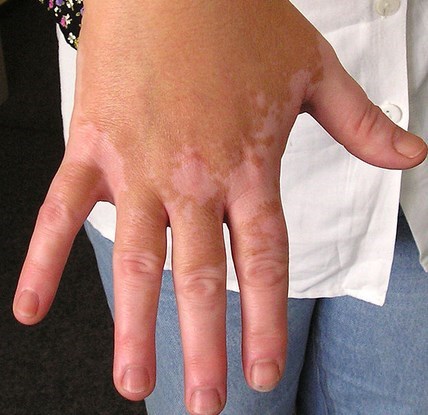 ---
This page was renamed on Sept 2018. There have actually been
16771
visitors to this page since it was originally made




This page is in the following categories (# of items in each category)