Active vitamin D impedes the progression of non-alcoholic fatty liver disease by inhibiting cell senescence in a rat model
Clinics and Research in Hepatology and Gastroenterology, https://doi.org/10.1016/j.clinre.2019.10.007
MingMaaQiLongaFeiChenaTingZhangaWenqiaoWangb
VitaminDWiki
Items in both categories Liver and Intervention are listed here: give vitamin D and see what happens
Items in both categories Liver and Omega-3 are listed here:
---
Fact: A properly functioning liver is needed for the efficient activation of vitamin D in the body
Fact: Liver diseases often result in lower levels of vitamin D
Fact: Various pain relievers damage the liver function
Fact: Lower levels of vitamin D result in osteoporosis and many other diseases
Options with a poorly functioning liver appear to be:
Increased vitamin D (example: 2X more vitamin D if Liver is 1/2 as efficient)
Consider supplementing with Iron - a patented Iron supplement appears to work very well
Get prescription for active form of vitamin D (

Calcitriol

) which does not need the liver or kidney to get the benefits of vitamin D in the body
Get Calcidiol which does not need the liver
Use Topical Vitamin D - activation by the skin etc does not require the liver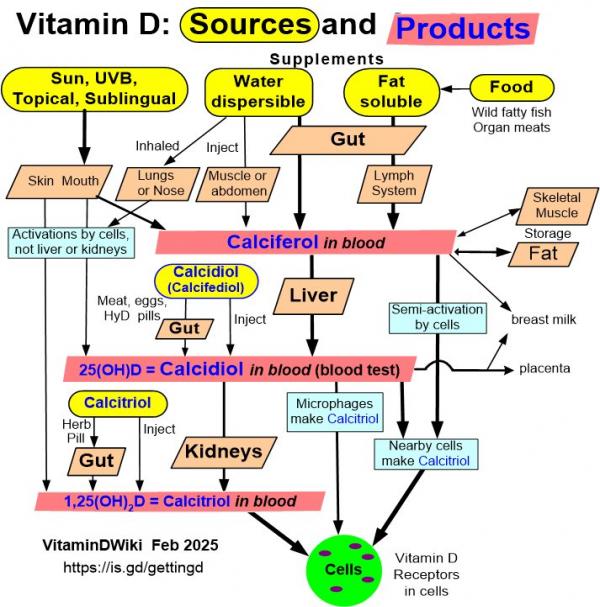 Click on image for ways of getting vitamin D even if Liver is not functioning well

Objective
Non-alcoholic fatty liver disease (NAFLD) refers to an accumulation of excess fat in liver due to causes other than alcohol use. The relationship between vitamin D (VD) and NAFLD has been previously studied. Therefore, we aimed to explore the mechanism involved active VD regulating the progression of NAFLD by inhibiting cell senescence and to provide a potential approach for further nutritional treatment of NAFLD.
Methods
Following the induction with high-fat diet and intraperitoneal injection of corn oil, the successfully established NAFLD rat models were treated with 1,25(OH)2D3 at 1 μg/kg, 5 μg/kg or 10 μg/kg. Meanwhile, the levels of factors related to oxidative stress, cell senescence, the p53-p21 signaling pathway and inflammation in liver were determined. Then, cell senescence was also measured by using senescence-associated β-galactosidase (SAβ-gal) staining.
Results
It was also found that active VD increased the concentration of VD in serum and VDR in liver of NAFLD rats, and alleviated hepatic fibrosis. Besides, treatment of 1,25(OH)2D3 at 1 μg/kg, 5 μg/kg or 10 μg/kg reduced oxidative stress and inflammation, inhibited the p53-p21 signaling pathway and consequent cell senescence. Furthermore, treatment of 1,25(OH)2D3 at a dosage of 5 μg/kg made the most impact on these factors.
Conclusion
Collectively, the evidences from this study demonstrated that active VD could alleviate the development of NAFLD through blocking the p53-p21 signaling pathway, which provided a novel nutritional therapeutic insight for NAFLD.