Vitamin D Supplementation in Adults with Vitamin D Deficiency and Its Effect on Metabolic Syndrome - A Randomized Controlled Study.
Int J Vitam Nutr Res. 2018 Feb 22:1-6. doi: 10.1024/0300-9831/a000426. [Epub ahead of print]
Mahmood SF1, Idiculla J1, Joshi R2, Joshi S3, Kulkarni S1.
1 Medicine, St Johns National Academy of Medical Sciences, Bengaluru, India.
2 AIIMS, All India Institute of Medical Sciences, Bhopal, India.
3 Medicine, Joshi Hospital, Pune, India.
VitaminDWiki
Probably only those getting vitamin D levels > 30 ng got a BMI reduction
Overview Obesity and Vitamin D contains the following summary
Calcium supplementation over four years has a beneficial effect on body composition in postmenopausal women - 2007
placebo controlled, double-blind, 4-year longitudinal clinical trial with 1100+ women PDF
Washington Post interactive graphic Aug 2015
Black line = US BMI increase
From 1980 to 2008, the average BMI for men rose in all but eight countries; the average for women rose in all but 19. Globally, nearly 10 percent of men and nearly 14 percent of women are obese, meaning their BMI is 30 or more. In some countries, particularly in the Pacific Islands, obese is average. Countries with a high average BMI tend to have high rates of diabetes, and vice versa.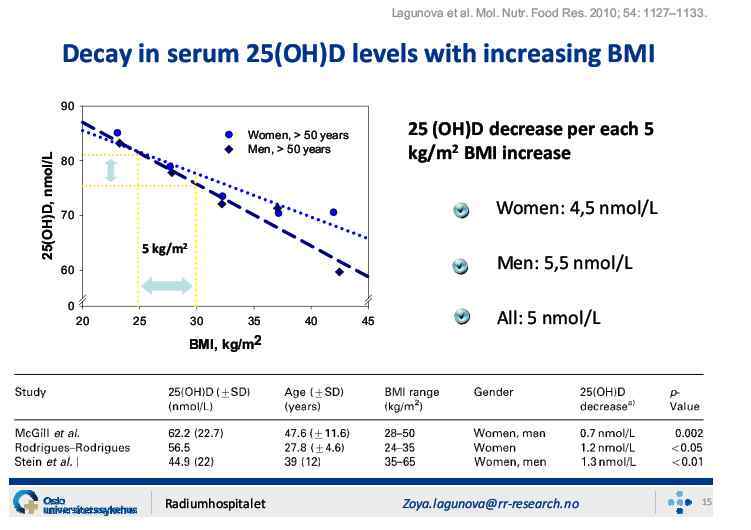 Institute of Medicine issues a report May 2012 on Obesity in American
They did not seem to even mention the possibility of vitamin D
click thumbnail to see their tall infographic

from Graphs.net - no reference is given for the data

TedMed: Investigation: insulin resistance ==> Obesity June 2013
His TedMed Talk
http://eatingacademy.com/ and Nutrition Science Initiative
2006 study with BMI > 25; Percent of Deaths associated with being overweight
Black women: 27 % White women: 22 % White men: 16 % Black men: 5 %
Vitamin D along with Vitamin K are listed as possible solutions for reducing weight
The 'disease' designation becomes a prescription for inaction,' from US News Magazine story on the AMA announcement
Invented in early 1800's
Never meant to be a measure for individuals
Currently 18.5 = underweight; 18.5 and 24.9 = normal; 25 to 29.9 = overweight; >30 = obese.
Grade 1 =30 - 34.9; Grade 2= 35 - 39.9; Grade 3 > 40
At best, though, B.M.I. is a crude measure that actually misses more than half of people with excess body fat,
It measures total body weight, not just fat. When Arnold Schwarzenegger was Mr. Universe, his B.M.I. was well in the obese range
Article mentions, and appears use the contents of a new book The Obesity Paradox: When Thinner Means Sicker and Heavier Means Healthier Amaxon March 2014
Stigma of obesity - a major barrier to overcome - 2014
2014 PDF attached at the bottom of this page
Author has written many excellent Vitmin D items
Vitamin D: what clinicians need to know - Aug 2012
Vitamin D: Everything You Need to Know - book Aug 2012
$2,000,000,000,000 per year in 2030
A report commissioned by McKinsey&Company, which studied 44 different ways of combating obesity
No country in the world reduced its obesity prevalence between 2000 and 2013.
Details on VitaminDWiki at Obesity analysis by McKinsey (Excellent - even though no vitamin D) - Nov 2014
which has an excellent table of cost-effectiveness and proof of ways to reduce obesity

First discovered in 2007. Confirmed many times since then.
Each copy of the FTO variant adds 3.5 pounds. 2 copies ==> 7.0 lbs
So, they think that environment (exercise) turns on/off genetics
Addional possibilites include:
decreased Vitamin D,
decreased Magnesium,
Increased antibiotics - which started just after WWII
BMI in Profile
98% of severely obese had low levels of vitamin D - June 2015
Health problems associated with excess weight
Seems that most problems are also associated with low vitamin D
http://www.helpguide.org/harvard/how-excess-weight-affects-your-health.htm does not mention vitamin D

Following Bariactric Surgery for obesity - special supplementation concerns
Vitalady FAQ snips
"What is available out there for those of us who can't take a vitamin 'pill' because it seems to get stuck in our pouch?"
"Since A, D & E are fat solubles and we are now malabsorbing fats 'n oils to a degree, it would do us no good to take these in soft-gel (oil filled) forms. They need to be taken in DRY form."
The more obese the man, the sooner he will die - 2016
nothing about Vitamin D
Obesity is three times as deadly for men than women Telegraph July 2016
Compared to healthy size
Obese people will die 3 years sooner
Overweight people will die 1 year sooner
Death of men before age 70
20% if healthy weight
33% if moderately obese
80% of morbidly obese.
---
Apparently from The Economist magazine's world rankings of Obesity 2011
Muslim women often wear clothing which blocks most sun/vitamin D
---
Health Effects of Overweight and Obesity
More Than 10 % of World's Population Is Obese (195 countries)
The word VITAMIN does not occur once in the study
No such attachment on this page
---
A UK region no longer will provide surgery to smokers or very obese (BMI>40) - Oct 2017
No surgery for smokers or the obese: Policy in UK stirs debate Oct 2017
Hertfordshire, which has population of more than 1.1. million.
The time frame for improving health is set at nine months for the obese in particular; those with a body mass index over 40 must reduce the number by 15% over that time period, and those with a BMI over 30 are given a target of 10%.
The target for smokers is eight weeks or more without a cigarette — with a breath test to prove it.
---
Being Overweight/Obese become the new norm, fewer people are trying to lose weight - 2017
Change in Percentages of Adults With Overweight or Obesity Trying to Lose Weight, 1988-2014 - JAMA March 2017
| | | | |
| --- | --- | --- | --- |
| | 1988 | 1991 | 2009 |
| Obese/Overweight | 53 % | 62% | 66 % |
| Try to reduce | 56 % | 47% | 49% |
Has details by male/female, race (Nothing about Vitamin D)
No such attachment on this page
The Importance of Body Weight for the Dose Response Relationship of Oral Vitamin D Supplementation and Serum 25-Hydroxyvitamin D in Healthy Volunteers
PLOS ONE, Published: November 05, 2014DOI: 10.1371/journal.pone.0111265
John Paul Ekwaru, Jennifer D. Zwicker, Michael F. Holick, Edward Giovannucci, Paul J. Veugelers
We analyzed 22,214 recordings of vitamin D supplement use and serum 25(OH)D from 17,614 healthy adult volunteers participating in a preventive health program. This program encourages the use of vitamin D supplementation and monitors its use and serum 25(OH)D and serum calcium levels. Participants reported vitamin D supplementation ranging from 0 to 55,000 IU per day and had serum 25(OH)D levels ranging from 10.1 to 394 nmol/L. The dose response relationship between vitamin D supplementation and serum 25(OH)D followed an exponential curve.
Obese need more Vitamin D: Volume dilution, IU per pound, or BMI – RCT Dec 2012 has the following chart


English BMI Formula
BMI = ( Weight in Pounds / ( Height in inches x Height in inches ) ) x 703
Metric BMI Formula
BMI = ( Weight in Kilograms / ( Height in Meters x Height in Meters ) )
http://www.bmi-calculator.net/
short url = is.gd/VDWObese
BACKGROUND:
Inverse relationship between metabolic syndrome (MetS) and 25-hydroxyvitamin D (25(OH) D) levels is controversial. Hypovitaminosis-D has long been suspected as a risk factor for glucose intolerance.
AIM:A randomized double blind placebo controlled study to evaluate effects of vitamin D supplementation on insulin resistance in subjects with hypovitaminosis-D and MetS.
MATERIALS AND METHODS:
Subjects were randomized to receive either oral 25(OH) D3 supplement (60000 (IU) per week for 8 weeks followed by 60,000 IU monthly for 4 months) or a placebo for six months. The parameters measured were blood pressure, vitamin D, fasting blood sugar (FBS), insulin, homeostasis model assessment (HOMA), quantitative insulin sensitivity check index (QUICKI), body mass index (BMI), and waist circumference (WC).
RESULTS:
There were no significant changes in parameters of vitamin-D group compared to placebo group except serum vitamin-D was significantly increased in vitamin-D group (p < 0.0001). In vitamin-D group, mean WC at baseline was 95.9 ± 6.66, which significantly changed to 94.6 ± 7.47 (p = 0.001).
Mean BMI at baseline was 29.1 ± 4.06 which significantly changed to 28.5 ± 4.16 (p = 0.001). The mean vitamin-D concentration at baseline was 15.4 ± 9.03 which significantly (p < .0001) increased to 26.1 ± 11.8. In placebo group mean insulin levels was 10.7 ± 4.81IU / L which increased significantly (p = 0.03) to 15.4 ± 14.0. Mean QUICKI at baseline was 0.34 ± 0.03 which decreased significantly (p = 0.02) to 0.32 ± 0.03.
CONCLUSION:
In this study the relationship between vitamin D supplementation and MetS or IR was not established. Whether achieving vitamin D sufficiency in large population-based trials with a longer duration would produce more favorable results needs to be assessed.
PMID: 29469682 DOI: 10.1024/0300-9831/a000426