Note: all but the PDFs are based on the first version. PDFs 3rd versions
VitaminDWiki Summary
Algerian boy was very sick and got injections of amoxicillin and Solumedrol, got hemiplegia
Went to hospital and then fell into a coma
His father, who is a Naturopathy student, recommended Vitamin D
After 6 days of Vitamin D injections (1,157,000 IU total) he became fully conscious
Note: injections were probably needed since the naso-gastric probe was not already set up (installed).
The paralysis was quickly eliminated by a diet which was high in protein
Used organic eggs or organic egg yokes (which also have Omega-3)
Both of which have >3X higher levels of vitamin (as D3 and semiactivated) and Vitamin K2
The boy left the hospital 30 days after entering
See also VitaminDWiki
Author email = ramzi8hellal@gmail.com
CONTENTS
The whole story...(p.3)
Hospitalization and coma...(p.4)
First injection of D3 vitamin and coma placebo effect...(p.5)
An Overview on the placebo effect...(p.5)
Toxicity threshold of D3 vitamin...(p.7)
History of massive vitamin injections ( megadoses ) ...(p.9)
D3 injections Progression ...(p.9)
Comment on the results ...(p.9)
Scientific evidence on the effectiveness of D3 vitamin in such cases...(p.10)
Some eye-witnesses...(p.18)
The energy existing in the comatose body...(p.18)
Strategy and action of the immune system beefed up by D3 vitamin...(p.20)
In which case is D3 vitamin injection of crucial importance...(p.21)
Precautions and contraindications...(p.22)
Some scientific concepts to be reviewed...(p.22)
And what is the NDE exactly? (p.23)
Yusuf's awakening from a coma and his hemiplegia...(p.25)
Why are paralyses curable? (p.26)
Anti-paralysis appropriate diet...(p.26)
Important Remarks...(p.27)
Conduct of the anti-paralysis diet...(p.28)
Comment on the results...(p.28)
Exercises of rehabilitation...(p.28)
The table that any doctor should have in his office...(p.29)
Placebo effect in paralysis treatment...(p.32)
Sequels after Yusuf's recovery...(p.32)
The anti-paralysis diet applications...(p.32)
Causes of Yusuf's disease, and his sudden fall...(p.33)
What benefits does a state like Algeria gain with the introducing D3 vitamin in hospitals? (p.36)
The story that Yusuf told us soon after leaving hospital...(p.38)
Conclusion (p.39)
Acknowledgement (p.40)
References (p.42)
Annexes (Supporting documents, table model) (p.49)
Important changes in the third edition include
pg 7 : how to stimulate placebo effect in the case of comatose patient who know every thing about this effect and effectiveness of drugs in intensive care (doctors, medical professors and medical researchers...).
pg 20, 21: the optimal dose of vitamin d for each comatose patient ( as example : see the given table).
pg 26, 27: more scientific evidences about effictiveness of vitamin d3 in strokes (paragraph14).
pg 32: how can we do rehabilitation for a paralysed patient with completely affected (injered) limbs.
pg 41: addition of 02 points in paragraph 28 about creation of a new assessment reference system and ensurance of effective and broad spectrum coverage ...(see also the footnote 99).
The emergency call to researchers, officials and physicians to save more lives (page 11)
Because D3 vitamin is for sure now a guarantee for health and life insurance (see the above study); and in order to deprive comatose patients of this so-called life insurance, researchers are requested - during their studies and clinical experiments on this vitamin in coma case
- to proceed as follows :
Cancel the placebo group.
Test with good amounts of D3 vitamin and predict a complement for the metabolism of the medication, (if medication is heavy).
Inject preferably massive doses (50,000 IU or more) and periodically (every 6 or 8 hours) during the first day to reach quickly the ideal range of disease curing (83-130 ng / ml) and, therefore, to shorten greatly the awakening duration.
Give good stimulation of the placebo effect, especially for comatose whose GCS ≤ 8.
Compare results only with earlier statistics (Previous months, previous year ...), and draw conclusions towards the end!
I also call for solidarity, unity and cooperation of all: officials, conventional doctors, natural doctors, owners and managers of pharmaceutical firms, researchers, journalists, ... to spreading out this study unto all hospitals, for a work headed by a senior official, such as a minister or even of higher rank in the country, to give a big impetus to this study against death and time!
It is with this approach that I strongly hope to see the progress of this scientific study going forward!
Some images in the PDF

.
Location of city in Algeria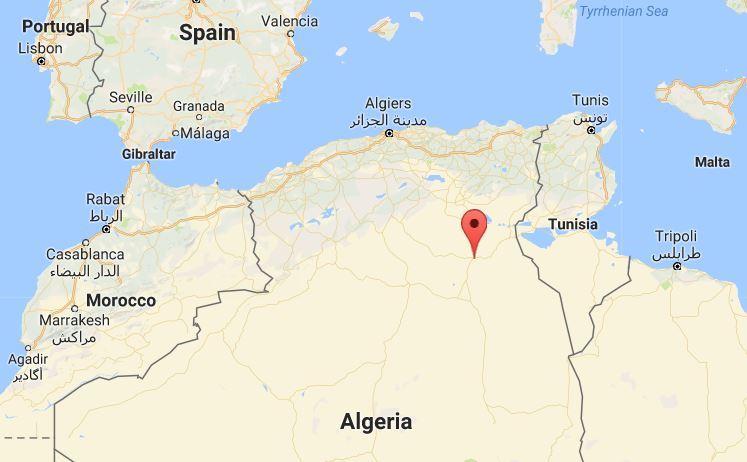 A RCT of Vitamin D with Traumatic Brain Injury - described in PDF
5 µg/kg vitamin D once-a-day for 5 days. (= 20,000 IU daily for a 100kg person)


&nbspDownload the PDF from VitaminDWiki
Coma Wikipedia Jan 2017
"Comas can last from several days to several weeks. In more severe cases a coma may last for over five weeks, while some have lasted as long as several years. After this time, some patients gradually come out of the coma, some progress to a vegetative state, and others die"
"People may emerge from a coma with a combination of physical, intellectual, and psychological difficulties that need special attention. Recovery usually occurs gradually—patients acquire more and more ability to respond. Some patients never progress beyond very basic responses, but many recover full awareness.21 Regaining consciousness is not instant: in the first days, patients are only awake for a few minutes, and duration of time awake gradually increases."
---
See also VitaminDWiki
Items in both categories Mortality and Trauma-Surgery are listed here: