Optimum dose of vitamin D for disease prevention in older people: BEST-D trial of vitamin D in primary care

Response was still increasing at 12 months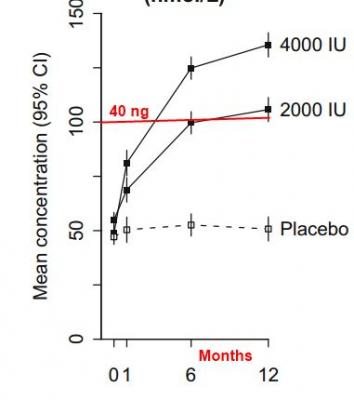 See also VitaminDWiki
Note: this study was looking at Vitamin D safety for Osteoporosis
Overview Osteoporosis and vitamin D contains the following summary
FACT: Bones need Calcium (this has been known for a very long time)
FACT: Vitamin D improves Calcium bioavailability (3X ?)
FACT: Should not take > 750 mg of Calcium if taking lots of vitamin D (Calcium becomes too bio-available)
FACT: Adding vitamin D via Sun, UV, or supplements increased vitamin D in the blood
FACT: Vitamin D supplements are very low cost
FACT: Many trials, studies. reviews, and meta-analysis agree: adding vitamin D reduces osteoporosis
FACT: Toxic level of vitamin D is about 4X higher than the amount needed to reduce osteoporosis
FACT: Co-factors help build bones.
FACT: Vitamin D Receptor can restrict Vitamin D from getting to many tissues, such as bones
It appears that to TREAT Osteoporosis:
Calcium OR vitamin D is

ok

Calcium + vitamin D is

good

Calcium + vitamin D + other co-factors is

great

Low-cost Vitamin D Receptor activators sometimes may be helpful
CONCLUSION: To PREVENT many diseases, including Osteoporosis, as well as TREAT Osteoporosis
Category Osteoporosis has
192
items
Category Bone Health has
273
items

Note: Osteoporosis causes bones to become fragile and prone to fracture
Osteoarthritis is a disease where damage occurs to the joints at the end of the bones
Overview Vitamin D Dose-Response has the following chart
_
Note the increase between triangles at 6 months and circles at 12 months

Takes a year to restore children and youths to good levels of vitamin D without loading dose - RCT Dec 2016


In 3 studies people have taken 12 months to plateau

However, typically studies show the response leveling out at about 3 months


---

Osteoporosis International pp 1–11, First Online: 16 Dec 2016, DOI: 10.1007/s00198-016-3833-y
H. HinJ. TomsonC. NewmanR. KurienM. LayJ. CoxJ. SayerM. HillJ. EmbersonJ. ArmitageR. Clarke

&nbspDownload the BEST-D PDF from VitaminDWiki

Summary
This trial compared the effects of daily treatment with vitamin D or placebo for 1 year on blood tests of vitamin D status. The results demonstrated that daily 4000 IU vitamin D3 is required to achieve blood levels associated with lowest disease risks, and this dose should be tested in future trials for fracture prevention.

Introduction
The aim of this trial was to assess the effects of daily supplementation with vitamin D3 4000 IU (100 μg), 2000 IU (50 μg) or placebo for 1 year on biochemical markers of vitamin D status in preparation for a large trial for prevention of fractures and other outcomes.

Methods
This is a randomized placebo-controlled trial in 305 community-dwelling people aged 65 years or older in Oxfordshire, UK. Outcomes included biochemical markers of vitamin D status (plasma 25-hydroxy-vitamin D [25[[OH]D], parathyroid hormone [PTH], calcium and alkaline phosphatase), cardiovascular risk factors and tests of physical function.

Results
Mean (SD) plasma 25(OH)D levels were 50 (18) nmol/L at baseline and increased to 137 (39), 102 (25) and 53 (16) nmol/L after 12 months in those allocated 4000 IU, 2000 IU or placebo, respectively (with 88%, 70% and 1% of these groups achieving the pre-specified level of >90 nmol/L). Neither dose of vitamin D3 was associated with significant deviation outside the normal range of PTH or albumin-corrected calcium. The additional effect on 25(OH)D levels of 4000 versus 2000 IU was similar in all subgroups except for body mass index, for which the further increase was smaller in overweight and obese participants compared with normal-weight participants. Supplementation with vitamin D had no significant effects on cardiovascular risk factors or on measures of physical function.

Conclusions
After accounting for average 70% compliance in long-term trials, doses of 4000 IU vitamin D3 daily may be required to achieve plasma 25(OH)D levels associated with lowest disease risk in observational studies.