The Effects of Cholecalciferol Supplementation on Vitamin D Status Among a Diverse Population of Collegiate Basketball Athletes: A Quasi-Experimental Trial
Nutrients, 12 (2) 2020 Jan 31, DOI: 10.3390/nu12020370
Nicole M Sekel 1, Sina Gallo 1 2, Jennifer Fields 2 3, Andrew R Jagim 4, Tammy Wagner 1, Margaret T Jones 2 3
VitaminDWiki
Sports category starts with
262
items in Sports category

Sports benefits from up to 50 ng (click on chart for details)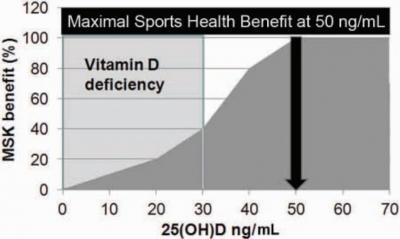 see also:
Overview Sports and vitamin D Concussions
Military Muscle Overview Fractures and vitamin D
Vitamin D supplementation increases strength of lower muscles – Meta-analysis April 2019
Athletes helped by weekly 50,000 IU Vitamin D – RCT Aug 2019
Less muscle inflammation after exercise if high level of Vitamin D (50 ng) -July 2021 50 ng
Only 1 NCAA basketball player getting 10,000 IU vitamin D daily achieved 50 ng goal – Jan 2020 50 ng
NCAA trainers are getting on board the Vitamin D train (40-50 ng)– Nov 2019 50 ng
Is 50 ng of vitamin D too high, just right, or not enough 50 ng
The only independent predictor of aerobic power: Vitamin D - 2021
Vitamin D - Legal doping for sports professionals, amateurs and their families (book in German) 2020
Some Foot and ankle problems are treated by Vitamin D – many studies
Vitamin D provides faster recovery after muscle overuse – April 2013
Olympic Committee consensus on Vitamin D, Omega-3, Zinc, etc– May 2018
Vitamin D trials by military – all 4 found benefit – review Sept 2019
Vitamin D supplementation increases strength of lower muscles – Meta-analysis April 2019
Athletes are helped by vitamin D by:
Less sore/tired after a workout
Bones which do break heal much more quickly
Increased VO2 and exercise endurance Feb 2011
Indoor athletes especially need vitamin D
Professional indoor athletes are starting to take vitamin D and/or use UV beds
Olympic athletes have used UV/vitamin D since the 1930's
The biggest gain from the use of vitamin D is by those who exercise less than 2 hours per day.
Reduced Concussions
See also: Sports and Vitamin D category
262
items

&nbspDownload the PDF from VitaminDWiki


Vitamin D may play a role in performance and injury risk, yet the required supplementation dosage for collegiate athletes is unclear. The objective of this study was to define the dosage of vitamin D3 supplementation required to beneficially affect serum 25-hydroxyvitamin D (25(OH)D) among a sample of collegiate basketball athletes. This was a quasi-experimental trial, participants were allocated to one of three groups of vitamin D3 daily at the beginning of pre-season training and dependent upon their baseline vitamin D status as follows: insufficient (<75 nmol/L) to 10,000 IU, sufficient (75-125 nmol/L) to 5000 IU and optimal (>125 nmol/L) to no supplementation. Follow-up assessments were completed ~ 5 months later in post season. The majority (n = 13) were allocated to 10,000 IU vs. n = 5 to 5000 IU and n = 2 to no supplementation. The 10,000 IU group showed the greatest change (35.0 ± 27.0 nmol/L) vs. the 5000 IU group (-9.3 ± 9.6 nmol/L) and no supplementation group (-41.6 ± 11.7 nmol/L, p < 0.01). Only 1 participant reached optimal status in the 10,000 IU group. In conclusion, a daily dosage of 10,000 IU vitamin D3 supplementation mitigated the high prevalence of vitamin D deficiency among collegiate basketball players but was insufficient for all to reach sufficient levels.