Vitamin D Supplementation in Patients with Chronic Low Back Pain: An Open Label, Single Arm Clinical Trial
Pain Physician 2017; 20:E99-E105 • ISSN 2150-1149
Babita Ghai, MD, DNB1, Dipika Bansal, MD, DM2, Raju Kanukula, M. Pharm2,
Kapil Gudala, PhD Student2, Naresh Sachdeva, PhD1, Saravdeep Singh Dhatt, MS1, and Vishal Kumar, MS1
From: 1Post Graduate Institute of Medical Education and
Research, Chandigarh, Chandigarh, India; 2Clinical Research Unit, Department of Pharmacy Practice, National Institute of Pharmaceutical Education and Research, SAS Nagar, Punjab, India
Address Correspondence: Babita Ghai, MD, DNB Post Graduate Institue of Medical Education and Research Chandigarh, India 160012 E-mail: ghaibabita1 at gmail.com
See VitaminDWiki summary
60,000 IU of vitamin D for 8 weeks in Clinical Trial
Chronic Back Pain was still decreasing at 6 months (26 weeks)
Unaware of how back pain decreases with time without vitamin D
Other Chronic Back Pain studies have used loading dosees of Vitamin D
Chronic Back Pain would probably have decreased much more quickly with a loading dose
Back Pain category listing has
41
items along with related searches

Pain Visual Analog Scale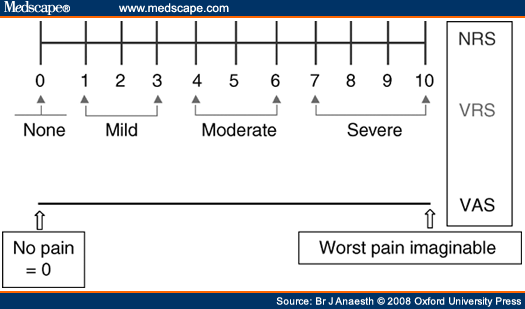 Back pain reduced for 95 percent of those who took vitamin D - 2003 file, not web page
This 2003 file resulted in the creation of VitaminDWiki

&nbspDownload the PDF from VitaminDWiki

Background: Vitamin-D deficiency may possibly be related to chronic low back pain (CLBP).
Objective: The study is aimed to assess the impact of vitamin-D supplementation on pain intensity, functional disability, and vitamin-D levels in patients with CLBP.
Study Design: Single arm open-label study.
Setting: Outpatient pain clinic of a tertiary care hospital.
Methods: Sixty-eight eligible patients (CLBP for > 3 months, pain score > 50 on visual analogue scale (VAS) and plasma 25-Hydroxyvitamin D3 levels < 30 ng/mL) were enrolled. Patients were supplemented with 60,000 IU of oral vitamin-D3 given every week for 8 weeks. Efficacy parameters included pain intensity and functional disability measured by VAS and modified Oswestry disability questionnaire (MODQ) scores at baseline, 2, 3, and 6 months post-supplementation. Plasma 25(OH) D3 levels were measured at baseline and 8 weeks.
Results: Baseline mean (SD) vitamin-D levels were 12.8 (5.73) ng/mL and increased to 36.07 (12.51) post supplementation (P < 0.01). Forty-five (66%) patients attained normal levels (> 29 ng/mL) post supplementation. Significant reduction in VAS was observed at 2, 3, and 6 months [61 (19), 45 (19), 36 (18)] as compared to 81 (19) at baseline (P < 0.001 at all-time intervals). A significant improvement in the functional ability was also observed at 2, 3, and 6 months [36 (12), 31 (13), and 26 (10)] as compared to baseline 45 (16) (P< 0.001 at all-time intervals).
Conclusion: Vitamin-D supplementation in deficient CLBP patients may lead to improvement in pain intensity and functional ability apart from normalization of the levels. Future controlled clinical trials are required to confirm the hypothesis.
Disclaimer: This trial was funded by the Department of Science and Technology, UT, Chandigarh, India. Conflict of interest: Each author certifies that he or she, or a member of his or her immediate family, has no commercial association (i.e., consultancies, stock ownership, equity interest, patent/licensing arrangements, etc.) that might pose a conflict of interest in connection with the submitted manuscript.
Manuscript received: 04-28-2015 Revised manuscript received: 06-12-2016 Accepted for publication: 06-28-2016
This page is in the following categories (# of items in each category)