Paediatr Int Child Health. 2012 Feb;32(1):3-13.
Dawodu A, Wagner CL.
Global Health Center, Cincinnati Children's Hospital Medical Center and University of Cincinnati, 3333 Burnet Avenue, MLC 2048, Cincinnati, OH 45229, USA. adekunle.dawodu at cchmc.org
2016 Chart by author via GrassrootsHealth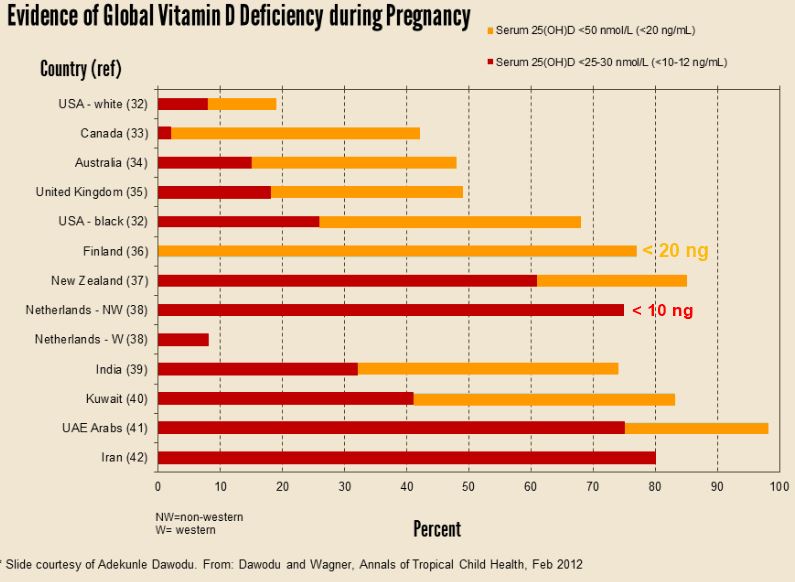 Vitamin D deficiency in mothers and infants is a global health disorder despite recognition that it is preventable.
Recent data support the theory that vitamin D deficiency in adults and children may increase the risk of infections and auto-immune diseases.
In most cases, vitamin D deficiency is caused by sunlight deprivation and inadequate corrective vitamin D intake.
There is a strong mother/infant vitamin D relationship that affects vitamin D status both in utero and in infancy.
Recognition that vitamin D deficiency is a worldwide mother/infant health problem is a basis on which to modify public health strategies to reduce the burden of disease and improve maternal and child vitamin D nutrition.
This review provides an update on vitamin D function and the global scope and implications of vitamin D deficiency as it relates to pregnancy and infancy. It also addresses a combined strategy to prevent vitamin D deficiency during pregnancy, lactation and infancy.
PMID: 22525442
---
See also VitaminDWiki