Vitamin D metabolism and function in the skin.
Mol Cell Endocrinol. 2011 Jun 1
Bikle DD. daniel.bikle at ucsf.edu
Veterans Affairs Medical Center, University of California San Francisco, 4150 Clement St. (111N), San Francisco, CA 94121, USA.
The keratinocytes of the skin are unique in being not only the primary source of vitamin D for the body, but in possessing the enzymatic machinery to metabolize vitamin D to its active metabolite 1,25(OH)(2)D.
Furthermore, these cells also express the vitamin D receptor (VDR) that enables them to respond to the 1,25(OH)(2)D they produce.
Numerous functions of the skin are regulated by 1,25(OH)(2)D and/or its receptor.
These include
inhibition of proliferation,
stimulation of differentiation including formation of the permeability barrier,
promotion of innate immunity, and
promotion of the hair follicle cycle.
Regulation of these actions is exerted by a number of different coregulators including the coactivators DRIP and SRC, the cosuppressor hairless (Hr), and ?-catenin. This review will examine the regulation of vitamin D production and metabolism in the skin, and explore the various functions regulated by 1,25(OH)(2)D and its receptor.
Copyright © 2011. Published by Elsevier Ireland Ltd.
PMID: 21664236
- - - - - - - - - -
Previous concepts of vitamin D conversion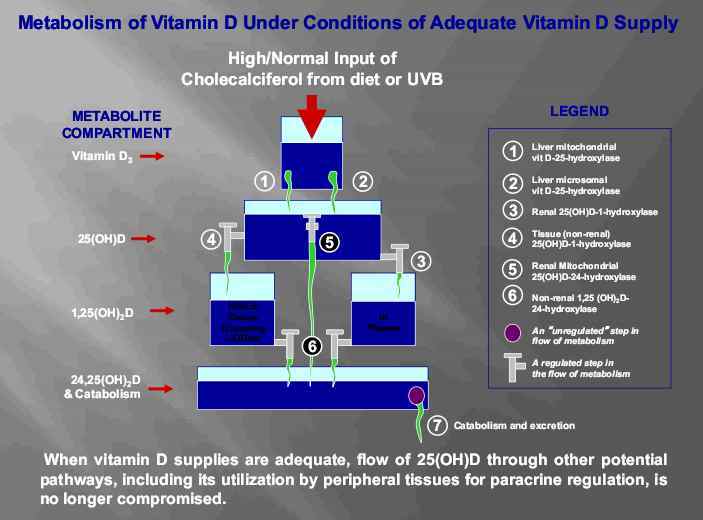 - - - - - - - - -
This brings up many questions
What percentage conversion by the skin vs renal system for a healthy, white youth
What percentage if in poor health
What percentage if not a youth
What percentage if not white
What percentage if low cholesterol
What percentage if liver/kidney is not functioning
Email response by author June 2011
"With normal renal function nearly all the circulating 1,25D comes from the kidneys.
How much individual tissues with their own 1-hyddroxylase make is unclear"
- - - - - - - -
See also VitaminDWiki