Heart Scan Blog had image of a 270 lb man in diapers
clip - - - -
It would be like trying to fit a large, full-grown man into the diapers of a 13-month old. Few nutrients or hormones (in fact, I can't think of a single one) are required in similar quantity by an infant or toddler and a full grown adult.
- - - - - - - -
Need to add vitamin D for each of the following reasons
Unhealthy people need even more vitamin D
And - the blood levels vary by 4X between individuals.
Details at VitaminDWiki
IU vs Age (and done poorly, at that) - by I o M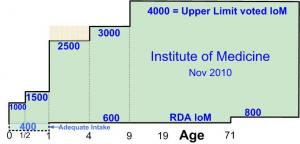 Vitamin D deficiency is a complex topic