About Micellized vitamin D3 written by Michael Cawley
All vitamin D3 made from sun exposure or ingested in supplements is of no medical value until it is converted from inactive to active in the kidneys, bones or intestines.
About 10 % of humans have lost the ability to convert D3 and therefore sun exposure and vitamin D3 supplements will be of no medical value to them.

VitaminDWiki has not seen this 10% before

Scientists became aware of this problem and invented micellized D3 to get around this biological flaw. Micellized Vitamin D3 is vitamin D3 that is hidden inside a micelle which is a nano-sized lipid. When ingested the macrophages of the immune system will quickly surround and transport the micelle to the lymph glands for destruction, as they believe to be a pathogen. Once inside the lymph gland – the micelle is quickly destroyed releasing the molecule of vitamin D3 that is hidden inside. The lymph glands are bathed in vitamin D3 conversion enzyme. The vitamin D3 is activated and then spreads through the body via the lymph system.
This form of vitamin D3 is also heavily dependant upon riboflavin and magnesium for its conversion and transportation in the body.
The most clinically useful brand of micellized vitamin D3 is made by a US company called New Beginnings.
People who cannot convert vitamin D3 will often feel fatigued, depressed or sick to their stomach when supplementing with normal vitamin D3. Some people like myself need both types of vitamin D3 to control MS or other autoimmune illnesses.
About the author
Michael Cawley is a trained Coimbra Protocol Specialist and with a background in nutrition. He has MS himself and knows therefore much of the agony his patients are going through and have experienced first hand how this protocol can help them. To get in touch with him about the treatment you can email him at cawleymjd at gmail.com
---
Founder of VitaminDWiki does not understand the differences between
nanoemulsions, nanoparticles, emulsions, liposomal, micellized, water soluble, and gut-friendly
solubility
absorption
gut-friendly
particle size
what else (besides Vitamin D)
speedup when taken sublingually (or inside the cheek)?
help when topically applied?
help when inhaled?
help with high-doses?
IU/drop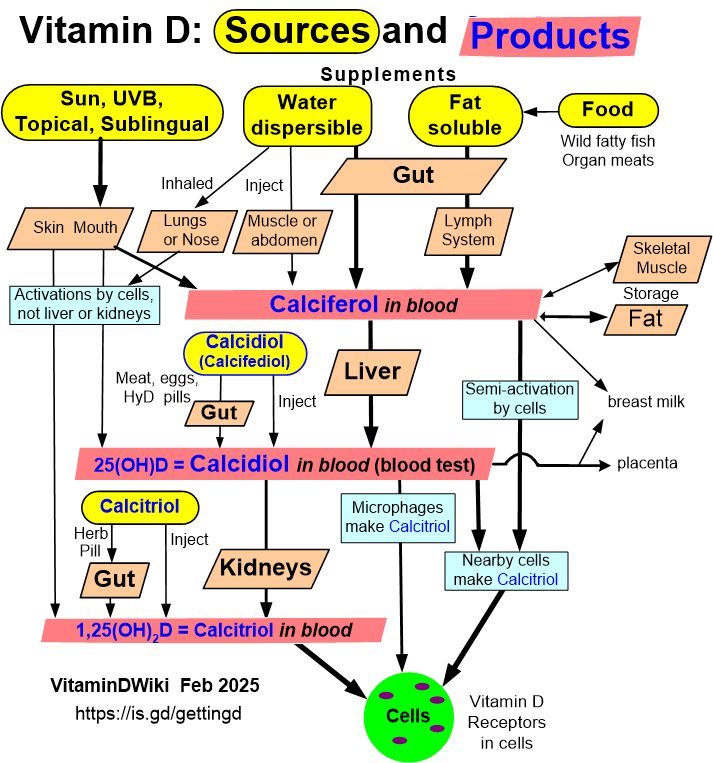 If poorly functioning gut
Bio-D-Mulsion Forte – especially made for those with poorly functioning guts, or perhaps lacking gallbladder
Sublingual – goes directly into bloodstream
you can make your own sublinqual by dissovling Vitamin D in water or use nano form
Oil: 1 drop typically contains 400 IU, 1,000 IU, or 4,000 IU, typically not taste good
Topical – goes directly into bloodstream. Put oil on your skin, Use Aloe vera cream with Vitamin D, or make your own
Vaginal – goes directly into bloodstream. Prescription only?
Bio-Tech might be useful – it is also water soluble
Vitamin D sprayed inside cheeks (buccal spray) - several studies
and, those people with malabsorption problems had a larger response to spray
Inject Vitamin D quarterly into muscle, into vein, or perhaps into body cavity if quickly needed
Nanoparticles could be used to increase vitamin D getting to the gut – Oct 2015
Poor guts need different forms of vitamin D has the following
Guesses of Vitamin D response if poor gut
Bio
Form
Speed
Duration
10
Injection ($$$)
or Calcidiol or Calcitriol
D - Slow
C -Fast
Long
10
Sun/UVB
Slow
Long
10
Topical
(skin patch/cream, vagina)
Slow
Fast nano
Normal
9
Nanoemulsion -mucosal
perhaps activates VDR
Fast
Normal
9?
Inhaled (future)
Fast
Normal
8
Bio-D-Mulsion Forte
Normal
Normal
6
Water soluble (Bio-Tech)
Normal
Normal
4
Sublingual/spray
(some goes into gut)
Fast
Normal
3
Coconut oil based
Slow
Normal
2
Food (salmon etc.)
Slow
Normal
2
Olive oil based (majority)
Slow
Normal
10= best bioavailable, 0 = worst, guesses have a range of +-2
Speed: Fast ~2-6 hours, Slow ~10-30 hours
Duration: Long ~3-6 months, Normal = ~2 months
---
Higher avg response to micellized vs oil-based monthly Vitamin D, but fewer got >20 ng - 2016
Efficacy of micellized vs. fat-soluble vitamin D3 supplementation in healthy school children from Northern India.
J Pediatr Endocrinol Metab. 2016 Dec 1;29(12):1373-1377. doi: 10.1515/jpem-2016-0191.
Marwaha RK, Yenamandra VK, Ganie MA, Sethuraman G, Sreenivas V, Ramakrishnan L, Mathur SK, Sharma VK, Mithal A.
BACKGROUND:
Vitamin D deficiency is a widely recognized public health problem. Efficacy of a recently developed micellized form of vitamin D3 has not been studied. Hence, we undertook this study to compare its efficacy with the conventionally used fat-soluble vitamin D3.
METHODS:
In this open-labeled nonrandomized pilot study, we recruited 180 healthy children, aged 13-14 years in two groups and supplemented Group A (60 children) with 60,000 IU of fat-soluble vitamin D3/month with milk and Group B (120 children) with 60,000 IU/month of water miscible vitamin D3 under supervision for 6 months. Serum 25(OD)D, parathyroid hormone (PTH), calcium, phosphate, and alkaline phosphatase (ALP) levels were evaluated before and after supplementation in 156 children (54 in Group A and 102 in Group B ) who completed the study.
RESULTS:
We observed a significantly greater increase in the serum 25(OH)D levels in group B as compared to group A
31.8±9.1 ng/mL vs.
23.7±10.4 ng/mL; p<0.001
All children in group B achieved adequate levels of serum 25(OH)D (>20 ng/mL) as against 83.3% children in group A.
Serum PTH and ALP levels declined considerably in both the groups following supplementation.
CONCLUSIONS:
Vitamin D supplementation significantly increased the serum 25(OH)D levels in both groups. Miscible form of vitamin D3 appears to be better in achieving higher levels of serum 25(OH)D than that observed with a similar dose of fat-soluble vitamin D3. Further studies with different dose regimens are required to establish its efficacy over the conventionally used fat-soluble vitamin D3.
From the PDF (Via DeepDyve)
98.7 % started with <20 ng
Sorry about the rotated image