San Franciso, California June 12 - 14
Vitamin D Workshop Slides - June 2013
Vitamin D Workshop Posters - June 2013
Commonwealth talk near to workshop:
Autism treated by Vitamin D: Dr. Cannell - video June 2013 video
Breast Cancer and Vitamin D: Dr Garland - video June 2013 video
New Chart of Vitamin D levels vs Disease - by GrassRootsHealth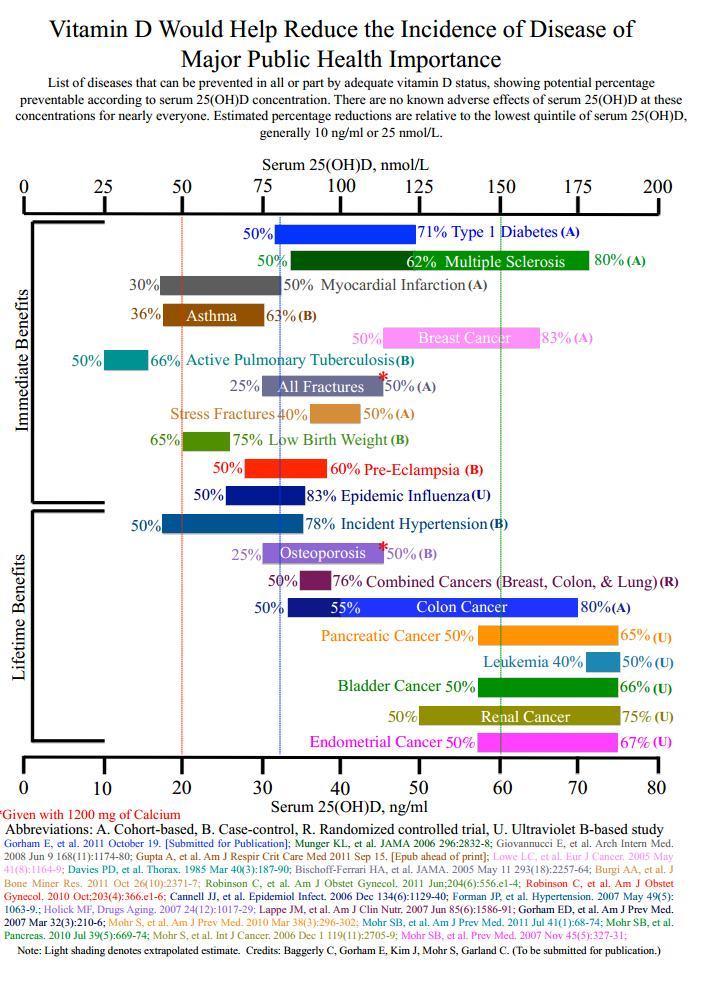 Notes by Henry Lahore on Vitamin D Workshop June 2013,
3-epi-25 hydroxyvitamin D form may make up 20 ng of vitamin d in infants < 1 year old
Not known what 3-ep1 form does. Some testers (Mass spec) include it, some ignore it.
Decrease of vitamin D with time: probably linear rather than exponential
200 IU recommendation by WHO and intravenous feeding are both very out of date
How much vitamin D can the body process per day: some feel 10,000, others feel 50,000
The study which found sun last longer than supplements might have been for D2, not D3
Wonder how soon till infant/fetus is able to convert vitamin D into what the body can use ?
Some preemies need supplementation with active form of vitamin D –
Magnesium – yes, this orphan element might be a source of problems with vitamin D
Magneiusm bio-availability unclear
Epigenetics, twin study Vietnam perhaps 65% vitamin D variation is inherited
What happens when vitamin D is not taken daily – is something activated to decrease level
Might seniors need vitamin D more frequently than weekly?
Vitamin D should provide a great return on investment in Workplace Wellness
Pharacists like to sell Vitamin D3 instead of D2 – far more profit
Hypothesis: evolution would have arrived at > 50 ng of vitamin D if not had pesky skin cancer
Alzheimer's increase from 1% to 7% of Japanese adjusted for the same age, but there no concurrent increase in % of vascular cognitive decline!
To be effective need 2mg of sunscreen per square cm = about 1 tube per application
Why do meat eaters seem to have higher level of vitamin D than vegetarians?

Short url = http://is.gd/DWorkshop2013