Contribution of vitamin D insufficiency to the pathogenesis of multiple sclerosis
Therapeutic Advances in Neurological Disorders January 23, 2013 1756285612473513
Charles Pierrot-Deseilligny cp.deseilligny at psl.aphp.fr, Université Pierre et Marie Curie (Paris VI), Paris, France
Jean-Claude Souberbielle. Université René Descartes (Paris V), Paris, France
The contribution of vitamin D insufficiency to the pathogenesis of multiple sclerosis (MS) is reviewed. Among the multiple recently discovered actions of vitamin D, an immunomodulatory role has been documented in experimental autoimmune encephalomyelitis and in humans.
This action in the peripheral immune system is currently the main known mechanism through which vitamin D might influence MS, but other types of actions could be involved within the central nervous system. Furthermore, vitamin D insufficiency is widespread in temperate countries and in patients with MS at the earliest stages of the disease, suggesting that the deleterious effects related to vitamin D insufficiency may be exerted in these patients.
In fact, many genetic and environmental risk factors appear to interact and contribute to MS. In genetics, several human leukocyte antigen (HLA) alleles (more particularly HLA-DRB1∗1501) could favour the disease whereas some others could be protective.
Some of the genes involved in vitamin D metabolism (e.g. CYP27B1) also play a significant role.
Furthermore, three environmental risk factors have been identified:
past Epstein–Barr virus infection,
vitamin D insufficiency and
cigarette smoking.
Interactions between genetic and environmental risk or protective factors may occur during the mother's pregnancy and could continue during childhood and adolescence and until the disease is triggered in adulthood, therefore possibly modulating the MS risk throughout the first decades of life.
Furthermore, some clinical findings already strongly suggest that vitamin D status influences the relapse rate and radiological lesions in patients with MS, although the results of adequately powered randomized clinical trials using vitamin D supplementation have not yet been reported.
While awaiting these incontrovertible results, which might be long in coming, patients with MS who are currently in vitamin D insufficiency should be supplemented, at least for their general health status, using moderate doses of the vitamin.
Vitamin D decreases associated with MS progression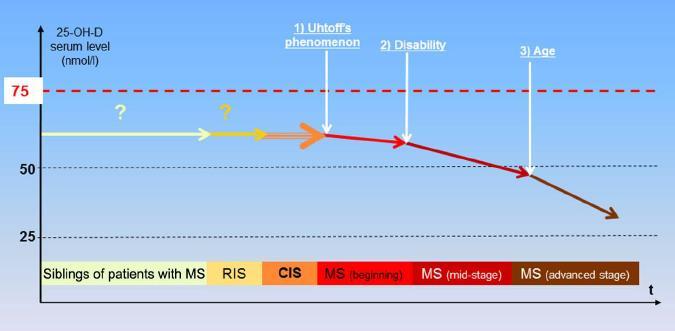 Factors which decrease or increase the probability of MS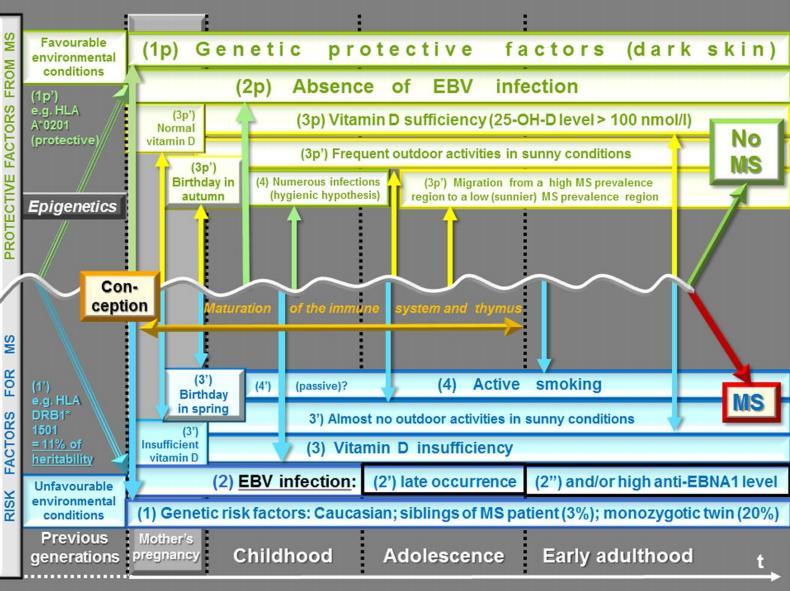 Reduction in MS releapse rate with increasing vitamin D (nmol)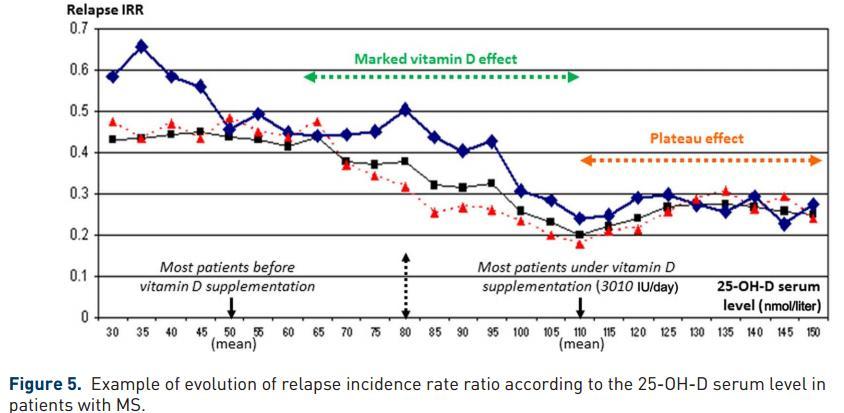 Plateau = 110-150 nmol = 44-60 ng
MS and Genes
---
PDF is attached at the bottom of this page
See also VitaminDWiki