Association between vitamin D status in early pregnancy and atopy in offspring in a vitamin D deplete cohort
Irish Journal of Medical Science (1971 -) https://doi.org/10.1007/s11845-019-02078-5
Maeve Smith Eileen C. O'Brien Goiuri Alberdi Aisling A. Geraghty Mark Kilbane Malachi J. McKenna Fionnuala M. McAuliff
VitaminDWiki
Lots of development by the 11th week of pregnancy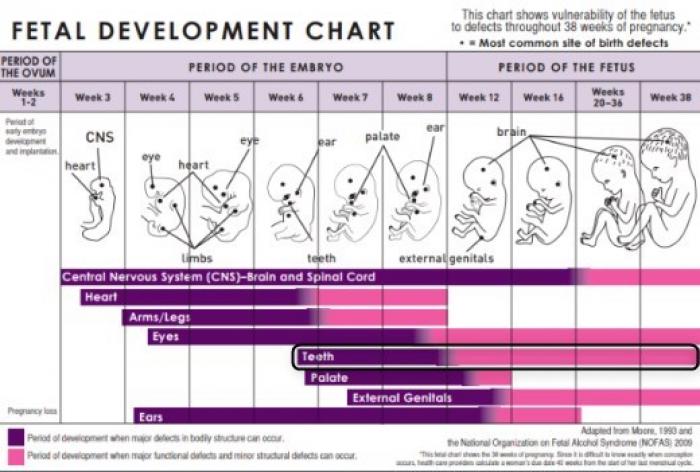 Healthy pregnancies need lots of vitamin D has the following summary
RCT = Randomized Controlled Trial
---
Post-birth vitamin D reduces allergies
&nbspDownload the PDF from Sci-Hub via VitaminDWiki
Background
Vitamin D status may play a role in the development of atopic diseases due to its action on lung development and immune system development and function.
Aims
Our objective was to assess whether 25-hydroxyvitamin D (25OHD) levels in maternal blood in pregnancy were associated with atopy in children.
Methods
We analysed 279 mother-child pairs from the ROLO study conducted in Dublin, Ireland. Serum 25OHD was measured at 13 and 28 weeks of pregnancy. Development of childhood atopy was self-reported by mothers at follow-up appointments at 6 months, 2 years or 5 years. Logistic regression analysis was used to evaluate associations between maternal 25OHD status and development of atopy.
Results
The mean (SD) 25OHD levels in early and late pregnancy were 41.9 (19.2) nmol/L and 40.2 (21.6) nmol/L, respectively. Maternal 25OHD status in early pregnancy, but not in late pregnancy, was associated with a reduced risk of atopy at 2 years (OR 0.972, CI 0.946–0.999).
In early pregnancy, those with serum 25OHD levels < 30 nmol/L compared with those with 25OHD > 50 nmol/L had significantly greater risk of developing atopy at 2 years (OR 4.76, CI 1.38–16.47).
Conclusions
The development of childhood atopy may be associated with maternal vitamin D deficiency in early pregnancy among a cohort of women at risk of vitamin D deficiency. Further research is required to explore the relationship between vitamin D and atopy, particularly among women with poor vitamin D status, and whether supplementation should be prioritised in early pregnancy to reduce childhood atopy.