Every health problem listed has been associated with Vitamin D deficiency
The percentage of people with low vitamin D has also DOUBLED in a decade
The increased health problem could be due to:
1) Decreased Vitamin D in Blood
2) Decreased Vitamin D getting to tissue (due to poor genes)
3) Some other reason
Have the health problems increased so slowly that,
like the slowly heated frog, we have not noticed?
Example Charts

Some of the increased health problem incidence might be attributed to an aging population.
But note: Many charts such as Alzheimer's, Parkenson's, Clostridium difficile, etc. are age-compensated.
that is, it is the % increase for that age group, rather than the % increase vs the entire population.
See also VitaminDWiki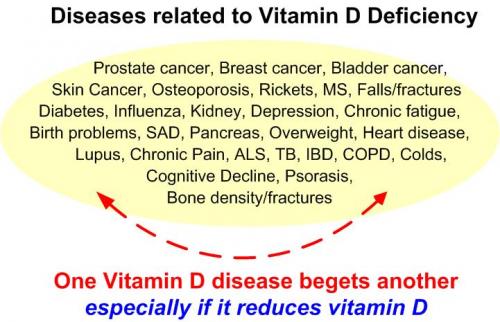 See also web for other increases
| | |
| --- | --- |
| 1 in 6 | is learning disabled; |
| 1 in 9 | has asthma; |
| 1 in 10 | has a mental disorder; |
| 1 in 13 | is severely allergic to food; |
| 1 in 20 | has epilepsy; |
| 1 in 50 | has autism |
| 1 in 400 | has diabetes |
Short url = http://is.gd/increasedisease
Title revision of Dec 2019 caused the visitor count to reset.
There have actually been
48721
visitors to this page since it was originally made

This page is in the following categories (# of items in each category)
| ID | Name | Comment | Uploaded | Size | Downloads | |
| --- | --- | --- | --- | --- | --- | --- |
| 12303 | COPD increase.jpg | | admin 11 Jul, 2019 22:25 | 54.03 Kb | 4192 | |
| 9199 | PD death till 2011.jpg | | admin 17 Jan, 2018 02:08 | 30.26 Kb | 3751 | |
| 7787 | Diabetes CDC 2014.jpg | | admin 05 Mar, 2017 13:22 | 32.89 Kb | 4014 | |
| 5335 | Infant Mortality Trends.pdf | PDF | admin 17 Apr, 2015 21:29 | 2.38 Mb | 3500 | |
| 5334 | Black infant mortality.jpg | | admin 17 Apr, 2015 21:28 | 38.92 Kb | 5979 | |
| 5333 | Neonatal mortality.jpg | | admin 17 Apr, 2015 21:25 | 31.83 Kb | 5940 | |
| 3692 | Lyme Disease.gif | | admin 11 Mar, 2014 21:42 | 10.58 Kb | 10606 | |
| 3520 | frogpot2.gif | | admin 12 Jan, 2014 17:34 | 8.46 Kb | 20429 | |
| 3476 | Septicemia.GIF | | admin 02 Jan, 2014 17:45 | 32.07 Kb | 8154 | |
| 3474 | Alz death rate - age adjusted.png | | admin 02 Jan, 2014 17:28 | 24.23 Kb | 18732 | |
| 3473 | children_with_cd.jpg | | admin 02 Jan, 2014 16:34 | 39.54 Kb | 17745 | |
| 3472 | C-section and food allergy.jpg | | admin 02 Jan, 2014 16:12 | 24.53 Kb | 15922 | |
| 3471 | Metabolic Syndrom increase.jpg | | admin 02 Jan, 2014 02:15 | 58.75 Kb | 15771 | |
| 2941 | Parkinson.jpg | | admin 28 Aug, 2013 17:38 | 31.28 Kb | 21385 | |
| 2939 | Thyroid Cancer - Europe.jpg | | admin 28 Aug, 2013 17:37 | 57.83 Kb | 16175 | |
| 2938 | Diabetes age-adjusted.jpg | | admin 28 Aug, 2013 17:37 | 29.18 Kb | 21116 | |
| 2937 | Pulminary hypertension.jpg | | admin 28 Aug, 2013 17:36 | 45.41 Kb | 30963 | |