---
Vitamin D supplementation and prevention of cardiovascular disease and cancer in the Finnish Vitamin D Trial : a randomized controlled trial
American Journal of Clinical Nutrition , vol. 115 , no. 5 , pp. 1300-1310 . https://doi.org/10.1093/ajcn/nqab419
Virtanen , J K , Nurmi , T , Aro , A , Bertone-Johnson , E R , Hypponen , E , Kroger , H , Lamberg-Allardt , C , Manson , J E , Mursu , J , Mantyselka , P , Suominen , S , Uusitupa , M , Voutilainen , A , Tuomainen , T-P & Hantunen , S 2022 , ' 'Institute of Public Health and Clinical Nutrition, University of Eastern Finland, Kuopio, Finland; independent scientist, Kangasala, Finland; 3Department of Biostatistics, School of Public Health and Health Sciences, University of Massachusetts, Amherst, MA, USA; 4Department of Epidemiology and Health Promotion and Policy, School of Public Health and Health Sciences, University of Massachusetts, Amherst, MA, USA; 5 Australian Centre for Precision Health, Unit of Clinical and Health Sciences, University of South Australia, Adelaide, Australia; 6South Australian Health and Medical Research Institute, Adelaide, Australia; 'Department of Orthopaedics, Traumatology and Hand Surgery, Kuopio University Hospital, Kuopio, Finland; 8 Department of Food and Nutrition, University of Helsinki, Helsinki, Finland; 'Department of Medicine, Brigham and Women's Hospital Harvard Medical School, Boston, MA, USA; ''Department of Epidemiology, Harvard T.H. Chan School of Public Health, Boston, MA, USA; ''Primary Health Care Unit, Kuopio University Hospital, Kuopio, Finland; ''Department of Public Health, University of Turku, Turku University Hospital, Turku, Finland; and '3School of Health Sciences, University of Skovde, Skovde, Sweden
All arms started with 30 ng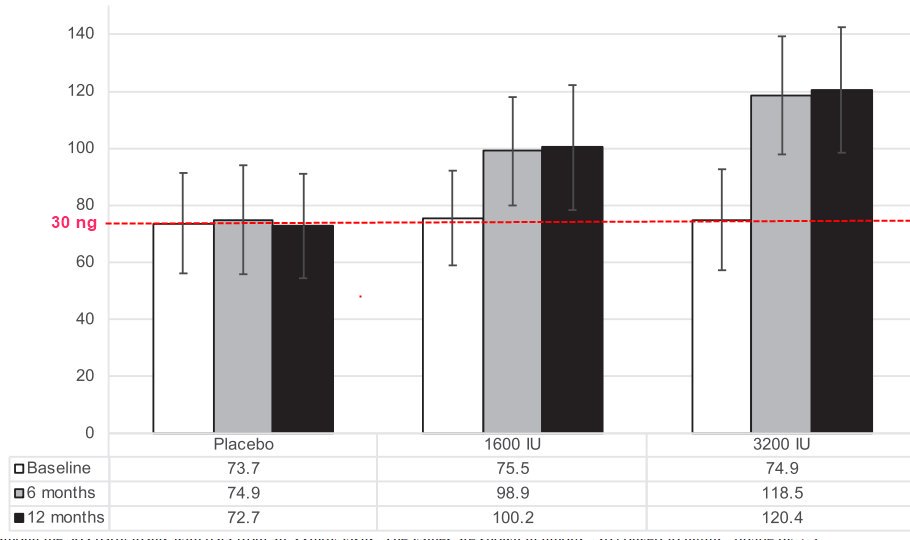 Not much difference between placebo, 1600 IU and 3200 IU

Background: Vitamin D insufficiency is associated with risks of cardiovascular diseases (CVD) and cancer in observational studies, but evidence for benefits with vitamin D supplementation is limited. Objectives: To investigate the effects of vitamin D3 supplementation on CVD and cancer incidences.
Methods: The study was a 5-year, randomized, placebo-controlled trial among 2495 male participants >60 years and post-menopausal female participants >65 years from a general Finnish population who were free of prior CVD or cancer. The study had 3 arms: placebo, 1600 IU/day, or 3200 IU/day vitamin D3. Follow-up was by annual study questionnaires and national registry data. A representative subcohort of 551 participants had more detailed in-person investigations. The primary endpoints were incident major CVD and invasive cancer. Secondary endpoints included the individual components of the primary CVD endpoint (myocardial infarction, stroke, and CVD mortality), site-specific cancers, and cancer death.
Results: During the follow-up, there were 41 (4.9%), 42 (5.0%), and 36 (4.3%) major CVD events in the placebo, 1600 IU/d (compared with placebo: HR: 0.97; 95% CI: 0.63-1.49; P = 0.89), and 3200 IU/d (HR: 0.84; 95% CI: 0.54-1.31; P = 0.44) arms, respectively. Invasive cancer was diagnosed in 41 (4.9%), 48 (5.8%), and 40 (4.8%) participants in the placebo, 1600 IU/d (HR: 1.14; 95% CI: 0.75-1.72; P = 0.55), and 3200 IU/d (HR: 0.95; 95% CI: 0.61-1.47; P = 0.81) arms, respectively. There were no significant differences in the secondary endpoints or total mortality. In the subcohort, the mean baseline serum 25-hydroxyvitamin D concentration was 75 nmol/L (SD, 18 nmol/L). After 12 months, the concentrations were 73 nmol/L (SD, '8 nmol/L), '00 nmol/L (SD, 2' nmol/L), and '20 nmol/L (SD, 22 nmol/L) in the placebo, '600 IU/d, and 3200 IU/d arms, respectively.
Conclusions: Vitamin D3 supplementation did not lower the incidences of major CVD events or invasive cancer among older adults, possibly due to sufficient vitamin D status in most participants at baseline.
&nbspDownload the PDF from VitaminDWiki
---
Expect this RCT would have found statistically significant results in >170 other countries
See
---
Expect Finland would have gotten good results if they had added Magnesium and Omega-3
17
articles are in both Cardiovascular and Magnesium categories
32
articles are in both Cardiovascular and Omega-3 categories

---

VitaminDWiki pages with FINLAND or FINNISH in title (18 as of Sept 2022)

This list is automatically updated

| Title | | Modified |
| --- | --- | --- |
| Happiest country on earth has a high Vitamin D level (Finland, with little sun) – March 2022 | | 27 Nov, 2022 |
| 95 percent of pregnant women in Finland took vitamin D – PHD Dissertation Dec 2019 | | 04 Apr, 2022 |
| After years of adding vitamin D, Finland now has 35 ng levels - March 2022 | | 24 Mar, 2022 |
| Vitamin D levels in Finland increased 2000-2011 (supplementation and fortification) – May 2017 | | 05 Jan, 2022 |
| Less response to 800 IU of Vitamin D by Africans than natives in Finland – RCT March 2018 | | 25 Dec, 2019 |
| IBD in Finland – 3X increase in 15 years, more prevalent further from equator – Nov 2012 | | 14 May, 2019 |
| Vitamin D needed for 12 ng in winter in Finland – Whites 320 IU, Blacks 720 IU – July 2018 | | 24 Jul, 2018 |
| Spring sunshine in snowy Finland normalized Vitamin D levels to 36 nanograms – 2017 | | 13 Mar, 2018 |
| Type I Diabetes stopped increasing in Finland after Vitamin D levels were raised – July 2014 | | 15 Oct, 2016 |
| Improved health due to vitamin D fortification in Finland | | 15 Oct, 2016 |
| Vitamin D fortification is returning to Finland – now 400 IU per 100 gram of butter – Oct 2016 | | 15 Oct, 2016 |
| Finland increased vitamin D - Nov 2010 | | 26 Jul, 2014 |
| Type 1 diabetes starting to decrease in Finland, they started Vitamin D fortification in 2003 – July 2013 | | 26 Jul, 2014 |
| Infants in France and Finland need 1000 IU of vitamin D, but apparently infants in US need only 400 - 2013 | | 14 Jul, 2013 |
| Finland hopes to double Vitamin D dose for elderly from 400 to 800 IU in 2012 – April 2010 | | 12 Nov, 2012 |
| Finland max 2000 IU vitamin D since cannot get more from food - 2011 | | 03 Sep, 2012 |
| Low vitamin D increased death rate 2X in Finland – Aug 2011 | | 10 Feb, 2012 |
| More likely to develop Prostate Cancer if have high level of vitamin D in Finland – Sept 2011 | | 07 Sep, 2011 |