---
Vitamin D Supplementation in Patients with Juvenile Idiopathic Arthritis – April 2022
Chao-Yi Wu 1,2,Huang-Yu Yang 2,3ORCID,Shue-Fen Luo 4,Jing-Long Huang 1,2,5 andJenn-Haung Lai 4,6,*ORCID
Nutrients 2022, 14(8), 1538; https://doi.org/10.3390/nu14081538
Vitamin D has been implicated in the pathogenesis of skeletal disorders and various autoimmune disorders. Vitamin D can be consumed from the diet or synthesized in the skin upon ultraviolet exposure and hydroxylation in the liver and kidneys. In its bioactive form, vitamin D exerts a potent immunomodulatory effect and is important for bone health. Juvenile idiopathic arthritis (JIA) is a collection of inflammatory joint diseases in children that share the manifestation of inflamed synovium, which can result in growth arrest, articular deformity, bone density loss, and disability. To evaluate the potential effect of vitamin D on JIA disease manifestations and outcomes, we review the role of vitamin D in bone metabolism, discuss the mechanism of vitamin D in modulating the innate and adaptive immune systems, evaluate the clinical significance of vitamin D in patients with JIA, and summarize the supplementation studies.
&nbspDownload the PDF from VitaminDWiki
Concluding Remarks
JIA is the leading rheumatic disorder driven by a dysregulated innate and adaptive immune system in children. While current treatments provide notable improvements in the control of systemic inflammation and the relieve of symptoms in JIA, issues in long-term bone health and concerns for medication-related side effects, infection, and malignancy, for example, have led to the search for a cost-effective therapy or nutrient supplementation with limited side effects. Vitamin D is an essential hormone in altering calcium homeostasis and modulating bone health. Its deficiency can result in osteomalacia and rickets in humans [8,9]. Beyond its endocrine activity, vitamin D is capable of enhancing the immunomodulatory activities of monocytes and macrophages, and suppressing the proinflammatory cytokines produced by lymphocytes as summarized above [10-12]. Considering the prevalence of vitamin D insufficiency among patients with JIA and its ability to alter bone mineralization and immune modulation, rising interests have led to the research of vitamin D supplementation in JIA.
Clinical significance of vitamin D in patients with JIA has been documented. Data from limited randomized controlled trials, however, did not support the therapeutic effect of vitamin D supplementation in suppressing disease activity or improving bone mineralization. Heterogeneity between studies in terms of the study population, vitamin D supplementation regimen, outcome measurements, and definitions of vitamin D deficiency is perhaps the most obvious problem. Moreover, as trials were conducted across 30 years in different geographic locations, with various ethnic backgrounds, under diverse qualities of diet, sun exposure, and clothing style, it is hard to draw a conclusion based on the available information at present.
Further studies are needed to better evaluate the potential efficacy of vitamin D treatment in JIA. First, larger controlled trials are recommended as sample sizes from existing JIA supplementation studies were small. These trials do not allow for stratification based on baseline vitamin D concentration, JIA subtypes, disease activity, medication, diet quality, sun exposure, and other factors. Next, given the high prevalence of vitamin D deficiency and because vitamin D is noted to be safe for adults in doses of up to 4000 IU/day [117], trials should supply sufficient vitamin D to correct deficiencies.
In conclusion, mechanistic and epidemiologic data support a role for vitamin D in promoting bone health and modulating disease status in JIA. However, additional evidence is needed to clarify the efficacy of vitamin D supplementation in patients with JIA and determine the optimal level of vitamin D for these patients.
---
VITAMIN D AND ITS CLINICAL SIGNIFICANCE IN JUVENILE IDIOPATHIC ARTHRITIS – June 2017
Otilia Marginean1,2 Andrea Somogyi Militaru3, Oana Belei1,2 Raluca Corina Tamasanu1, Ioana Mozos4,5 ioanamozos at yahoo.de, Mirabela Dima6, Giorgiana Flavia Brad1,2 Niculina Mang1, Teofana Otilia Bizerea1 11st Pediatric Clinic.''Victor Babe§" University of Medicine and Pharmacy, Timisoara, Romania
Vitamin D is known especially for its bone effects. Juvenile idiopathic arthritis (JIA) is one of the most common rheumatic diseases in childhood. It was the aim of the present study to evaluate vitamin D status in patients with JIA and to assess the relationship between vitamin D levels and disease activity. A total of 44 patients with JIA, diagnosed according to the International League Against Rheumatism (ILAR) criteria and a control group (n=13), matched for age and sex, with no musculoskeletal complaints, were evaluated. Disease activity was assessed, X-ray was performed in clinically active joints, with disease duration more than 6 months and vitamin D level was measured. Significant lower values were obtained for vitamin D in JIA patients compared to the healthy controls, especially in patients
&nbspDownload the PDF from VitaminDWiki
---
Determinants of Vitamin D Levels in Children, Adolescents, and Young Adults with Juvenile Idiopathic Arthritis - Aug 2014
J Rheumatol. 2014 Aug 1. pii: jrheum.131421. [Epub ahead of print]
Stagi S, Bertini F, Cavalli L, Matucci-Cerinic M, Brandi ML, Falcini F.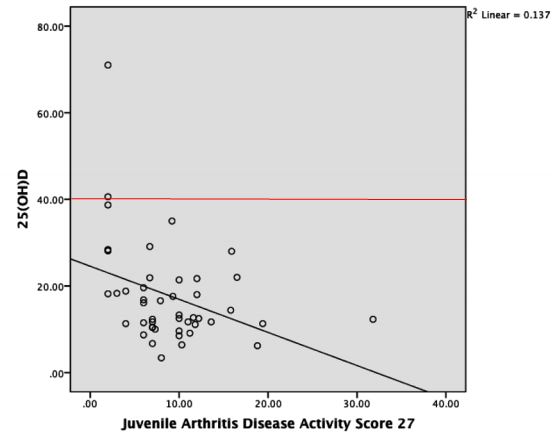 OBJECTIVE:
Deficiency of 25-hydroxyvitamin D [25(OH)D] is reported to be common in patients with rheumatoid arthritis (RA); data in patients with juvenile idiopathic arthritis (JIA) are inconsistent. We assessed serum 25(OH)D in children, adolescents and young adults with JIA, in order to identify the risk factors for vitamin D deficiency in patients with JIA.
METHODS:
We evaluated 152 patients with JIA: 115 female, 37 male, mean age 16.2 ± 7.4 yrs; evaluated by onset type, 96 had oligoarticular, 35 polyarticular, 7 systemic, and 14 enthesitis-related arthritis (ERA). Patients were compared with a control group matched for sex and age. All patients and controls underwent laboratory tests of plasma 25(OH)D, parathyroid hormone (PTH), calcium, phosphorus, and bone alkaline phosphatase levels, and dual-energy x-ray absorptiometry examination.
RESULTS:
Patients with JIA showed significantly reduced 25(OH)D levels compared to controls (p < 0.001), even divided into subtypes (
oligoarticular, p < 0.05;
polyarticular, p < 0.005;
systemic, p < 0.001;
ERA, p < 0.005).
Patients with active disease and/or frequent relapses had significantly reduced 25(OH)D levels compared to patients with no active disease and no frequent flares (p < 0.005, respectively). Nevertheless, JIA patients had significantly higher PTH levels compared to controls (p < 0.0001). JIA patients with 25(OH)D deficiency showed a significantly lower bone mineral apparent density than those with normal 25(OH)D levels (p < 0.001).
CONCLUSION:
JIA patients have reduced 25(OH)D and higher PTH values. This may explain at least in part why JIA patients, despite more effective current drugs, do not achieve bone-normal condition over time. JIA patients with more severe disease could require higher supplementation of vitamin D to maintain normal 25(OH)D serum levels. Longterm studies are needed to investigate the relationship between serum 25(OH)D levels and disease activity in JIA.
PMID: 25086083
&nbspDownload the PDF from VitaminDWiki
---
See also VitaminDWiki
---
107
RA items See also Overview Rheumatoid Arthritis Autoimmune Inflammation Pain - Chronic

Highlights of RA studies in VitaminDWiki
RA worse if low Vitamin D

RA and Vitamin D Receptor (auto-updated)

RA Treated by Vitamin D

Title change made April 2022 caused the visitor count to reset.
There have actually been
6939
visitors to this page since it was originally made