Effects of Vitamin D Supplementation in Patients with Irritable Bowel Syndrome: A Randomized, Double-Blind, Placebo-Controlled Clinical Trial.
Int J Prev Med. 2019 Feb 12;10:16. doi: 10.4103/ijpvm.IJPVM_512_17. eCollection 2019.
Jalili M1,2, Vahedi H2, Poustchi H2, Hekmatdoost A1.
1 Department of Clinical Nutrition and Dietetics, Faculty of Nutrition and Food Technology, National Nutrition and Food Technology Research Institute, Shahid Beheshti University of Medical Sciences, Tehran, Iran.
2 Digestive Disease Research Center, Tehran University of Medical Sciences, Tehran, Iran.
VitaminDWiki
Items in both categories Gut and Intervention are listed here:
---
Gut-friendly, Sublingual, injection, topical, UV, sunshine
Getting Vitamin D into your body has the following chart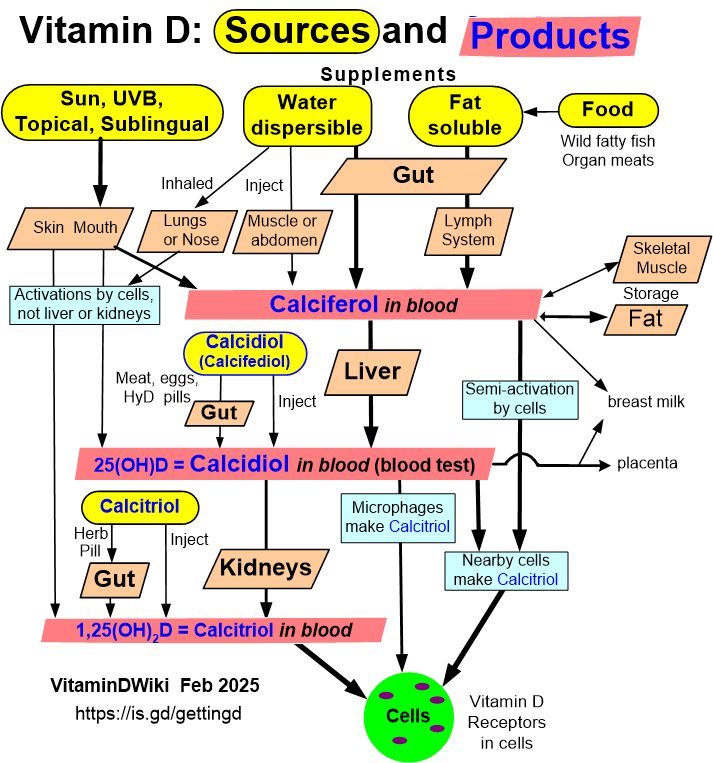 Getting Vitamin D into your body also has the following
If poorly functioning gut
Bio-D-Mulsion Forte – especially made for those with poorly functioning guts, or perhaps lacking gallbladder
Sublingual – goes directly into bloodstream
Oil: 1 drop typically contains 400 IU, 1,000 IU, or 4,000 IU, typically not taste good
Topical – goes directly into bloodstream. Put oil on your skin, Use Aloe vera cream with Vitamin D, or make your own
Vaginal – goes directly into bloodstream. Prescription only?
Bio-Tech might be useful – it is also water soluble
Vitamin D sprayed inside cheeks 2X more response (poor gut) – RCT Oct 2015
and, those people with malabsorption problems had a larger response to spray
Inject Vitamin D quarterly into muscle, into vein, or perhaps into body cavity if quickly needed
Nanoparticles could be used to increase vitamin D getting to the gut – Oct 2015
Poor guts need different forms of vitamin D has the following
Guesses of Vitamin D response if poor gut
Bio
Form
Speed
Duration
10
Injection: Vitamin D,
or Calcidiol or Calcitriol
D - Slow
C -Fast
Long
10
Sun/UV
Slow
Long
10
Topical
(skin patch/cream, vagina)
Slow
Fast nano
Normal
9?
Inhaled (future)
Fast
Normal
8
Bio-D-Mulsion Forte
Normal
Normal
6
Water soluble (Bio-Tech)
Normal
Normal
5
Nanoemulsion
perhaps activates VDR
Normal
Normal
4
Sublingual/spray
(some goes into gut)
Fast
Normal
3
Coconut oil based
Slow
Normal
2
Food (salmon etc.)
Slow
Normal
2
Olive oil based (majority)
Slow
Normal
10= best bioavailable, 0 = worst, guesses have a range of +-2
Speed: Fast ~2-6 hours, Slow ~10-30 hours
Duration: Long ~3-6 months, Normal = ~2 months
---
Gut category listing contains the following
162
items in GUT category - see also Overview Gut and vitamin D,

&nbspDownload the PDF from VitaminDWiki

OBJECTIVE: There are some evidence that Vitamin D supplementation may be beneficial for patients with irritable bowel syndrome (IBS). The aim of this study was to evaluate the effects of Vitamin D supplementation on symptoms and quality of life (QOL) in patients with IBS.

METHODS: In a randomized, double-blind, placebo-controlled clinical trial, 116 patients with IBS were supplemented weekly with either a pearl of 50,000 IU Vitamin D or an identical pearl of placebo containing medium chain triglyceride for 6 weeks.

RESULTS:
Mean age of patients was 42.24 ± 12.26, and 40.06 ± 13.37 in Vitamin D and placebo groups, respectively. Dietary intakes were similar between and within groups. Serum concentration of 25-hydroxy Vitamin D increased significantly from 21.10 ± 5.23 to 36.43 ± 12.34 in the Vitamin D group (P < 0.001), while it was not significantly different before and after the trial in placebo group. The IBS symptoms severity scores (SSSs), disease-specific QOL, and total score were evaluated at weeks 0 and 6. IBS-SSS, IBS-QOL, and the total score were improved significantly more in Vitamin D group in comparison to the placebo group (P < 0.05).

CONCLUSIONS:
This study indicates that Vitamin D therapy can improve the severity of symptoms and QOL in patients with IBS; however, the long-term effects remained to be elucidated.
Trial registration at IRCT: IRCT201402234010N11 IRB Number: 116/3976.