Vitamin D deficiency and rickets: consensus at last.
Arch Dis Child. 2016 Feb 24. pii: archdischild-2016-310665. doi: 10.1136/archdischild-2016-310665
&nbspDownload the PDF from sci-hub vai VitaminDWiki
---
See VitaminDWiki
Why are doctors reluctant to accept vitamin D 10 reasons
Incidence of 22 health problems related to vitamin D have doubled in a decade with charts
3 to 55 X more likely to have these health problems if low Vitamin D
598
Meta-analysis of Vitamin D so far

How many Random Controlled Trials will be needed to reach "consensus"
20 per disease? 50 per disease? 100 per disease?
---
Rate of rickets is usually < 0.1% of births, unless dark skin or breastfed
Rate of rickets has greatly increased with the drop in vitamin D levels during the past 40 years
400 IU can prevent/treat most rickets Turkey gave vitamin D to EVERY child and eliminated Rickets
A low serum level of vitamin D does not indicate rickets
Sometimes rickets is also associated with a poor vitamin D receptor
Giving enough Vitamin D to the mother PREVENTS Rickets
Rate of rickets in some countries varies from 10% to 70% (typically poor health overall)
Rickets has been more than doubling in many countries
Rickets is strongly associated with severe breathing problems (weak ribs)
Bowed legs is not the primary indication of rickets (3 other indications of rickets are seen more often)
Some Rickets is due to poor genes - Vitamin D needed lifelong – June 2020
Vitamin D and Rickets consensus took 80 years
Rickets category has
126
items

Sunlight for babies – US Govt 1933 ~ has been known by govt and people for > 80 years

---
Death rate 2X higher - even for non-elderly
---
Huge decrease in many health problems as increase vitamin D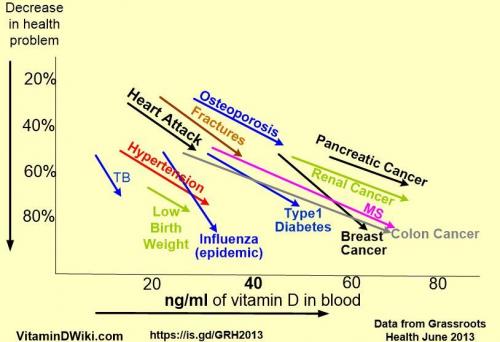 ---