Irish Acupuncturist and Nutritionist MIchael Cawley reversed 20 years of his MS symptoms with Coimbra Protocol.
He was then invited to San Paulo, Brazil by Dr.Cicero Coimbra MD (2017) and was added to list of Coimbra Protocol Practioners.
Upon clinical application of Coimbra Protocol he made several important discoveries
Many MS patients became worse on high doses of Vitamin D3 that had halted and reversed his own illness.
In large numbers of MS sufferer's Vitamin D3 above 500 iu per kg of Vitamin D3 can worsen Multiple Sclerosis symptoms, while 400 - 500 iu per kg of body weight of Vitamin D can ease symptoms significantly. This worsening of symptoms is misdiagnosed as a multiple sclerosis "flare", usually adding more D3 makes matters worse.
He believes that smaller doses (16,000 IU to 18,000 IU) of the properly matched Vitamin D3 and Magnesium supplement can have life-transforming effects on a small number of people, who will only be made worse with higher doses.
Vitamin D3 brand/form can determine whether Multiple Sclerosis responds to Vitamin D3. Clinical benefit can be determined by the oil the Vitamin D3 is combined with. He investigated multiple liquid and capsule brands of Vitamin D3 and recommends a select few that work the best.
Magnesium can make MS symptoms worse when it interacts with toxic heavy metals. He believes that symptoms often misdiagnosed as an MS flare.
Vitamin B2 can either improve or drastically worsen symptoms of Multiple Sclerosis. Worsening of symptoms are also often misdiagnosed as MS flare.
He had not found the parathyroid Hormone level to be a reliable indicator for success of Vitamin D3.
Note: He was taken off the list of Coimbra Protocol practitioners in May 2018 (no reason given).
- - - - - - - - - - - - - - - -
He advocates Personalized Vitamin D3 method which encourages people to listen to how they feel on different D3 forms/doses, also pioneers use of several forms of D3 used simultaneously.
He only recommends very specific brands/forms of Vitamin D3, Magnesium, Vitamin B2 , VItamin K2 which have proven themselves with MS cases.
In 18 months no calcium toxicity reported due to lower doses required to gain benefit, early cessation of Vitamin D3 supplementation if ionized calcium or serum calcium exceed highest reference range and use of pharma grade K2. www.menaquingold.com
Cawley Facebook post Sept 2019
Multiple Sclerosis is a catastrophic neurological illness. No pharmaceutical agent can halt the progression of multiple sclerosis. Multiple studies show Vitamin D3 deficiency to be a major risk factor for Multiple Sclerosis.
High dose Vitamin D3 therapy for MS, has been pioneered by Dr.Cicero Galli Coimbra MD, www.coimbraprotocol.com
In 2015, I used high dose Vitamin D3 therapy and the treatment helped reverse nearly 15 years of intractable symptoms. The following year, I was trained in the Coimbra protocol by Cicero Coimbra MD in Brazil.
Over 50% of the MS cases I have worked with notice a worsening of MS symptoms on the standard Coimbra Vitamin D3 dose of 1000 iu per kg of body weight. My advice is to never take a dose or form of Vitamin D3 that causes MS symptoms to worsen.
This group has hundreds of members who have personalized their use of Vitamin D3 magnesium and Vitamin B2 to halt and reverse the symptoms of Multiple Sclerosis.
As heavy metal contamination is so widespread and its symptoms mirror those of Multiple Sclerosis, heavy metal decontamination is a valued aspect of 'Personailzed Vitamin D3' and often achieves life changing results that no vitamin supplement can obtain.
Earthing as popularised by Clinton Ober encourages people to harness the healing power of the Earth by harvesting it's rich supply of free electrons. Earthing is clinically proven to strengthen the nervous, endocrine, circulatory and immune systems. Earthing is powerful tool for MS patients.I have enjoyed remarkable health benefits from Earthing and many in this group practice Earthing too.
---
Comments by Henry Lahore, founder of VitaminDWiki after a video conference with Mike on March 25, 2019
Mike noticed fast reactions by MSers to different forms of Vitamin D
When he had MSers take 20,000 IU of vitamin D, within a day they would either
1) Feel a lot better
2) Feel no difference
3) Feel lots of pain
I have not heard of such fast and strong reactions to Vitamin D before, and suspect not everyone has such strong reactions.
I suspect much of the difference was in the improved gut-friendliness of vitamin D emulsions, etc.
He also found differences of benefits between suppliers of Vitamin K2-7 and Magnesium
He. like I, had been taking Life Extension Super K, but he found that Menaquin Gold (India) was able to dissolve his artery plaque, whereas Super K did not. He sent me a bottle. It appears that form is not on Amazon is out of stock on the web (March 2019).
He, like I, had found Magnesium Chloride to be pretty good. He also recommends Magceutics Magtein
I mentioned that Ultraviolet light provides MSers with even more benefit than Vitamin D alone. MSers getting the same blood level response from UV and oral vitamin D got significantly fewer relapses. I suspect there is more than vitamin D is generated in the skin from the sun/UV
You can make your own powerful UV lamp from two parts for $40 (Amazon (US)
I have been using that UV lamp ~weekly in the winter since 2012
---
See also Vitamin D
Overview MS and vitamin D contains the following summary
Clinical interventions have shown that Vitamin D can prevent, treat, and even cure Multiple Sclerosis, at a tiny fraction of the cost of the drugs now used to treat it, and without side effects.
Fact: Low Vitamin D results in higher risk of getting MS
Increase latitude leads to decreased Vitamin D, which leads to increased risk of MS




Dark skinned people are far more likely to get MS (dark skin people typically have low vitamin D)
Elderly (who typically have low vitamin D) are more likely to get MS
Is there increased risk in people who already have diseases associated with low vitamin D - TB, for example ? ? ?
Women typically have 3X increased MS risk then men (note: women typically have 20% lower levels of vitamin D than men)
Exception: women in very sunny climates and dark-skinned women have the same MS risk as men
Obese are 60% more likely to get MS
Multiple Sclerosis 42X more likely if light brown skin and smoke (both associated with low vitamin D) – July 2020
MS recurrence is much higher in spring - the lowest time of the year for vitamin D
increase in clouds/rainfall (which reduces available Vitamin D) is associated with increased risk of MS (Scotland, Western Washington)
MS incidence has increased 70% in a decade while the incidence of vitamin D deficiency doubled
Less MS in those with outdoor occupations PDF file, not a web page
Fact: MS uses up Vitamin D
Fact: Lower vitamin D (due to MS using up Vitamin D while fighting the disease) results in many other health problems (such as broken bones), so depleted vitamin D levels must be restored.


Fact: Vitamin D looks so promising for preventing and treating MS that there were 25 INTERVENTION clinical trials as of Feb 2014
Fact: Vitamin D reduced the MS relapse rate far better than Fingolimod which is now used for that purpose.
Fact: 98% of the genes affected by Interferon are also affected by Vitamin D

Note: 1 week of Interferon = $4,700, 1 week of vitamin D 10,000X lower cost

Fact: MS Doctors in Brazil recommending 40-100 ng/mL of Vitamin D
Fact: Many MS forums are recommending vitamin D to treat MS, with some taking 5,000 to 10,000 IU daily
Observation: Risk of going from pre-MS to MS reduced 68 percent with 7100 IU vitamin D – RCT Dec 2012

This is an observation instead of a fact - it has not yet been confirmed.

Controversy: UVB fron sunlight or UVB bulb may be BETTER than Vitamin D for reducing the risk of getting MS
Hypothesis: In addition to Vitamin D there are many other photoproducts produced by UVB that may promote health.
Summary: lack of consensus on how much to prevent, treat, or cure MS.
How much Vitamin D is needed to treat MS? There is currently no agreement
The recommendations range from 40 to 100 ng - which can result of a dose ranging from 3,000 to 20,000 IU/day
How Vitamin D is needed to Cure MS?: It appears that 20,000-140,000 IU daily may be needed to CURE the disease
You must be under the supervision of a doctor who knows what to watch for in your individual situation.
High doses of Vitamin D cannot be used as a monotherapy.
You will need to adjust the cofactors: Typically increasing Magnesium and Vitamin K2, and reducing Calcium intake.
Your doctor will monitor these and might increase your intake of Vitamins B2, C, as well as Omega-3899
Multiple Sclerosis patients had fewer COVID-19 problems (Note: many MSers take Vitamin D) – April 30, 2021

Multiple Sclerosis and (lots of) Vitamin D - book by patient on Coimbra protocol - Feb 2016
contains protocol description and list of Coimbra Facebook Groups
Vitamin D has treated Multiple Sclerosis for 16 years– Coimbra video April 2018
MS updates from Brazil
Table compares 4 High-dose vitamin D therapies 2 of which are Coimbra
---
Overview Gut and vitamin D contains gut-friendly information
Gut-friendly, Sublingual, injection, topical, UV, sunshine
Getting Vitamin D into your body has the following chart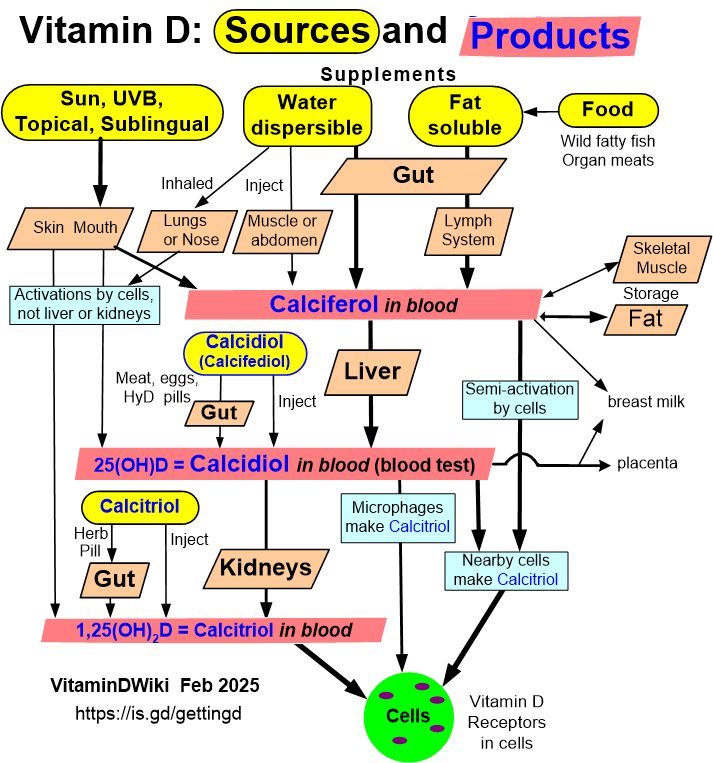 Getting Vitamin D into your body also has the following
If poorly functioning gut
Bio-D-Mulsion Forte – especially made for those with poorly functioning guts, or perhaps lacking gallbladder
Sublingual – goes directly into bloodstream
you can make your own sublinqual by dissovling Vitamin D in water or using nanoemulsion form
Oil: 1 drop typically contains 400 IU, 1,000 IU, or 4,000 IU, typically not taste good
Topical – goes directly into bloodstream. Put oil on your skin, Use Aloe vera cream with Vitamin D, or make your own
Vaginal – goes directly into bloodstream. Prescription only?
Bio-Tech might be useful – it is also water soluble
Vitamin D sprayed inside cheeks 2X more response (poor gut) – RCT Oct 2015
and, those people with malabsorption problems had a larger response to spray
Inject Vitamin D quarterly into muscle, into vein, or perhaps into body cavity if quickly needed
Nanoparticles could be used to increase vitamin D getting to the gut – Oct 2015
Poor guts need different forms of vitamin D has the following
Guesses of Vitamin D response if poor gut
Bio
Form
Speed
Duration
10
Injection ($$$)
or Calcidiol or Calcitriol
D - Slow
C -Fast
Long
10
Sun/UVB
Slow
Long
10
Topical
(skin patch/cream, vagina)
Slow
Fast nano
Normal
9
Nanoemulsion -mucosal
perhaps activates VDR
Fast
Normal
9?
Inhaled (future)
Fast
Normal
8
Bio-D-Mulsion Forte
Normal
Normal
6
Water soluble (Bio-Tech)
Normal
Normal
4
Sublingual/spray
(some goes into gut)
Fast
Normal
3
Coconut oil based
Slow
Normal
2
Food (salmon etc.)
Slow
Normal
2
Olive oil based (majority)
Slow
Normal
10= best bioavailable, 0 = worst, guesses have a range of +-2
Speed: Fast ~2-6 hours, Slow ~10-30 hours
Duration: Long ~3-6 months, Normal = ~2 months
---
High-dose vitamin D massively changes the gut bionome
Cooked dried beans or peas (pulses) reduce uptake of Vitamin D, Vitamin K by half – several studies
If confirmed, should not take oil-based vitamin D with a pulse meal
Cancer stem cells and Vitamin D - many studies
Perhaps high dose Vitamin D along with Magnesium etc. activates stem cells, which then repair the brain
Nanoemulsion Vitamin D may be a substantially better form was updated after talking with Cawley
Bought 6 kinds of Vitamin D Emulsion - March 2019
There are a variety of Vitamin D emulsions on Amazon (US) as of 2019
Bio Emulsion Forte is what I started buying in 2012.
I have given out 3 bottles (as of 2019) of it to friends with gut problems who were getting no benefit from standard vitamin D.
It worked well for them in each case
Since ~2017 I also have been purchasing Micro D3 Nanoemulsion for inhaled Vitamin D experiments
see further down this page details on nutrasal.com product
In March 2019 I also purchased PreventiX, Hi-Pro Emulsi-D3, Bio-Emulsion-D3, and Liquid Vitamin D3


They were added because
1) They had good Amazon reviews
2) Were likely to have a micro/nano size,
3) Seemed to have a > 1,000 IU per drop.
4) Were fairly low cost (per 5,000 IU)
I also have been getting some Vitamin D Nanoemulsion from Bio-Tech Pharmacal since ~2016.
They are making it for some Vitamin D clinical trials, and I have used it for inhaled tests.
Bio-Tech Pharmacal emulsion is not (as of 2019) being sold commercially.
Note: March 2019 Dried beans and peas in meal appear to decrease uptake of oil-based Vitamin D
If you often eat pulses when supplementing with Vitamin D, you might need to have a non-oil-based vitamin D, such as in the above picture
Multiple Sclerosis category listing has
384
items along with