Are Vitamin D₃ Tablets and Oil Drops Equally Effective in Raising S-25-Hydroxyvitamin D Concentrations? - A Post-Hoc Analysis of an Observational Study on Immunodeficient Patients
Nutrients 2020, 12(5), 1230; https://doi.org/10.3390/nu12051230
by Maria Helde Frankling 1,2,*OrcID,Anna-Carin Norlin 3,Susanne Hansen 3,Emilie Wahren Borgström 3,Peter Bergman 3,4OrcID and Linda Björkhem-Bergman 1,2,5
(This article belongs to the Special Issue Vitamin D on Immune Function)
VitaminDWiki
This study compared the results of tablet vs vitamin D oil on people who were taking antibiotics
Both forms raised the blood level of vitamin D a similar amount (as would be expecrted)
The oil form resulted in reduced need for antibiotics
Suspect that some of the oil form got into the body sublingually
Which is much faster (does not have to get through stomach and small intestiine)
And, sublingual/topical forms can be directly activated by tissues throughout the body
Note: a Vitamin D nanoemulsion appears to be even more bio-available than the oil form
---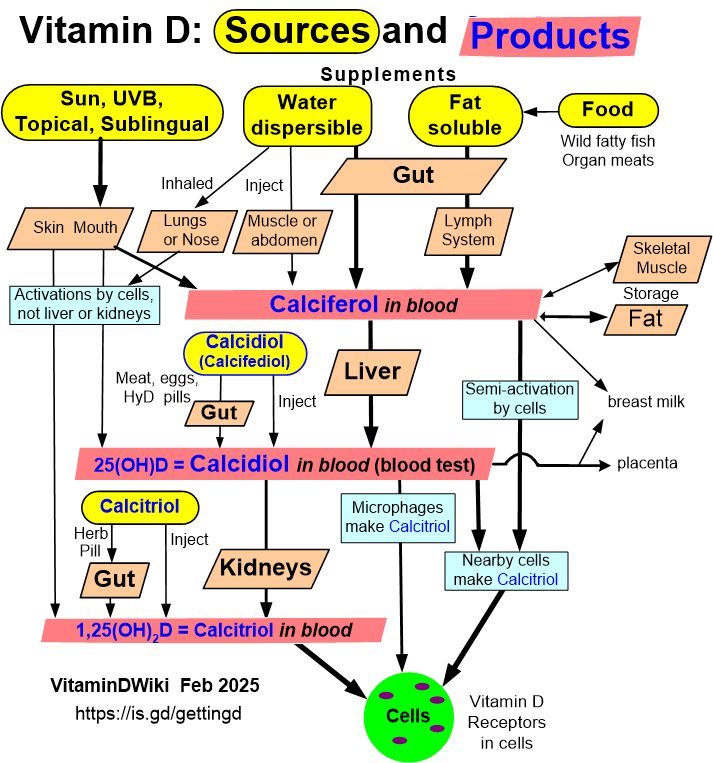 &nbspDownload the PDF from VitaminDWiki
Background: Vitamin D₃ supplements are available as tablets or oil drops, but there is no consensus as to whether either of these preparations is more effective than the other.
Methods: We compared the effectiveness of tablets versus oil in raising S-25-hydroxyvitamin D (S-25-OHD) in plasma by re-analyzing data from a previously performed observational study in which immunodeficient patients with S-25-OHD concentrations <75 nmol/L were randomly prescribed vitamin D₃ tablets (1600 IU/day) or vitamin D₃ oil-drops (1500 IU/day) for twelve months. Tablets and oil were compared for the effect on S-25-OHD concentrations after 3–5 months and antibiotic use.
Results: Data on S-25-OHD after ≥ 3 months was available for 137 patients treated with tablets and 69 with oil drops. Both groups exhibited a significant increase in S-25-OHD—oil-drops from 55 to 86 nmol/L and tablets from 52 to 87 nmol/L—with no difference between groups (p = 0.77). In a subgroup of patients without immunoglobulin replacement, vitamin D₃ supplementation with oil drops (n = 34) but not with tablets (n = 60) resulted in significantly lower antibiotic administration (p < 0.001 and p = 0.58).
Conclusion: Vitamin D₃ supplementation with tablets and oil drops were equally efficient in raising S-25-OHD concentrations. Only oil drops caused a reduction in antibiotic consumption in immuno-deficient patients who did not receive immunoglobulin replacement.