Dietary supplementation of vitamin D prevents the development of western diet-induced metabolic, hepatic and cardiovascular abnormalities in rats.
United European Gastroenterol J. 2018 Aug;6(7):1056-1064. doi: 10.1177/2050640618774140. Epub 2018 May 17.
Mazzone G1, Morisco C 2, Lembo V 1, D'Argenio G 1, D'Armiento M 2, Rossi A 1, Giudice CD 2, Trimarco B2, Caporaso N 1 nicola.caporaso@unina.it , Morisco F 1.
1 Gastroenterology, Department of Clinical Medicine and Surgery, University 'Federico II', Naples, Italy.
2 Department of Advanced Biomedical Sciences, University 'Federico II', Naples, Italy.
VitaminDWiki
Standard Diet
Western Diet
Western Diet
+ Vitamin D
p-value
Glycaemia
99
139
103
p <0.05
HOMA-OR
6
42
16
p <0.05
---
Cardiovascular category starts with the following
481
items In Cardiovascular category

Cardiovascular category is associated with other categories: Diabetes 31, Omega-3 31 , Vitamin K 25 , Intervention 22 . Mortality 20 , Skin - Dark 18 , Magnesium 17 , Calcium 14 , Hypertension 14 , Trauma and surgery 13 , Stroke 13 , Kidney 12 , Metabolic Syndrome 11 , Seniors 10 , Pregnancy 8 as of Aug 2022


Cholesterol, Statins
---
Fact: A properly functioning liver is needed for the efficient activation of vitamin D in the body
Fact: Liver diseases often result in lower levels of vitamin D
Fact: Various pain relievers damage the liver function
Fact: Lower levels of vitamin D result in osteoporosis and many other diseases
Options with a poorly functioning liver appear to be:
Increased vitamin D (example: 2X more vitamin D if Liver is 1/2 as efficient)
Consider supplementing with Iron - a patented Iron supplement appears to work very well
Get prescription for active form of vitamin D (

Calcitriol

) which does not need the liver or kidney to get the benefits of vitamin D in the body
Get Calcidiol which does not need the liver
Use Topical Vitamin D - activation by the skin etc does not require the liver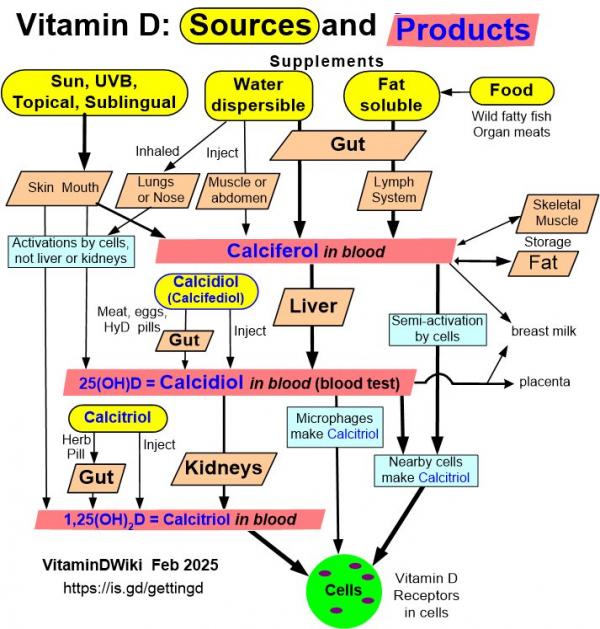 Click on image for ways of getting vitamin D even if Liver is not functioning well
---
Diabetes category starts with the following
523
items In Diabetes category

33+

Prediabetes studies

64+

Type 1 Diabetes studies

see also Overview Diabetes and vitamin D Overview Metabolic Syndrome and vitamin D

Autoimmune category listing has
188
items along with related searches

PDF is available free at Sci-Hub 10.1177/2050640618774140
Heart Fibrosis
BACKGROUND:
The western diet high in fat and fructose may cause metabolic disorders and cardiovascular diseases.
OBJECTIVE:
To evaluate whether long-term daily vitamin D3 supplementation prevents hepatic steatosis and cardiovascular abnormalities and restores insulin sensitivity caused by fat diet in rats without vitamin D deficiency.
METHODS:
Three groups of rats were fed for 6 months with standard diet (SD), western diet (WD) or WD containing 23 IU/day/rat vitamin D3, respectively. Tail-cuff systolic blood pressure (SBP)measurements in conscious rats and transthoracic echocardiography were performed in basal condition, and after 3 and 6 months of diet. Hepatic steatosis and myocardial fibrosis were assessed in liver and cardiac tissues using standard methods. Serum insulin and 25(OH)D3 concentrations were determined using rat-specific ELISA kits. Insulin resistance was determined according to the homeostasis model assessment of insulin resistance (HOMA-IR) method.
RESULTS:
Sixty-one per cent of hepatocytes in WD rats had steatotic vacuoles compared with just 27% in rats on a WD plus vitamin D3 (p < 0.05).HOMA-IR was reduced in rats with vitamin D supplementation compared with WD alone (19.4 ± 5.2 vs 41.9 ± 8.9, p < 0.05). Rat blood pressure and left ventricular mass were both reduced by vitamin D3 supplementation.
CONCLUSION:
In animal models of liver and cardiovascular metabolic damage, the supplementation of vitamin D3 shows liver and cardio-protective effects.
References
Tappy L and Le KA. Metabolic effect of fructose and the worldwide increase in obesity. Physiol Rev 2010; 90: 23-46.
Masuoka HC and Chalasani N. Nonalcoholic fatty liver disease: an emerging threat to obese and diabetic individuals. Ann N Y Acad Sci 2013; 1281: 106-122.
Ahmed MH, Husain NE and Almobarak AO. Nonalcoholic Fatty liver disease and risk of diabetes and cardiovascular disease: what is important for primary care physicians? J Fam Med Prim Care 2015; 4: 45-52.
Hamaguchi M, Kojima T, Takeda N, et al. Nonalcoholic fatty liver disease is a novel predictor of cardiovascular disease. World J Gastroenterol 2007; 13: 1579-1584.
Pacifico L, Di Martino A, De Merulis M, et al. Left ventricular dysfunction in obese children and adolescents with nonalcoholic fatty liver disease. Hepatology 2014; 59: 461-470.
Lonardo A, Sookoian S, Pirola CJ, et al. Non-alcoholic fatty liver disease and risk of cardiovascular disease. Metabolism 2016; 65(8): 1136-1150.
DeFronzo RA and Ferrannini E. Insulin resistance: a multifaceted syndrome responsible for NIDDM, obesity, hypertension, dyslipidemia, and atherosclerotic cardiovascular disease. Diabet Care 1991; 14(3): 173-194.
Reaven GM, Lithell H and Landsberg L. Hypertension and associated metabolic abnormalities: the role of insulin resistance and the sympathoadrenal system. N Engl J Med 1996; 334(6): 374-381.
Anyal AJ, Campbell-Sargent C, Mirshahi F, et al. Nonalcoholic steatohepatitis: association of insulin resistance and mitochondrial abnormalities. Gastroenterology 2001; 120: 1183-1192.
Holick MF. Vitamin D deficiency. N Engl J Med 2007; 357: 266-281.
Lee JH, O'Keefe JH, Bell D, et al. Vitamin D deficiency: an important, common, and easily treatable cardiovascular risk factor? J Am Coll Cardiol 2008; 52(24): 1949-1956.
Kwok RM, Torres DM and Harrison SA. Vitamin D and nonalcoholic fatty liver disease (NAFLD): is it more than just an association? Hepatology 2013; 58(3): 1166-1174.
Wang TJ, Pencina MJ, Booth SL, et al. Vitamin D deficiency and risk of cardiovascular disease. Circulation 2008; 29: 117(4): 503-511.
Al Mheid I and Quyyumi AA. Vitamin D and cardiovascular disease: controversy unresolved. J Am Coll Cardiol 2017; 70(1): 89-100.
Scragg R, Sowers M and Bell C. Serum 25-hydroxyvita- min D, diabetes, and ethnicity in the Third National Health and Nutrition Examination Survey. Diabetes Care 2004; 27: 2813-2818.
Trovato F, Castrogiovanni P, Szychlinska MA, et al. Impact of Western and Mediterranean diets and vitamin D on muscle fibers of sedentary rats. Nutrients 2018; 10(2): 231.
Kalliokoski O, Jacobsen KR, Darusman HS, et al. Mice do not habituate to metabolism cage housing: a three week study of male BALB/c mice. Plos One 2013; 8(3): e58460.
Lembo G, Iaccarino G, Vecchione C, et al. Insulin modulation of vascular reactivity is already impaired in prehypertensive spontaneously hypertensive rats. Hypertension 1995; 26(2): 290-293.
Mulder P, Morrison MC, Wielinga PY, et al. Surgical removal of inflamed epididymal white adipose tissue attenuates the development of non-alcoholic steatohepa- titis in obesity. Int J Obes 2016; 40(4): 675-684.
Moore CE and Liu Y. Low serum 25-hydroxyvitamin D concentrations are associated with total adiposity of children in the United States: National Health and Examination Survey 2005 to 2006. Nutr Res 2016; 36(1): 72-79.
Chou CL, Pang CY, Lee TJ, et al. Beneficial effects of calcitriol on hypertension, glucose intolerance, impairment of endothelium-dependent vascular relaxation, and visceral adiposity in fructose-fed hypertensive rats. PLoS One 2015; 10(3): e0119843.
Cordeiro A, Santos A, Bernardes M, et al. Vitamin D metabolism in human adipose tissue: could it explain low vitamin D status in obesity? Horm Mol Biol Clin Investig, Epub ahead of print 18 July 2017. DOI:10.1515/hmbci-2017-0003.
Faridi KF, Zhao D, Martin SS, et al. Serum vitamin D and change in lipid levels over 5 y: The Atherosclerosis Risk in Communities study. Nutrition 2017; 38: 85-93.
Tao S, Yuan Q, Mao L, et al. Vitamin D deficiency causes insulin resistance by provoking oxidative stress in hepatocytes. Oncotarget 2017; 8(40): 67605-67613.
Simental-Mendia LE, Rodriguez-Moran M and Guerrero-Romero F. The product of fasting glucose and triglycerides as surrogate for identifying insulin resistance in apparently healthy subjects. Metab Syndr Relat Disord 2008; 6: 299-304.
Li X, Huang W, Gu J, et al. SREBP-1c overactivates ROS-mediated hepatic NF-kB inflammatory pathway in dairy cows with fatty liver. Cell Signal 2015; 27(10): 2099-2109.
Yin Y, Yu Z, Xia M, et al. Vitamin D attenuates high fat diet-induced hepatic steatosis in rats by modulating lipid metabolism. Eur J Clin Invest 2012; 4211: 1189-1196.
Bao S, Cao Y, Fan C, et al. Epigallocatechin gallate improves insulin signaling by decreasing toll-like receptor 4 (TLR4) activity in adipose tissues of high-fat diet rats. Mol Nutr Food Res 2014; 58(4): 677-686.
Cosma A, Cecchet D, Gaiani S, et al. Clinical and biochemical determinants of the extent of liver steatosis in type 2 diabetes mellitus. Eur J Gastroenterol Hepatol 2015; 27(12): 1386-1391.
Wang H, Zhang Q, Chai Y, et al. 1,25(OH)2D3 down- regulates the Toll-like receptor 4-mediated inflammatory pathway and ameliorates liver injury in diabetic rats. J Endocrinol Invest 2015; 38(10): 1083-1091.
Panchal SK, Poudyal H, Iyer A, et al. High-carbohydrate, high-fat diet-induced metabolic syndrome and cardiovascular remodeling in rats. J Cardiovasc Pharmacol 2011; 57(5): 611-612.
Ramires FJ, Sun Y and Weber KT. Myocardial fibrosis associated with aldosterone or angiotensin II administration: attenuation by calcium channel blockade. J Mol Cell Cardiol 1998; 30(3): 475-483.
Kobayashi R, Nagano M, Nakamura F, et al. Role of angiotensin II in high fructose-induced left ventricular hypertrophy in rats. Hypertension 1993; 21:1051-1055.
Li YC, Kong J, Wei M, et al. 1,25- Dihydroxyvitamin D(3) is a negative endocrine regulator of the renin- angiotensin system. J Clin Invest 2002; 110: 229-238.
Hou C, Lu F, Cao K, et al. Calcium-independent and 1,25(OH)2D3-dependent regulation of the renin- angiotensin system in 1alpha-hydroxylase knockout mice. Kidney Int 2008; 74: 170-179.