Gluten Intolerance: A Growing Epidemic
Strong hints of intolerance with low vitamin D, vitamin k2, and Magnesium
Many people around the world have become deficient in all three during the past 4 decades
Roundup is also suspected (which is used a few days before wheat is harvested)
CD is four times more common today that it was five decades ago

3 in 100: United Kingdom
1 in 370: Italy
1 in 122: Northern Ireland
1 in 99: Finland
1 in 133: United States (had been 1 in 2,000)
Once thought rare for African-, Hispanic- and Asian-Americans, current estimates in these populations: 1 in 236

1 in 30 are estimated to have

gluten intolerance

in the United States.
72 minute video with slides - 2009 - example
Decrease in cholesterol which the skin needs to make vitamin D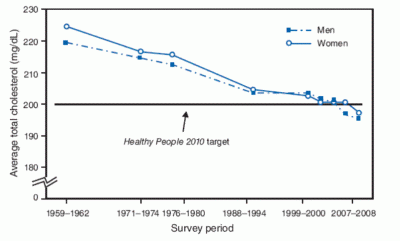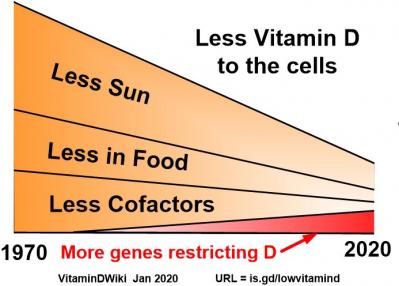 About 2X less Vitamin D in just 10 years (US)
On the web
---
---
Consensus on gluten-related disorders - 2012
Spectrum of gluten-related disorders: consensus on new nomenclature and classification
Wheat allergy, Baker's asthma, Wheat-dependent exercise-induced anaphylaxis,Celiac disease, Dermatitis herpetiformis (rash), Gluten ataxia, Gluten sensitivity

&nbspDownload the PDF from VitaminDWiki.
---
GMO and Gluten Sensitivity -2013
http://www.responsibletechnology.org/gluten
Can Genetically-Engineered Foods Explain the Exploding Gluten Sensitivity?
" While there is insufficient research to prove that GMO consumption causes gluten sensitivity, the evidence does show how it might, at least, exacerbate the symptoms, or contribute to the conditions that might lead to the development of sensitivity to gluten. Instead of waiting
for more research, many clinicians are now prescribing non-GMO diets to their gluten-sensitive and -intolerant patients, as well as those with a variety of other disorders."


&nbspDownload the PDF from VitaminDWiki.
---
See also VitaminDWiki