First 3 sections clipped from Vitamin D Receptor Gene: Activation, Calcitriol, Benefits
Natural Ways to Increase Calcitrol and VDR
RXR (and retinol) is needed to produce proteins with the VDR. 1,25D3 binds to the VDR, which then combines with RXR to activate gene expression. (Not all VDR dependent genes need RXR.)
Parathyroid hormone (PTH) – increases Calcitriol/1,25 D3 40 and PTH-related peptide 41,
SIRT1 – potentiates VDR 42, 43 – acetylation of VDR lessens 1,25D/VDR signaling. SIRT1 increased the ability of VDR to associate with RXR.
Bile – specifically Lithocholic acid orLCA 46, The VDR evolved from its ancient role as a detoxification nuclear receptor. LCA is produced from the gut bacteria (metabolizing liver-derived chenodeoxycholic acid). LCA travels to the colon, where the VDR binds to LCA or 1,25 D and activates the CYP3A4 and SULT2A genes facilitate disposal from the cell via the ABC efflux transporter 47.
Omega-6: γ-Linolenic acid, Arachidonic acid 47,
Curcumin 1 – Curcumin is more active than LCA/Bile in driving VDR-mediated transcription and that it binds to VDR with approximately the same affinity as LCA.
Resveratrol 42 – Potentiates VDR by: (1) potentiating 1,25D binding to VDR; (2) activating RXR; (3) stimulating SIRT1
Gamma Tocotrienol 47 – Tocotrienols or Tocopherols (IHERB)
Vitamin E/alpha-tocopherol 47 – doesn't compete with calcitriol for the VDR.
Dexamethasone 47 – doesn't compete with 1,25
Interferon-gamma – IFN-γ treatment inhibited 1,25D3 induction of 24-hydroxylase, the enzyme that breaks down 1,25 D3. This means 1,25D3 increased. (Technical: IFNy did not change the base level activity of the promoter, or change 1,25 D binding to the VDR or nuclear VDR levels. IFN-γ impairs VDR-RXR binding to VDRE through a Stat1-mediated mechanism) 48.
Phytoestrogens 52
Prostaglandins
Bisphosphonates
DHA, EPA, linoleic acid and arachidonic acid are all 10,000X less capable than 1,25 D3 at activating the VDR 47.
Curcumin is 1,000X less capable than 1,25 D3 in inducing VDR gene expression 47.
Curcumin and bile have a similar binding ability to the VDR and similar levels of gene expression 47.
Curcumin, Bile, DHA, EPA, Arachidonic acid all compete with 1,25 D3 for binding. Dexamethasone and alpha-tocopherol don't compete 47.
A natural question to pose would be that if these are competitive binders and have a much lower binding capacity for the VDR, are they of use? The answer seems to be yes.
High concentrations of PUFAs could occur in select cells or tissues and exert bioactivity 47.
Excess Bile/LCA given to rats caused the same effect that 1,25D3 would cause (in particular calcium transport activation) 47.Kidney glandular might contain some 1,25 vitamin D.
What Inhibits The Vitamin D Receptor (VDR) or Calcitriol
Pathogens That Inhibit The Vitamin D Receptor
Many pathogens inhibit some aspect of the vitamin D system – either the VDR, the ability of molecules to bind to it or the ability of VDR to cause gene expression. These are some examples, but I'm sure I haven't covered all of them known to the body of science.
P. aeruginosa (often hospital acquired). Produces "Sulfonolipid ligand capnine" 61. Antibiotics don't work well 62.
H. pylori (responsible for stomach ulcers). 50% of the global population has this. Produces "Sulfonolipid ligand capnine" 61.
Lyme/Borrelia – Live Borrelia reduces VDR by 50 times (in monocytes) and "dead" Borrelia reduces it by 8 times 63

This could explain why people develop autoimmune conditions after Lyme infection.

Tuberculosis – Reduces VDR 3.3-fold 64
"Gliding" biofilm bacteria have been shown to create Capnine – Capnine (Cytophaga, Capnocytophaga, Sporocytophaga, and Flexibacter)
Chlamydia (trachomatis)
Shigella – bacteria in stool and causes intestinal problems and diarrhea. It increases Caspase-3, which is a protein which breaks apart the VDR structure and thus limits the ability of VDR to perform gene transcription 65.
Mycobacterium leprase – produces mir-21 to target multiple genes associated with the VDR 64.
Epstein-Barr virus (EBV) – Decreases VDR by a factor of about five 66 EBV also blocks the ability of VDR to produce products 67.
Aspergillus fumigatus – In cystic fibrosis patients, the fungus A. fumigatus has been shown to secrete gliotoxin, a toxin which dose-dependently decreases VDR.
Cytomegalovirus – CMV decreases VDR 2.2 fold 70.
Hepatitis C virus – Inhibits CYP24A1, the enzyme responsible for breaking down excess 1,25-D 71
When bacterial products block the VDR, less of the CYP24A1 is produced, which results in excess active vitamin D – as is the case in many autoimmune conditions.
---
See also VDR and Calcitriol in VitaminDWiki
The risk of 40 diseases at least double with poor Vitamin D Receptor as of July 2019
Vitamin D Receptor category has the following
427
studies in Vitamin D Receptor category

Vitamin D tests cannot detect Vitamin D Receptor (VDR) problems
A poor VDR restricts Vitamin D from getting in the cells

See also:
42
studies in the Resveratrol category

It appears that 30% of the population have a poor VDR (40% of the Obese )
Several diseases protect themselves by deactivating the Vitamin D receptor.Example: Breast Cancer
- - - - - - - -
The Vitamin D Receptor is associated with many health problems

Health problems include: Autoimmune (
17
studies), Breast Cancer (
18
studies), Colon Cancer (
11
studies), Cardiovascular (
20
studies), Cognition (
14
studies), Diabetes (
21
studies), Hypertension (
4
studies), Infant (
16
studies), Lupus (
6
studies), Metabolic Syndrome (
3
studies), Mortality (
4
studies), Multiple Sclerosis (
11
studies), Obesity (
15
studies), Pregnancy (
21
studies), Rheumatoid Arthritis (
10
studies), TB (
8
studies), VIRUS (
25
studies),

Click here

for details
Some health problems, such as Breast Cancer and Diabetes, protect themselves by reducing VDR activation
Suspect that SAR-COV-2 also protects itself from Vitamin D

- - - - - - - -

A poor VDR is associated with the risk of 55 health problems click here for details
The risk of 44 diseases at least double with poor VDR as of Oct 2019 click here for details
Some health problem, such as Breast Cancer reduce the VDR

VDR at-home test $29 - results not easily understood in 2016
There are hints that you may have inherited a poor VDR

Compensate for poor VDR by increasing one or more:

Note: If you are not feeling enough benefit from Vitamin D, you might try increasing VDR activation. You might feel the benefit within days of adding one or more of the above

Far healthier and stronger at age 72 due to supplements Includes 6 supplements that help the VDR
---
Increased likelihood associated with a poor Vitamin D Receptor
Note: Some diseases reduce VDR activation
those with a * are known to decrease activation

Vitamin D Receptor and Cancers
Items in both categories Vitamin D Receptor and Cancer - Breast:
Items in both categories Vitamin D Receptor and Cancer - Colon:
Items in both categories Vitamin D Receptor and Cancer
Items in both categories Vitamin D Receptor and Cancer - other:
Items in both categories Vitamin D Receptor and Cancer - Skin:
Items in both categories Vitamin D Receptor and Cancer - Prostate:
Items in both categories Vitamin D Receptor and Cancer - Ovarian:
---
Calcitriol category listing has
54
items along with related searches
Many ways to increase Vitamin D - click on chart for details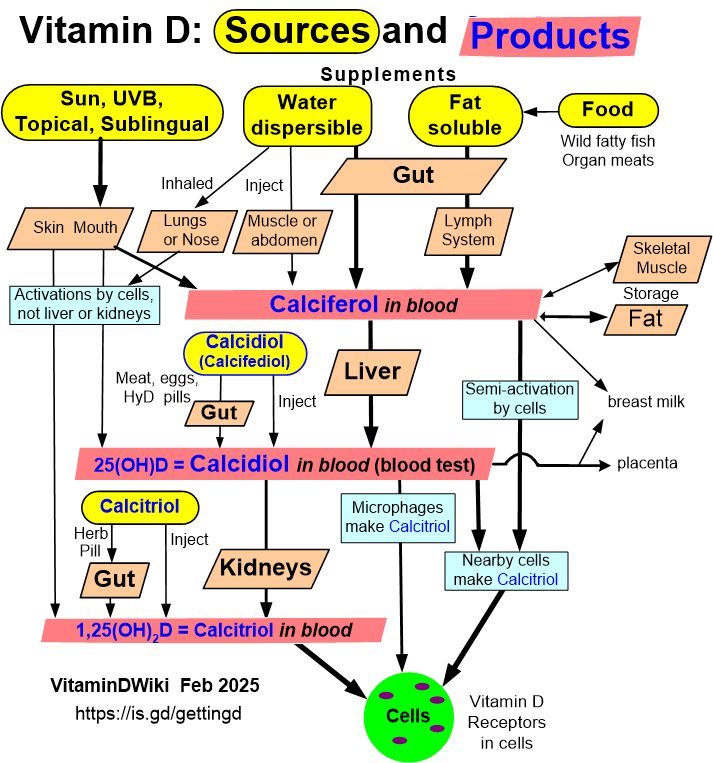 This page is in the following categories (# of items in each category)