Expression of Vitamin D Receptor (VDR) Positively Correlates with Survival of Urothelial Bladder Cancer Patients.
Int J Mol Sci. 2015 Oct 15;16(10):24369-86. doi: 10.3390/ijms161024369.
VitaminDWiki Summary
Many diseases, including several cancers, appear to down-regulate the local Vitamin D Receptor
The down-regulation restricts the amount of vitamin D getting to the cells.
The vitamin D which actually gets to cells can be increased by:
1) Taking larger dose vitamin D ( > 3 X more typicallly)
2) Increasing the VDR (see below)
See also VitaminDWiki
Vitamin D Receptor category has the following
276
items in Vitamin D Receptor category

Vitamin D tests cannot detect Vitamin D Receptor (VDR) problems
A poor VDR restricts Vitamin D from getting in the cells
It appears that 30% of the population has a poor VDR (40% of the Obese )

A poor VDR increases the risk of 52 health problems click here for details

VDR at-home test $29 - results not easily understood in 2016
There are hints that you may have inherited a poor VDR

Compensate for poor VDR by increasing one or more:

Note: If you are not feeling enough benefit from Vitamin D, you might try increasing VDR activation.
You might feel the benefit within days of adding one or more of the above

Far healthier and stronger at age 72 due to supplements Includes 6 supplements which help the VDR

If poor Vitamin D Receptor

Genetics category listing contains the following

240
articles in the Genetics category

see also
276
articles in Vitamin D Receptor,
106
articles in Vitamin D Binding Protein

Vitamin D blood test misses a lot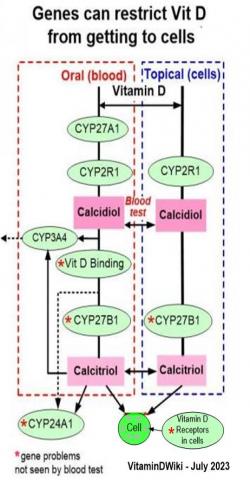 Snapshot of the literature by VitaminDWiki - (subject to many future developments)
Vitamin D from coming from tissues (vs blood) was speculated to be 50% in 2014, andi in 2017 is speculated to be 90%
Note: Good results from a blood test (> 40 ng) does not mean that a good amount of Vitamin D actually gets to cells
A Vitamin D test in cells appears feasible (personal communication)
However test results would vary in each tissue due to multiple genes
Good clues that Vitamin D is being restricted from getting to the cells
1) A vitamin D-related health problem runs in the family
especially if it is one of

51+

diseases related to Vitamin D Receptor
2) Slightly increasing Vitamin D show benefits (even if conventional Vitamin D test shows an increase)
3) Vitamin D Receptor test (<$30) scores are difficult to understand in 2016
easier to understand the VDR 23andMe test results analyzed by FoundMyFitness in 2018
4) Back Pain
probably want at least 2 clues before taking adding vitamin D, Omega-3, Magnesium, Resveratrol, etc
The founder of VitaminDWiki took action with clues #3&4

&nbspDownload the PDF from VitaminDWiki
Jóźwicki W 1,2, Brożyna AA 3,4, Siekiera J 5, Slominski AT 6,7.

Vitamin D3 shows tumoristatic and anticancer effects by acting through the vitamin D receptor (VDR), while hydroxylation of 25-hydroxyvitamin D3 at position 1α by CYP27B1 is an essential step in its activation. The expression of both the VDR and CYP27B1 has been found in many normal and cancer tissues, but there is a lack of information about its expression in human bladder cancers.
The aim of the present research was to examine whether the expression of the VDR and CYP27B1 in bladder cancer was related to the prognostic markers and disease outcome. We analyzed VDR and CYP27B1 in samples of tumor and normal tissues obtained from 71 urinary bladder cancer patients. The highest VDR immunostaining was found in normal epithelium and was significantly lower in bladder cancer cells (p<0.001 with Mann-Whitney U test). VDR expression was lowest in more advanced (pT2b-pT4) (p=0.005 with Mann-Whitney U test) and metastasizing cancers (p<0.05 and p=0.004 with Mann-Whitney U test for nuclear and cytoplasmic VDR immunostaining, respectively).
The lack of cytoplasmic and nuclear VDR was also related to shorter overall survival (for cytoplasmic VDR immunolocalization 13.3 vs. 55.3 months of survival, HR=1.92, p=0.04 and for nuclear VDR immunostaining 13.5 vs. 55.3 months of survival, HR=2.47, p=0.002 with Mantel-Cox test). In cases with the lack of high cytoplasmic VDR staining the non-classic differentiations (NDs) was observed in higher percentage of tumor area. CYP27B1 expression was lower in cancer cells than in normal epithelial cells (p=0.03 with Mann-Whitney U test), but its expression did not correlate with tumor stage (pT), metastasizing, grade, mitotic activity or overall survival. In conclusion, expression of the VDR and CYP27B1 are deregulated in urothelial bladder cancers.
Although our results showing a relationship between the decreased VDR expression and prognostic markers and survival time indicate potential usefulness of VDR as a new indicator of a poorer prognosis, further studies are needed in different patient cohorts by independent groups to validate this hypothesis. We also suggest that vitamin D-based therapies may represent an adjuvant strategy in treatment for bladder cancers expressing VDR.
PMID: 26501255 PMCID: PMC4632755 DOI: 10.3390/ijms161024369