Association Between Preoperative 25-Hydroxyvitamin D Level and Hospital-Acquired Infections Following Roux-en-Y Gastric Bypass Surgery
JAMA Surg. 2014;149(2):112-118. doi:10.1001/jamasurg.2013.3176
Sadeq A. Quraishi, MD, MHA; Edward A. Bittner, MD, PhD; Livnat Blum, BA;Mathew M. Hutter, MD, MPH; CarlosA. CamargoJr, MD, DrPH
VitaminDWiki
Items in both categories Immunity and Trauma-Surgery are listed here:
Immunity category starts with:
249
items in Immunity category

see also

Virus category listing has
1209
items along with related searches

Overview Influenza and vitamin D
Vitamin D helps both the innate and adaptive immune systems fight COVID-19 – Jan 2022
Vitamin D aids the clearing out of old cells (autophagy) – many studies
600,000 IU of Vitamin D (total) allowed previously weak immune systems to fight off a virus antigen - Nov 2020
Search for treg OR "t-cell" in VitaminDWiki 1440 items as of Jan 2020
141 VitaminDWiki pages contained "infection" in title (June 2021)
Search VitaminDWik for BACTERIA in title 25 items as of Aug 2019
Vitamin D and the Immune System – chapter Aug 2019
7X less risk of influenza if Vitamin D levels higher than 30 ng – Oct 2017
Common cold prevented and treated by Vitamin D, Vitamin C, Zinc, and Echinacea – review April 2018
Vitamin D improves T Cell immunity – RCT Feb 2016
Immune system - great 11-minute animated video - Aug 2021 nothing about Vitamin D
18 titles in VitaminDWiki contained INNATE or ADAPTIVE as of Jan 2023
Increasing publications on vitamin D and Infection

45
studies are in both Immunity and Virus categories
---
Optimum category starts with
96
items in Optimum Vitamin D category

Example pages

An increasing number of PubMed articles about "Optimum Vitamin D"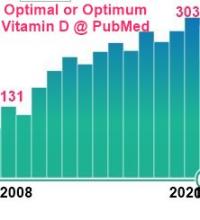 &nbspDownload the PDF from VitaminDWiki
IMPORTANCE Postoperative hospital-acquired infections (HAIs) may result from disruption of natural barrier sites. Recent studies have linked vitamin D status and barrier site integrity.
OBJECTIVE To investigate the association between preoperative vitamin D status and the risk for HAIs.
DESIGN, SETTING, AND PARTICIPANTS A retrospective analysis was performed using propensity score methods to construct a matched-pairs cohort to reduce baseline differences between patients with 25-hydroxyvitamin D (25[OH]D) levels less than 30 ng/mLvs 30 ng/mL or greater. Multivariable logistic regression analysis was then performed to examine the association between 25(OH)D levels and HAIs while adjusting for additional perioperative factors. Locally weighted scatterplot smoothing was used to depict the relationship between increasing 25(OH)D levels and the risk for HAIs. This study was conducted in a single, teaching hospital in Boston, Massachusetts, and involved 770 gastric bypass surgery patients between January 1, 2007, and December 31,2011.
EXPOSURES Preoperative 25(OH)D levels.
MAIN OUTCOMES AND MEASURES Association between preoperative 25(OH)D levels and the riskfor postoperative HAIs.
RESULTS The riskfor HAIswas3-fold greater (adjusted odds ratio, 3.05; 95% CI, 1.34-6.94) in patients with 25(OH)D levels less than 30 ng/mL vs 30 ng/mL or greater. Further adjustment for additional perioperative factors did not materially change this association. Locally weighted scatterplot smoothing analysis depicted a near inverse linear relationship between vitamin D status and the risk for HAIs for 25(OH)D levels around 30 ng/mL.
CONCLUSIONS AND RELEVANCE In our patient cohort, a significant inverse association was observed between preoperative 25(OH)D levels and the risk for HAIs. These results suggest that preoperative 25(OH)D levels may be a modifiable risk factor for postoperative nosocomial infections. Prospective studies must determine whether there is a potential benefit to preoperative optimization of vitamin D status.
---
The Association of Serum Vitamin D Concentration with Serious Complications After Noncardiac Surgery- 2014 &nbspPDF

20 X less likely if very high vitamin D
This page is in the following categories (# of items in each category)