Enhancement in brain uptake of Vitamin D3 nanoemulsion for treatment of cerebral ischemia: Formulation, Gamma scintigraphy and efficacy study in transient middle cerebral artery occlusion rat models
Journal of Microencapsulation https://doi.org/10.1080/02652048.2020.1801870
Mukesh Kumar,Dhruv Kumar Nishad,Anoop kumar,Aseem Bhatnagar,Ritu Karwasra,Kushagra Khanna, show all
The study used radioactive Vitamin D

VitaminDWiki
Increased Vitamin D to the brain might help prevent/treat:
strokes, Alzheimer's, Parkinson's, Epilepsy, etc.
Normally the blood-brain barrier somewaht restricts Vitamin D from getting to the brain
The nose is directly connected to the brain – no blood-brain barrier
Founder of VitaminDWiki has been inhailing Vitamin D nanoemulsion through his nose and mouth since 2017
The lungs can activate vitamin D locally – a Vitamin D inhaler may help lungs – Aug 2016
Nanoemulsion Vitamin D may be a substantially better form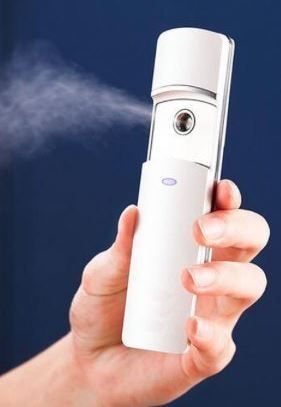 The nose, in addition to the lung, can activate Vitamin D locally.
A nose, surprisingly, has MORE square meters of surface area than a lung
---
19+

VitaminDWiki pages with NANOEMULSION or EMULSION etc. in the title

This list is automatically updated
| Title | | Modified |
| --- | --- | --- |
| Nanoemulsion Vitamin D is faster and better - many studies | | 06 Oct, 2023 |
| Fast responses to Vitamin D – loading dose, nanoemulsion and Calcifediol – April 2023 | | 15 Apr, 2023 |
| Nanoemulsion Vitamin D faster and better (paywall) – RCT Dec 2021 | | 02 Dec, 2021 |
| COVID-19 defeated 3x faster by 420,000 IU Vitamin D nanoemulsion – RCT Nov 12, 2020 | | 21 Sep, 2021 |
| Nanoemulsion Vitamin D may be a substantially better form | | 02 Jun, 2021 |
| COVID-19 inflammation extinguished by 60,000 IU of vitamin D nanoemulsion daily for a week – RCT May 2021 | | 22 May, 2021 |
| Inhaling Vitamin D nanoemulsion through nose gets lots more to the brain (mice) – July 2020 | | 03 Aug, 2020 |
| Vitamin D nanoemulsion, with comments on COVID-19 – June 2, 2020 | | 04 Jun, 2020 |
| Nanoemulsion vitamin D is again found to be the best liquid form (for rats in this case) – June 2019 | | 20 Dec, 2019 |
| Bioavailability of nanoemulsion formulations of Vitamin D3 – Nov 2019 | | 20 Dec, 2019 |
| Vitamin D nanoemulsion etc. for fortification, pills, injections, topical and cancer – July 2019 | | 18 Jul, 2019 |
| Vitamin D Emulsion update - March 2019 | | 28 Mar, 2019 |
| Vitamin D Emulsions - nano 2X better than coarse – Dec 2017 | | 04 Mar, 2019 |
| Vitamin D nanoemulsion corrected deficiency and improved bones in 1 week (high dose in rats) – Jan 2019 | | 05 Jan, 2019 |
| Advances in Vitamin D emulsions, nanoparticles, etc. – Jan 2019 | | 30 Dec, 2018 |
| Colitis treated by activated vitamin D getting into the colon via emulsion (mice) – July 2018 | | 24 Jul, 2018 |
| Lung cancer and inhaled emulsions (wonder about inhaled Vitamin D) – 2018 | | 17 Jun, 2018 |
| Inhaled nanoemulsion of Vitamin D killed lung bacteria – Sept 2017 | | 19 Apr, 2018 |
| Nanoemulsions of vitamin D help reduce asthma markers in mice– Dec 2013 | | 12 Dec, 2013 |
&nbspDownload the PDF from sci-hub via VitaminDWiki
Aim: For the treatment of cerebral ischemia, Vitamin-D3 loaded nanoemulsion were developed.
Method: Tween 20 and polyethylene glycol were choosen as surfactant/co-surfactant, while oleic acid as oil phase. The formulation was characterized for various in-vitro parameters. Targeting efficiency was investigated through radiometry, gamma scintigraphy and efficacy was studied in transient middle cerebral artery occlusion (MCAo) rat model.
Result: Vitamin D3-Nanoemulsion showed a mean size range of 49.29 ± 10.28 nm with polydispersity index 0.17 ± 0.04 and zeta potential 13.77mV. Formulation was found stable during thermodynamic stability study and permeated within 180 min through sheep nasal mucosa (permeation coefficient 7.873 ± 0.884 cm/h). Gamma scintigraphy and radiometry assay confirmed better percentage deposition (2.53 ± 0.17%) of 99mTc-Vitamin D3-Nanoemulsion through nasal route compared to IV administered 99mTc-Vitamin D3 solution (0.79 ± 0.03%). Magnetic Resonance Imaging (MRI) of the ischemic model confirmed better efficacy of Vitamin D3-Nanoemulsion.
Conclusion: This work demonstrated better permeation, deposition and efficacy of VitaminD3-Nanoemulsion through intranasal route.
---
Some of the References
Gupta, A., et al. 2016. Effect of Vitamin D and calcium supplementation on ischaemic stroke outcome: a randomized controlled open-label trial. ... ClinicalPractice. 70(9), 764-770.
Gupta, R., et al. 2018. Recent Advances in Formulation Strategies for Vitamin D. AAPS PharmSciTech. 20(1), 11.
Gupta, S., et al. 2017. Neuroprotective effect of lercanidipine in occlusion model of stroke in rats. Experimental Necrology. 288, 25-37 Guttoff, M., et al. 2015. Formation of vitamin D nanoemulsion-ba spontaneous emulsification: factors affecting 117-122.
Hossmann, K.A., 1994. Viability thresholds and the penumbra of focal Neurology. 36(4), 557-565.
Illum, L., 2003. Nasal drug delivery一possibilities, problems and solutions. Journal of Controlled Release. 87(1-3), 187-198.
Kumar, M., et al. 2008. Intranasal nanoemulsion based brain targeting drug delivery system of risperidone. International Journal of Pharmaceutics. 285-291.
Lakhan, S.E., Kirchgessner, A., Hofer, M., 2009. Inflammatory mechanisms in ischemic stroke: therapeutic approaches. Journal of Translational Medicine. 7(1), 97.
Lawrence, M. J. and Rees, G. D., 2000.Microemulsion-based media as novel drug delivery systems. Advance Drug Delivery Review. 45(1), 89-121.
Liu, W., et al. 2018. The anti -Inflammatory Effects of Vitamin D in Tumorigenesis. International Journal of Molecular Sciences. 19(9), 2136.
Li, J., et al. 2018. Preparation optimization and stirage stability of nanoemulsion based lutein delivery systems. Journal o/micoencapsulation. 35 (6), 570-583.
Majumdar, V., et al. 2015. Vitamin D status, hypertension and ischemic stroke: a clinical perspective. Journal of Human Hypertension. 29(11), 669-674.
Marklund, S. and Marklund, G., 19 autoxidation of pyrogallol and a conv of Biochemistry. 47 (3), 469-474.
Markisic, M., et al. 2017. The Impact of Homocysteine, Vitamin B12, and Vitamin D Levels on Functional Outcome after First-Ever Ischaemic Stroke. Biomed Research /nternational. 2017,1-6.
Md, S., et al. 2013. Bromocriptine loaded chitosan nanoparticles intended for direct nose to brain delivery: Pharmacodynamic, Pharmacokinetic and Scintigraphy study in mice model. European Journal of Pharmaceutical Science. 48 (3), 393-405.
Milanlioglu, A., et al. 2015. Serum antioxidant enzymes activities and oxidative stress levels in patients with acute ischemic stroke: influence on neurological status and outcome. Wien
Musa, S.H., et al. 2013. Formulation optimization of palm kernel oil esters nanoemulsion- loaded with chloramphenicol suitable for meningitis treatment.
Ohkawa, H., et al. 1979. Assay of lipid peroxides in animals tissue by thiobarbituric acid reaction. AnalyticalBiochemistr;y. 95 (2), 351-358.
Pangeni, R., et al. 2014. Vitamin E loaded resveratrol nanoemulsion for brain targeting for the treatment of Parkinson's disease by reducing oxidative stress. Nanotechnology. 25(48), 485502.

Note: Resveratrol increases the activation of the Vitamin D Receptor

Punj, A., et al. 2017. Estimation of Antioxidant Levels in Saliva and Serum of Chronic Periodontitis Patients with and without Ischemic Heart Disease. International Journal of Dentistry. 1-9.
Sharma, N., et al. 2018. Development a] graecum (Fenugreek) polysaccharid 2571.
• Shi, Y., et al. 2015. Development optimization and evaluation of emodin loaded nanoemulsion prepared by ultrasonic emulsification. Journal of Drug Delivery Science and Technology. 27, 46-55.
Silva, H.D., et al.2011. Nanoemulsions for Food Applications: Development and Characterization. FoodBio ocess Technology. 5(3), 854-867.
Thakkar, H.P., et al. 2015. Formulation and evaluation of Itraconazole nanoemulsion for enhanced oral bioavailability. Journal of microencapsulation. 32 (6) 559-569.
Tran, T.H., et al. 2014. Quercetin-containing self-nanoemulsifying drug delivery system for improving oral bioavailability. Journal of Pharmaceutical Sciences. 103(3), 840-852.

Note: Quercetin increases the activation of the Vitamin D Receptor

Vyas, T., et al. 2005. Intranasal Drug Delivery for Brain Targeting. Current Drug Delivery.
Wei, Z.N. and Kuang, J.G., 2018. Vitamin D deficiency in relation to the poor functional outcomes in nondiabetic patients with ischemic stroke. Bioscience Reports. 38(2), 1-32.
Yu, H.L.et al. 2019. ESE1 expression correlates with neuronal apoptosis in the hippocampus after cerebralischemia/reperfusion injury. Neural Regeneration Research. 14(5), 41-849.
Zhou, R.et al. 2018. Lower Vitamin D Status Is Associated with an Increased Risk of Ischemic Stroke: A Systematic Review and Meta-Analysis. Nutrients. 10(3) 277.