Amyotrophic Lateral Sclerosis = ALS = Lou Gehrig's Disease
See instead: Ankylosing spondylitis and low vitamin D – several studies
---
See also VitaminDWiki
Check that you are not allergic to vitamin D by trying a small amount - say 1,000 IU and seeing any reactions (only about 1 in 300 people are)
The brand vitamin D with the least amount of additives and no reported bad reactions is Bio-Tech - which also is the highest rated brand on Amazon
Of the few people with reactions to vitamin D, many appear to be deficient in Magnesium - Magnesium Chloride is a good supplement
A typical loading dose in 400,000 IU - can be, for example, be achieved by 50,000 IU capsules once a day for 8 days.
Zinc + Copper might be a cure for ALS - 2017
Do We Have A Cure For Lou Gehrig's Disease? (Amyotrophic Lateral Sclerosis)
"The recommended dosage is 90-100 mg of zinc and 2-3 mg of copper, taken twice daily"
"As a report published at Atlas of Science points out, the lack of zinc (or balance of zinc with copper) is at the heart of autoimmune disorders. We are talking here about multiple sclerosis, psoriasis, lupus, rheumatoid arthritis, Type I diabetes, Hashimoto's thyroiditis"
Zinc and Vitamin D category listing has
29
items along with related searches
---
Vitamin D and ALS: genetics and signaling - 2013
Roles of vitamin D in amyotrophic lateral sclerosis: possible genetic and cellular signaling mechanisms
&nbspDownload the PDF from VitaminDWiki

---
Vitamin D Council speculated on benefits of 20,000 IU on ALS 2012
Vitamin D Council on ALS
After reviewing the previous study, Dr. Cannell speculates on benefits to ALS of 20,000 IU daily
---
ALS 4X worse if severely low Vitamin D - Nov 2013
Amyotrophic lateral sclerosis has 4X faster decline if severely low Vitamin D – Nov 2013 has the following chart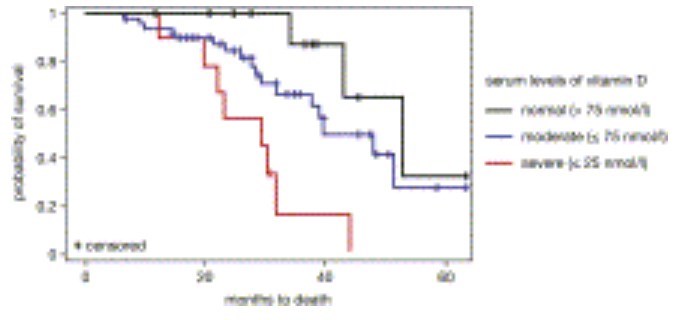 Red line: < 25 nmol = <10 ng
---
Even 2,000 IU helped all 20 ALS patients in clinical trial - 2013
Vitamin D deficiency and its supplementation in patients with amyotrophic lateral sclerosis.
J Clin Neurosci. 2013 Jun 28. pii: S0967-5868(13)00149-5. doi: 10.1016/j.jocn.2013.01.011.
Karam C, Barrett MJ, Imperato T, Macgowan DJ, Scelsa S.
Department of Neurology, Mayo Clinic College of Medicine, 200 First Street SW, Rochester, MN 55905, USA. Electronic address: chafickaram at gmail.com.
We studied 25-hydroxyvitamin D (vitamin D) levels in patients with amyotrophic lateral sclerosis (ALS) and the effect of vitamin D supplementation. Vitamin D levels were checked in 37 consecutive patients with ALS. Demographic data, vitamin D supplementation, change in Amyotrophic Lateral Sclerosis Functional Rating Scale (ALSFRS-R) score, and side effects from vitamin D were noted over a 9 month follow-up period. ALSFRS-R scores were compared between patients who took vitamin D and those who did not. The median age was 55 years and median time since symptom onset was 61 months. The mean vitamin D level was 22.3ng/mL (normal range, 30-80ng/mL). Eighty-one percent of patients had a vitamin D level lower than 30ng/mL and 43% had a vitamin D level lower than 20ng/mL.
Twenty patients took 2000 international units of vitamin D daily. After adjustment for age and baseline vitamin D levels in a linear regression model, the ALSFRS-R score decline was smaller in patients taking vitamin D at 9 months (p=0.02) but was not significantly different at 3 or 6 months. Median vitamin D levels rose from 18.5 to 31.0ng/mL at 6 months in the group taking vitamin D. No side effects secondary to vitamin D supplementation were reported. Vitamin D supplementation at 2000 international units daily was safe over a period of 9 months and may have a beneficial effect on ALSFRS-R scores. Further studies are warranted to determine whether there is a benefit in vitamin D supplementation for all ALS patients.
Copyright © 2013 Elsevier Ltd. All rights reserved.PMID: 23815870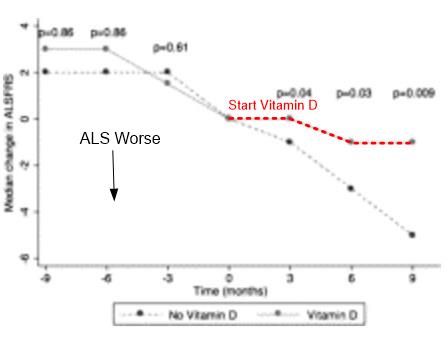 Fig. 1. Graph showing change in median Amyotrophic Lateral Sclerosis Functional Rating Scale (ALSFRS) score
before and after initiation of vitamin D supplementation,
with Time 0 being the commencement of supplements for the vitamin D group.
Comment by VitaminDWiki
2,000 IU of vitamin D took over 6 months to restore vitamin D levels - then the benefits could start
Would have been much faster if they has used a loading dose
Publisher sells PDF for $31.50
---
ALSFRS-R score Calculator is calculated on the following aspects
1. Speech, 2. Salivation, 3. Swallowing, 4. Handwriting, 5. Cutting food with gastrostomy, 6. Dressing and hygiene
7. Turning in bed, 8. Walking, 9. Climbing stairs, 10. Dyspnea, 11. Orthopnea (sleeping), 12. Respiratory insufficiency
13. Number many years since onset of symptoms
---
ALS Vitamin D Meta-analysis to be completed Fall 2017
Vitamin D status and amyotrophic lateral sclerosis/motor neuron disease: a systematic review and meta-analysis
Strategy for data synthesis
This will be carried out as follows: random-effects modelling and calculated pooled HR, RR, or OR of AMD with 95% confidence intervals (CI) comparing between optimal vitamin D and vitamin D deficiency groups.
---
Vitamin D as a potential therapy in amyotrophic lateral sclerosis (mouse ALS) – Feb 2014
CNS Neurosci Ther. 2014 Feb;20(2):101-11. doi: 10.1111/cns.12204.
Gianforcaro A1, Hamadeh MJ.
1School of Kinesiology and Health Science, Faculty of Health, and Muscle Health Research Centre, York University, Toronto, ON, Canada.
Vitamin D has been demonstrated to influence multiple aspects of amyotrophic lateral sclerosis (ALS) pathology.
Both human and rodent central nervous systems express the vitamin D receptor (VDR) and/or its enzymatic machinery needed to fully activate the hormone.
Clinical research suggests that vitamin D treatment can improve compromised human muscular ability and increase muscle size, supported by loss of motor function and muscle mass in animals following VDR knockout, as well as increased muscle protein synthesis and ATP production following vitamin D supplementation.
Vitamin D has also been shown to reduce the expression of biomarkers associated with oxidative stress and inflammation in patients with
multiple sclerosis,
rheumatoid arthritis,
congestive heart failure,
Parkinson's disease and
Alzheimer's disease;
diseases that share common pathophysiologies with ALS.
Furthermore, vitamin D treatment greatly attenuates hypoxic brain damage in vivo and reduces neuronal lethality of glutamate insult in vitro; a hallmark trait of ALS glutamate excitotoxicity.
We have recently shown that high-dose vitamin D3 supplementation improved, whereas vitamin D3 restriction worsened, functional capacity in the G93A mouse model of ALS.
In sum, evidence demonstrates that vitamin D, unlike the antiglutamatergic agent Riluzole, affects multiple aspects of ALS pathophysiology and could provide a greater cumulative effect.
PMID: 24428861
&nbspDownload the PDF from VitaminDWiki
---
ALS varies with latitude - similar to most vitamin D related diseases
Amyotrophic Lateral Sclerosis: A Synthesis of Research and Clinical Practice

---
ALS deaths increasing 60 % per decade - somewhat slower than other vitamin D related diseases
Similar increases in many other vitamin D deficient diseases

For more disease increases see: Incidence of 30 health problems related to vitamin D has doubled in a decade
---
ALS worse if lower level of vitamin D - June 2015
Vitamin D is Not a Protective Factor in ALS
CNS Neurosci Ther. 2015 Jun 20. doi: 10.1111/cns.12423. [Epub ahead of print]
Blasco H1,2, Madji Hounoum B1, Dufour-Rainfray D1,3, Patin F1, Maillot F4,5, Beltran S6, Gordon PH7, Andres CR1,2, Corcia P1,6.
AIMS: Vitamin D deficiency has been associated with poorer prognosis in ALS. Better understanding of the role of vitamin D in ALS is needed to determine whether trials of systematic supplementation are justified. Our aim was to report vitamin D levels during the course of ALS and to evaluate its relationship with clinical parameters at diagnosis and with disease progression.
METHODS: We prospectively collected vitamin D serum concentrations from 125 consecutive ALS patients. Cox proportional hazard models analyzed the relationship between vitamin D concentrations, clinical parameters, and survival.
RESULTS: The mean vitamin D concentration was below our laboratory's lower limit of normal (P < 0.0001) and did not change during the course of the disease. The concentrations were higher in patients with bulbar onset (P = 0.003) and were negatively associated with body mass index (BMI) (P = 0.0095). Models with ALSFRS-R (ALS Functional Rating Scale-Revised) and BMI as a covariates showed that vitamin D concentrations predicted worse prognosis.
CONCLUSION: .The distribution of vitamin D concentrations in our cohort was consistent with previous reports. Surprisingly, we noted a negative effect of higher vitamin D levels on prognosis in ALS. More detailed research is warranted to determine whether manipulation of vitamin D could be beneficial to patients. PMID: 26096806
---
ALS Worldwide continues to recommend high dose Vitamin D - Feb 2015
Vitamin D3 BenefitsALS Wordlwide
"ALS Worldwide has been recommending the use of Vitamin D (specifically Vitamin D3, a more powerful isomer) for several years, based largely on instinct and the realization that many ALS/MND patients are unable to get sufficient vitamin D through sunshine"
"Based on our own usage of D3 and guidelines established by Mayo Clinic, we recommend a trial dose of 6,000 to 10,000 IU daily by mouth"
---
Life Extension Foundation - Supplements to prevent or treat ALS
Includes Vitamin B12, Zinc, CoQ10,Creatine, Glutathione and N-acetyl-cysteine (NAC), etc
---
ALS "Ice Washing" "nonprofit" executives each have an average salary of $173,000
Details at [http://www.greenmedinfo.com/blog/60-natural-als-cures-ice-washing-campaign-isnt-funding||60+ Natural ALS Cures the "Ice Washing" Campaign Isn't Funding!] GreenMedInfo
GreenMedInfo points out that ALS "non-profit" focuses on patentable treatments of ALS rather than natural supplements.
GreenMedInfo gives details on proven ALS treatments by Vitamins D, E, and B-12
---
ALS 5 X more likely if exposed to pesticides - JAMA May 2016
Association of Environmental Toxins With Amyotrophic Lateral Sclerosis JAMA Neurology
Questionare to 60 year olds - comparing ALS and non ALS
5X any pesticide exposure in 30 years
pentachlorobenzene: OR = 2.21;
cis-chlordane: OR = 5.74;
PCB 175: OR = 1.81;
PCB 202: OR = 2.11;
BFR (polybrominated diphenyl ether 47: OR = 2.69;
Military: OR = 2.31;
Sources of pesticides (from PDF)


&nbspDownload the PDF from VitaminDWiki
Note: Pesticides lower Vitamin D. Vitamin D suplementation cancels some of the problem
See also VitaminDWiki Pesticides increase risk of Cancers, Alz, ALS, Asthma, ADHD, etc. (all related to low vitamin D) – Oct 2016
---
ALS 4X more likely in professional football players- June 2016
The Complicated Connection Between Football and ALS Atlantic
"professional football players are 4 X more likely to die of ALS than the general population"
"Hereditary factors explain only a small percentage of ALS cases."
"The head trauma hypothesis is bolstered by the fact that veterans appear to be more likely to develop ALS, as are soccer players."
Note by VitaminDWiki: many prefessional football players have low levels of vitamin D due to covered stadiums (lack of sun)
ALS survival not vary with vitamin D level (greater or less than 10 nanograms) - Aug 2016
Vitamin D levels are not predictors of survival in a clinic population of patients with ALS.
J Neurol Sci. 2016 Aug 15;367:83-8. doi: 10.1016/j.jns.2016.05.007. Epub 2016 May 7.
Yang J1, Park JS2, Oh KW2, Oh SI3, Park HM4, Kim SH5.
1Department of Neurology, Gachon University, Gil Medical Center, 21, Namdong-daero, 774 Beon-gil, Namdong-gu, Incheon 21565, South Korea.
2Department of Neurology, College of Medicine, Hanyang University, 222 Wangsimni-ro, Seongdong-gu, Seoul 04763, South Korea.
3Department of Neurology, Busan Paik Hospital, Inje University, 75, Bokji-ro, Busanjin-gu, Busan 47392, South Korea.
4Department of Neurology, Gachon University, Gil Medical Center, 21, Namdong-daero, 774 Beon-gil, Namdong-gu, Incheon 21565, South Korea. Electronic address: neurohm at gilhospital.com.
5Department of Neurology, College of Medicine, Hanyang University, 222 Wangsimni-ro, Seongdong-gu, Seoul 04763, South Korea. Electronic address: kimsh1 at hanyang.ac.kr.
OBJECTIVE:
This study aimed to measure serum 25-hydroxyvitamin D 25(OH)D concentrations, bone mineral density (BMD), and the parameters of bone metabolism in amyotrophic lateral sclerosis (ALS) patients, and their correlation with survival.
METHODS:
We retrospectively analysed data of 100 ALS patients who consecutively visited a single referral ALS clinic between January and December 2011. Sex; age and site of symptom onset; and death were recorded. Serum 25(OH)D concentration was dichotomized as <10ng/ml and ≥10ng/ml.
RESULTS:
There was absent relationship between serum 25(OH)D and concentration of bone turnover parameters or between 25(OH)D and BMD. According to the results of the Kaplan-Meier analysis with log-rank test, the survival rates of patients without (≥10ng/ml) and of those with severe vitamin D deficiency (< 10ng/ml) were not significantly different. Cox regression analysis showed that a poor prognosis was most correlated with older age at onset and bulbar onset after adjustment for all the clinical factors.
CONCLUSIONS:
In conclusion, vitamin D levels were not correlated to other bone markers and survival in a clinic population of ALS patients.
Copyright © 2016 Elsevier B.V. All rights reserved. PMID: 27423568
---
ALS not helped by 25,000 IU every 15 days (no surprise) RCT Jan 2017
Vitamin D in amyotrophic lateral sclerosis.
Funct Neurol. 2017 Jan/Mar;32(1):35-40.
Libonati L, Onesti E, Gori MC, Ceccanti M, Cambieri C, Fabbri A, Frasca V, Inghilleri M.
Vitamin D supplementation has been proposed as a potential treatment to delay amyotrophic lateral sclerosis (ALS) progression. The aims of this study were to compare retrospectively vitamin D blood levels in ALS patients with those in healthy subjects; to correlate vitamin D blood levels with clinical functions in patients; and to evaluate whether administration of vitamin D could modify the clinical progression of the disease. Vitamin D blood levels were evaluated in 57ALS patients and in 57 healthy subjects. In the ALS patients the following clinical variables were evaluated every 3 months: Medical Research Council scale (MRC) score; revised ALS functional rating scale (ALSFRS-R) score; forced vital capacity (FVC). Twentyfour patients were treated with high doses of cholecalciferol. No significant differences were found between the vitamin D blood levels in the ALS patients (18.8 ± 12.2) and the healthy subjects (20.7 ± 10.1). The vitamin D levels in the ALS patientsdid not correlate with recorded clinical parameters. No clinical differences in terms of ALSFRS-R, MRC or FVC were found between the treated and the untreated patients over time. In ALS, as in other chronic neurological diseases, levels of vitamin D in blood appeared reduced, but no difference was found between the levels in ALS patients and in healthy subjects. Oral vitamin D supplementation in ALS patients was not associated with better prognosis in comparison with untreated ALS patients. Further prospective controlled studies are needed to clarify the effect of vitamin D on the progression of ALS disease.
PMID: 28380322
&nbspDownload the PDF from VitaminDWiki
The study does not appear to have measured the vitamin D levels after treatment
Wonder why they consider 1,700 IU daily average to be "high dose"
---
$145,000/year ALS drug approved by FDA May 2017
A Second Drug Is Approved to Treat A.L.S. New York Times
" . . Radicava or edaravone, slowed the progression of the degenerative disease in a six-month study in Japan."
"The effect is modest but significant."
"The first round of treatment requires a one-hour infusion every day for 14 days, followed by 14 days off. After that, the infusions are given daily for 10 out of 14 days, with 14 days off."
"He added that the drug will not make patients feel better or stronger. It does not improve symptoms. It can slow the decline, but that is not something a patient will notice."
VitaminDWiki suspects that Vitamin D has far better resuls at < 0.1% of the price, and oral vitamin D is far easier than daily infusion
---
New York Times Jane Brody on ALS - May 2017 (nothing about Vitamin D)
A New Drug for A.L.S., but the Diagnosis Remains Dire
"Over the course of a lifetime, one person in about 400 is likely to develop it, a risk not unlike that of multiple sclerosis"
Note by admin of VitaminDWiki - I checked, and yes, ALS and MS have similar incidence rates

Half of ALS die within 5 years
"The Food and Drug Administration just approved a second drug, Radicava (edaravone), said to slow progression of the disease in a six-month study in Japan, though its effects on survival are not yet known. It must be administered intravenously for 10 days every two weeks at a cost of more than $145,000 a year for the medication alone."
"The risk is higher than expected among military veterans, professional football players and athletes who took dietary supplements containing branched-chain amino acids. The Department of Veterans Affairs recognizes A.L.S. as a service-connected disease."
---
Amyotrophic Lateral Sclerosis - NEJM July 2017 - Vitamin D not mentioned once
&nbspDownload the PDF from VitaminDWiki
---
ALS patients helped by Omega-3 – RCT Sept 2017
Amyotrophic Lateral Sclerosis patients helped by Omega-3 – RCT Sept 2017
---
ALS treated by the right balance of Omega-3 and Omega-6 - mice 2018
&nbspDownload the PDF from VitaminDWiki
---
Vitamin D levels are associated with gross motor function in amyotrophic lateral sclerosis.- April 2017
Muscle Nerve. 2017 Oct;56(4):726-731. doi: 10.1002/mus.25555. Epub 2017 Apr 5.
Paganoni S1,2,3, Macklin EA1,4, Karam C5, Yu H2, Gonterman F2, Fetterman KA2, Cudkowicz M1,2, Berry J1,2, Wills AM1,2.
1 Neurological Clinical Research Institute, Harvard Medical School, Massachusetts General Hospital, 165 Cambridge Street, Suite 600, Boston, Massachusetts, 02114, USA.
2 Department of Neurology, Neurological Clinical Research Institute, Massachusetts General Hospital, Boston, Massachusetts, USA.
3 Department of Physical Medicine and Rehabilitation, Spaulding Rehabilitation Hospital, Cambridge, Massachusetts, USA.
4 Biostatistics Center, Massachusetts General Hospital, Boston, Massachusetts, USA.
5 Department of Neurology, Oregon Health and Science University, Portland, Oregon, USA.
INTRODUCTION: The objective of this study was to determine whether serum vitamin D [25(OH)D] levels are associated with disease progression in amyotrophic lateral sclerosis (ALS).
METHODS:
25(OH)D was measured in subjects enrolled in a multicenter study for validation of ALS biomarkers. Baseline 25(OH)D levels were correlated with baseline ALSFRS-R scores. Average 25(OH)D levels from baseline and month 6 visits (seasonally asynchronous) were used to predict subsequent rate of change in ALSFRS-R from month 6 to month 18.
RESULTS:
Most subjects had either insufficient or deficient 25(OH)D levels. Lower 25(OH)D was associated with lower ALSFRS-R gross motor scores, but not lower ALSFRS-R total scores at baseline. Levels of 25(OH)D were not predictive of disease progression over the next 12 months.
CONCLUSION:
25(OH)D was associated with baseline gross motor ALSFRS-R scores but did not predict the rate of disease progression. Vitamin D levels may reflect poor mobility in patients with ALS. Muscle Nerve, 2017 Muscle Nerve 56: 726-731, 2017.
PMID: 28044349 DOI: 10.1002/mus.25555 Publisher rents PDF for $6