Diabetic Retinopathy severity Serum vitamin D and parathormone (PTH) concentrations as predictors of the development and severity of diabetic retinopathy
Rania Naguib Abdel Mouteleb Abdel Reheem ranianaguib2000 at yahoo.com, Maaly Abdel Halim Mohamed Abdel Fattah mola_73 at hotmail.com
Received 14 April 2012; accepted 24 August 2012. published online 08 October 2012.
Background: Vitamin D is suggested to be an inhibitor of angiogenesis. The degree of severity of diabetic retinopathy (DR) may be related to serum vitamin D concentration.
Aim: Investigating vitamin D and parathormone (PTH) concentrations as predictors of the development and severity of diabetic retinopathy.
Methods: Two hundred diabetic patients presenting with suspected diabetic retinopathy were investigated, levels of vitamin D [25(OH) D3 and Calcitriol] and PTH were measured.
Diabetic retinopathy was assessed using 7-field stereoscopic Fundus photography.
Results: Mean serum concentration of 1, 25 dihydroxy vitamin D 3 (1, 25(OH) 2 D3) was significantly lower in diabetic subjects with retinopathy than in diabetic subjects with no retinopathy and there is a significant negative correlation between the mean level of 1, 25(OH) 2 D3 and the degree of severity of retinopathy.
Level of PTH was significantly higher in severe NPDR and PDR compared to patients with no retinopathy.
Conclusions: Low levels of vitamin D might be a risk marker of development or progression of diabetic retinopathy. It might be advisable that detailed ophthalmologic examination is needed for diabetics whose serum 1, 25(OH) 2D3 concentrations gradually decreased. The measurement of serum 1, 25(OH) 2 D3 concentrations could become a useful biochemical means to predict the severity of DR in patients with diabetes mellitus.
---
The less active vitamin D you have, the worse your vision is with diabetes (data from the study)
Our study revealed no correlation between the mean serum 25(OH) D and the degree of retinopathy. (from the PDF)
That is, blood levels of vitamin D did not vary with the severity of diabetic vision problem.
PDF is attached at the bottom of this page
See also VitaminDWiki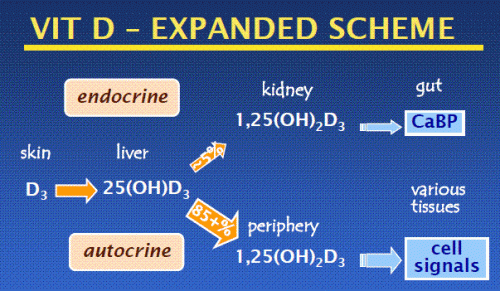 The items in both Diabetes and Vision are listed here:
See also web
0. No retinopathy (21%)
1. Mild Non-proliferative Retinopathy: This is the earliest stage, where small areas of swelling occur in the blood vessels. (19%)
2. Moderate Non-proliferative Retinopathy: At this stage, some blood vessels in the retina become blocked. (17%)
3. Severe Non-proliferative Retinopathy: many blood vessels become blocked and the retina starts to become deprived of blood supply. (20%)
4. Proliferative Retinopathy: The most advanced stage (22%)
growth of abnormal new blood vessels which are extremely thin-walled and fragile ==>highly susceptible to leakage ==> blindness.
Title revision of Jan 2020 caused the visitor count to reset.
There have actually been
6856
visitors to this page since it was originally made

Short url = http://is.gd/diabeticvision

This page is in the following categories (# of items in each category)