Identification and analysis of 35 genes associated with vitamin D deficiency: A systematic review to identify genetic variants.
J Steroid Biochem Mol Biol. 2019 Oct 30:105516. doi: 10.1016/j.jsbmb.2019.105516

Tiny portion of Figure 4
VitaminDWiki
The story of the Human Body -excellent book by Daniel Lieberman
People with poor immune systems in the 1800's - 20% died before becoming parents.
Instead of survival of the fittest (80% survived) we now have survival of the survivors (99% survive)
But with better hygiene, antibiotics, vaccines, and medical care there are many more people with poor immune systems survive to become parents.
Many reasons why vitamin D deficiency has become epidemic has a chart updated Oct 2019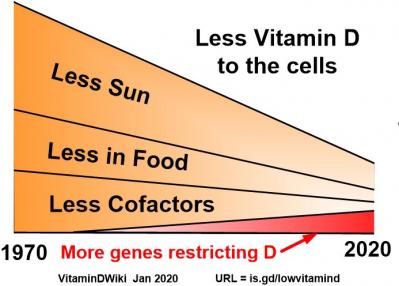 Poor responses to UV and Vitamin D were correlated to just 4 poor genes – June 2019
Genetics category listing contains the following
326
articles in the Genetics category

see also
Vitamin D Receptor has
494
items
Vitamin D Binding Protein = GC has
174
items
CYP27B1 has
58
items
Calcidiol has
45
items
Calcitriol has
56
items

Vitamin D blood test misses a lot


Vitamin D from coming from tissues (vs blood) was speculated to be 50% in 2014, and by 2017 was speculated to be 90%
Note: Good blood test results (> 40 ng) does not mean that a good amount of Vitamin D actually gets to cells
A Vitamin D test in cells rather than blood was feasible (2017 personal communication)
Commercially available 2019

However, test results would vary in each tissue due to multiple genes

Good clues that Vitamin D is being restricted from getting to the cells
1) A vitamin D-related health problem runs in the family
2) Slightly increasing Vitamin D shows benefits (even if conventional Vitamin D test shows an increase)
3) Vitamin D Receptor test (<$30) scores are difficult to understand in 2016

easier to understand the VDR 23andMe test results analyzed by FoundMyFitness in 2018


4) Back Pain

---

One gene restricts how much Vit. D acually gets to cells (not just reduce blood level)

The risk of 44 diseases at least double with poor Vitamin D Receptor as of Oct 2019
Vitamin D Receptor Activation can be increased by any of:
Resveratrol, Omega-3, Magnesium, Zinc, non-daily Vitamin D dosing, etc
Note: The founder of VitaminDWiki uses 10 of the 12 known VDR activators

81+ Vitamin D Receptor pages with CANCER in the title
This list is automatically updated

| Title | | Modified |
| --- | --- | --- |
| Cervical Cancer is prevented by Vitamin D, and treated if caught early (genes are important) – May 2023 | | 27 May, 2023 |
| Colon Cancer protects itself by changing the VDR and CYP3A4 genes – Dec 2022 | | 06 Dec, 2022 |
| Breast cancer spreads to bone if poor vitamin D Receptor (no surprise) – Oct 2022 | | 31 Oct, 2022 |
| 2X more Thyroid Cancer malignancy if less than 15 ng of vitamin D – June 2012 | | 16 Sep, 2022 |
| Cancers are associated with low vitamin D, poor vaccination response and perhaps poor VDR – July 2022 | | 15 Aug, 2022 |
| Poor prognosis of solid childhood cancers 14.7 X more likely with a poor Vitamin D Receptor – July 2022 | | 27 Jul, 2022 |
| Breast Cancer, Vitamin D, and genes – Welsh Nov 2021 | | 09 Feb, 2022 |
| How cancer is fought by Vitamin D (Ovarian this time) - Feb 2020 | | 01 Nov, 2021 |
| Lung Cancer is up to 7 X more deadly if poor vitamin D genes – Oct 2021 | | 25 Oct, 2021 |
| Cancers and Vitamin D Receptors, including change with race – Feb 2021 | | 24 Oct, 2021 |
| Breast Cancer reduces receptor and thus blocks Vitamin D to the cells – several studies | | 18 Oct, 2021 |
| After lactation Vitamin D levels are low, increased risk of Breast Cancer, vitamin D should decrease risk – Aug 2021 | | 20 Aug, 2021 |
| Breasts process Vitamin D and change gene activation, might prevent breast cancer if given more Vit. D – July 2021 | | 10 Jul, 2021 |
| Vitamin D Receptor and Cancer | | 17 Feb, 2021 |
| Oral Cancers - increased risk if low vitamin D or poor vitamin D genes | | 22 Jan, 2021 |
| Colon cancer risk increases 30X if you have the worst vitamin D receptor mutation – Jan 2021 | | 15 Jan, 2021 |
| Book: Sunlight, UV, Vitamin D and Receptor, Skin and other Cancers - Dec 2020 | | 09 Dec, 2020 |
| Colorectal Cancer Patients 2.4 X more likely to have poor Vitamin D receptors (less D to cells) – April 2020 | | 02 May, 2020 |
| Colorectal cancer linked to poor Vitamin D Receptor (yet again) – Jan 2020 | | 22 Jan, 2020 |
| 8 ways that Cancer might be prevented by Vitamin D - June 2019 | | 26 Dec, 2019 |
| Liver Cancer – higher risk if poor genes (Vitamin D receptor etc) – meta-analysis Dec 2019 | | 14 Dec, 2019 |
| Prostate Cancer associated with various genes, including Vitamin D Receptor and CYP24A1 – Nov 2019 | | 15 Nov, 2019 |
| Risk of Cancer increased if poor Vitamin D Receptor – meta-analysis of 73 studies Jan 2016 | | 09 Nov, 2019 |
| Cancer is leading cause of death - Vitamin D and Receptor activators help | | 09 Nov, 2019 |
| Melanoma cancer growth slowed by increased Vitamin D Receptor (yet again) – Oct 2019 | | 06 Nov, 2019 |
| Breast cancer associated with Vitamin D Receptor (14th study) – Oct 2019 | | 19 Oct, 2019 |
| Colorectal Cancer risk increases when genes reduce the vitamin D levels – Aug 2019 | | 23 Aug, 2019 |
| Breast Cancer death 1.8 X more likely if poor Vitamin D Receptor – April 2019 | | 29 Jul, 2019 |
| Multiple Myeloma (blood cell cancer) treated by vitamin D - many studies | | 14 Jun, 2019 |
| Blood cell cancer is associated with a 3X worse Vitamin D Receptor – June 2019 | | 14 Jun, 2019 |
| Lung Cancer more likely if poor Vitamin D Receptor – meta-analysis June 2019 | | 13 Jun, 2019 |
| After breast cancer treatment 4,000 IU of Vitamin D was not enough to help if have poor Vitamin D receptor – June 2019 | | 04 Jun, 2019 |
| Effects of Resveratrol against Lung Cancer in mice – Nov 2017 | | 28 Apr, 2019 |
| The Role of Resveratrol in Cancer Therapy – Dec 2017 | | 27 Apr, 2019 |
| Good Vitamin D receptor reduced bladder cancer and cisplatin deaths – April 2019 | | 11 Apr, 2019 |
| A poor Vitamin D Receptor is associated with many cancers (oral cancer in this case) – Jan 2019 | | 26 Mar, 2019 |
| Breast Cancer and Vitamin D review – March 2018 | | 17 Mar, 2019 |
| Overview of Vitamin D Actions in Cancer – 31 page chapter in a book – 2018 | | 15 Mar, 2019 |
| Women with Breast Cancer were 16.9 times more likely to have a poor Vitamin D Receptor – Jan 2019 | | 11 Feb, 2019 |
| Risks of Colorectal Cancer, IBD, etc slightly increased if poor Vitamin D Receptor – Aug 2018 | | 09 Dec, 2018 |
| Ovarian Cancer risk reduced if higher vitamin D, more UVB, or better vitamin D receptor – Nov 2018 | | 10 Nov, 2018 |
| Cancer treatment by Vitamin D sometimes is restricted by genes – Oct 2018 | | 01 Nov, 2018 |
| Brain cancer in 175 countries related to low UVB and low vitamin D – Oct 2010 | | 03 Oct, 2018 |
| Pancreatic Cancer – live a year longer if have high vitamin D and good Vitamin D Receptor – Aug 2018 | | 15 Aug, 2018 |
| Endometriosis, Endometrial Cancer, and poor Vitamin D or Receptor – Aug 2018 | | 08 Aug, 2018 |
| Risk of colon cancer increases in mice with no Vitamin D receptor in colon - July 2018 | | 07 Jul, 2018 |
| Vitamin D receptor is essential for both normal and cancerous cells in the lab – June 2018 | | 16 Jun, 2018 |
| Active Vitamin D reduces Ovarian Cancer stem cells growth by 4X (via Vitamin D receptor in lab rat) – March 2018 | | 28 Mar, 2018 |
| Two chemicals increase the Vitamin D receptor and decrease the growth of breast cancer cells in the lab - March 2018 | | 17 Mar, 2018 |
| Ovarian Cancer in Asia is 1.5 X more likely if poor Vitamin D receptor – meta-analysis Dec 2017 | | 14 Dec, 2017 |
| Nonmelanoma Skin Cancer 2X more likely if poor Vitamin D Receptor – Oct 2017 | | 19 Oct, 2017 |
| Cancer and the Vitamin D Receptor, a primer – Sept 2017 | | 01 Oct, 2017 |
| Thyroid Cancer rate has increased 3X in 3 decades, Vitamin D Receptor decreases, Calcium increases – Aug 2017 | | 26 Aug, 2017 |
| Advanced Colon Cancer risk is doubled or halved with 1000 IU of Vitamin D, depends on Vitamin D Receptors – RCT May 2017 | | 19 Aug, 2017 |
| Cancer risks and Vitamin D Receptors – association is unclear – 2017 | | 19 Aug, 2017 |
| Increased Breast Cancer metastasis if low vitamin D or poor VDR – Feb 2016 | | 09 Aug, 2017 |
| Colon Cancer survival 3.1 X less likely if poor Vitamin D Receptor – Aug 2017 | | 02 Aug, 2017 |
| Lung Cancer patients were 2.4 times more likely to have a poor Vitamin D Receptor gene – July 2017 | | 27 Jul, 2017 |
| Pancreatic Cancer massively deregulates the local Vitamin D receptors and CPY24A1 – July 2014 | | 25 Jul, 2017 |
| Gastric Cancer 2.7 X more likely if poor Vitamin D Receptor (Chinese) – 2015 | | 15 Jun, 2017 |
| Skin Cancers, Vitamin D, Vitamin D Receptor and Genes – Jan 2015 | | 17 Mar, 2017 |
| Prostate cancer in black men is 1.6 times more likely if a poor Vitamin D Receptor – Feb 2017 | | 06 Mar, 2017 |
| 2X more likely to survive a form of esophageal cancer in China if have good vitamin D receptor – Feb 2017 | | 04 Mar, 2017 |
| Urinary Bladder Cancer survival is associated with vitamin D receptor: 14 months vs 53 months – Oct 2015 | | 02 Mar, 2017 |
| Vitamin D receptor as a target for breast cancer therapy (abstract only) – Feb 2017 | | 01 Mar, 2017 |
| Ovarian Cancer 5.8 X more likely if both low vitamin D and Fok1 gene change – May 2013 | | 27 Feb, 2017 |
| Vitamin D receptor may suppress skin cancer – Dec 2013 | | 27 Jan, 2017 |
| Aggressive Prostate Cancer in blacks with low vitamin D – 7X more likely if added Calcium – Jan 2017 | | 28 Dec, 2016 |
| Breast Cancer was 4.6 times more likely if have a poor Vitamin D Receptor – Dec 2016 | | 06 Dec, 2016 |
| Vitamin D, Vitamin D Receptor and Cancer – Nov 2016 | | 05 Dec, 2016 |
| High PSA readings with Prostate Cancer 4 times more likely if poor Vitamin D receptor – March 2016 | | 14 Nov, 2016 |
| 2X less prostate cancer in A-A with low Calcium is due vitamin D receptor gene – July 2013 | | 14 Nov, 2016 |
| Vitamin D receptor polymorphisms are risk factors for various cancers – meta-analysis Jan 2014 | | 12 Nov, 2016 |
| 10 percent of colon cancer linked to Vitamin D Receptor – meta-analysis April 2012 | | 23 Sep, 2016 |
| Vitamin D Receptor role in Autoimmune Diseases and or cancers – Nov 2013 | | 17 Mar, 2016 |
| Skin cancer 20 percent more likely with some Vitamin D receptor gene polymorphisms – Oct 2015 | | 06 Jan, 2016 |
| Pancreatic Cancer treatment by calcipotriol (a synthetic vitamin D) improves outcome by 57 percent – Sept 2014 | | 13 Dec, 2015 |
| Poor Bladder Cancer survival associated with poor Vitamin D receptor – Oct 2015 | | 18 Oct, 2015 |
| Increased risk of some female cancers if low vitamin D (due to genes) – meta-analysis June 2015 | | 03 May, 2015 |
| Free vitamin D (VDR) may be more important than total for bladder cancer – March 2013 | | 06 Jan, 2014 |
| Genes breast cancer and vitamin D receptor - Sept 2010 | | 08 Jul, 2013 |
| Breast Cancer incidence change by 40 percent with vitamin D receptor genes – Oct 2012 | | 08 Jul, 2013 |
| Vitamin D receptor in breasts and breast cancer vary with race – March 2013 | | 08 Jul, 2013 |

&nbspDownload the PDF from VitaminDWiki

Sepulveda-Villegas M1, Elizondo-Montemayor L2, Trevino V3.

1 Tecnologico de Monterrey, Escuela de Medicina y Ciencias de la Salud, Bioinformatics Research Group, Ave. Morones Prieto 3000, Colonia Los Doctores, Monterrey, Nuevo León 64710, Mexico.
2 Tecnologico de Monterrey, Escuela de Medicina y Ciencias de la Salud, Bioinformatics Research Group, Ave. Morones Prieto 3000, Colonia Los Doctores, Monterrey, Nuevo León 64710, Mexico; Tecnologico de Monterrey, Escuela de Medicina y Ciencias de la Salud, Center for Research in Clinical Nutrition and Obesity, Ave. Morones Prieto 3000, Colonia Los Doctores, Monterrey, Nuevo León 64710, Mexico; Tecnologico de Monterrey, Cardiovascular and Metabolomics Research Group, Hospital Zambrano Hellion, San Pedro Garza Garcia, P.C., 66278, Mexico.
3 Tecnologico de Monterrey, Escuela de Medicina y Ciencias de la Salud, Bioinformatics Research Group, Ave. Morones Prieto 3000, Colonia Los Doctores, Monterrey, Nuevo León 64710, Mexico. Electronic address: vtrevino at tec.mx.

Vitamin D deficiency is a public health concern associated with, but not limited to, skeletal anomalies, chronic diseases, immune conditions, and cancer, among others. Hypovitaminosis D is mainly associated with environmental and lifestyle factors that affect sunlight exposure. However, genetic factors also influence 25-hydroxyvitamin D (25OHD) serum concentration. Although there is available information of genes with clear biological relevance or markers identified by Genome-Wide Association Studies, an overall view and screening tool to identify known genetic causes of altered serum levels of 25(OH)D is lacking. Moreover, there are no studies including the total genetic evidence associated with abnormal serum concentration of 25(OH)D.

Therefore, we conducted a de-novo systematic literature review to propose a set of genes comprehensive of all genetic variants reported to be associated with deficiency of vitamin D. Abstracts retrieved from PubMed search were organized by gene and curated one-by-one using the PubTerm web tool. The genes identified were classified according to the type of genetic evidence associated with serum 25(OH)D levels and were also compared with the few commonly screened genes related to vitamin D status. This strategy allowed the identification of 35 genes associated with serum 25(OH)D concentrations, 27 (75%) of which are not commercially available and are not, therefore, analyzed in clinical practice for genetic counseling, nor are they sufficiently studied for research purposes. Functional analysis of the genes identified confirmed their role in vitamin D pathways and diseases.

Thus, the list of genes is an important source to understand the genetic determinants of 25(OH)D levels. To further support our findings, we provide a map of the reported functional variants and SNPs not included in ClinVar, minor allelic frequencies, SNP effect sizes, associated diseases, and an integrated overview of the biological role of the genes. In conclusion, we identified a comprehensive candidate list of genes associated with serum 25(OH)D concentrations, most of which are not commercially available, but would prove of importance in clinical practice in screening for patients that should respond to supplementation because of alterations in absorption, patients that would have little benefit because alterations in the downstream metabolism of vitamin D, and to study non-responsiveness to supplementation with vitamin D.

This page is in the following categories (# of items in each category)