Course of vitamin D levels before and after liver transplantation in pediatric patients
Pediatr Transplant. 2021 Jun 2;e14049. doi: 10.1111/petr.14049
Muhammed Yuksel 1 2 3, Bariş Demir 1 2, Özlem Mizikoğlu 1 2, Murat Akyildiz 2, Arzu Baygul 4, Cigdem Arikan 1 2 3
VitaminDWiki
Low vitamin D at week 1 was associated with many more infections


Adding 300,000 IU of oral vitamin D did not apparently help much (no surprise)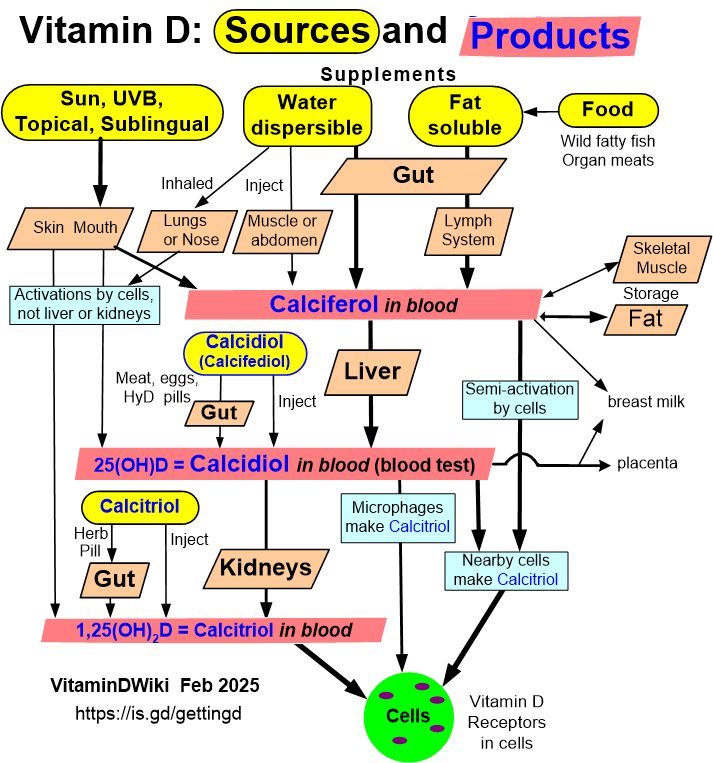 Background: 25-hydroxy VD insufficiency is known in children undergoing LT but the serial post-transplant VD course and supplementation modalities in the peri-transplant period are lacking. We aimed to determine the pre-VD status and the post-transplant VD status course following VD supplementation and to elucidate its relationship with post-transplant outcome parameters such as infection and survival.
Methods: Pre- and post-VD levels were monitored in parallel with interventions to adjust VD levels in LT patients. VD status was categorized as circulating levels <30-21 ng/ml (insufficiency), 20-10 ng/ml (deficiency), and <10 ng/ml (severe deficiency). Patients received stoss (300,000 IU) VD3 within the pretransplant period if serum levels were <20 ng/ml.
Results: 135 transplanted children were included. The age at LT was 22 months (IQR: 8-60). The pretransplant median VD level was 14 ng/ml.
Despite stoss dose, post-transplant median VD level was
1.8 ng/ml (day one),
4 ng/ml (week one),
19 ng/ml (month one),
33 ng/ml (month three),
38 ng/ml (months 6-12), and
40 ng/ml (month 24).
After 6 months, VD status reached >30 ng/ml in 98% of patients. Only at pre-LT, higher infection rate (18.7%) in the severe VD deficiency group was observed compared to the VD deficiency group (2.9%, p = .04). Survival was not affected by serum VD levels.

Conclusion: VD levels fell substantially after LT but are rectifiable by stoss dose, which was well tolerated. Only the infection rate was associated with the VD status.
REFERENCES
Mangin M, Sinha R, Fincher K. Inflammation and vitamin D: the infection connection. Inflamm Res. 2014;63(10):803-819.
Kamen DL, Tangpricha V. Vitamin D and molecular actions on the immune system: modulation of innate and autoimmunity. J Mol Med. 2010;88(5):441-450.
Carlberg C, Seuter S. A genomic perspective on vitamin D signaling. Anticancer Res. 2009;29(9):3485-3493.
Bouillon R, Carmeliet G, Verlinden L, et al. Vitamin D and human health: lessons from vitamin D receptor null mice. Endocr Rev. 2008;29(6):726-776.
Mahon BD, Wittke A, Weaver V, Cantorna MT. The targets of vitamin D depend on the differentiation and activation status of CD4 positive T cells. J Cell Biochem. 2003;89(5):922-932.
Absoud M, Cummins C, Lim MJ, Wassmer E, Shaw N. Prevalence and predictors of vitamin D insufficiency in children: a Great Britain population based study. PLoS One. 2011;6(7):e22179.
von Essen MR, Kongsbak M, Schjerling P, Olgaard K, Odum N, Geisler C. Vitamin D controls T cell antigen receptor signaling and activation of human T cells. Nat Immunol. 2010;11(4):344-349.
Sun J. Vitamin D and mucosal immune function. Curr Opin Gastroenterol. 2010;26(6):591-595.
Ebadi M, Bhanji RA, Mazurak VC, et al. Severe vitamin D deficiency is a prognostic biomarker in autoimmune hepatitis. Aliment Pharmacol Ther. 2019;49(2):173-182.
Nasiroglu Imga N, Efe C. Editorial: the role of vitamin D in autoimmune hepatitis. Aliment Pharmacol Ther. 2019;49(3):342-343.
Efe C, Kav T, Aydin C, et al. Low serum vitamin D levels are associated with severe histological features and poor response to therapy in patients with autoimmune hepatitis. Dig Dis Sci. 2014;59(12):3035-3042.
Stein EM, Shane E. Vitamin D in organ transplantation. Osteoporos Int. 2011;22(7):2107-2118.
Udomsinprasert W, Jittikoon J. Vitamin D and liver fibrosis: Molecular mechanisms and clinical studies. Biomed Pharmacother. 2019;109:1351-1360.
Cohen A, Shane E. Osteoporosis after solid organ and bone marrow transplantation. Osteoporos Int. 2003;14(8):617-630.
Hogler W, Baumann U, Kelly D. Endocrine and bone metabolic complications in chronic liver disease and after liver transplantation in children. J Pediatr Gastroenterol Nutr. 2012;54(3):313-321.
Fernández-Ruiz M, Silva JT, López-Medrano F, et al. Post-transplant monitoring of NK cell counts as a simple approach to predict the occurrence of opportunistic infection in liver transplant recipients. Transpl Infect Dis. 2016;18(4):552-565.
Legarda M, Gordon G, Lloyd C, et al. Vitamin D deficiency and insufficiency after pediatric liver transplantation. Pediatr Transplant. 2013;17(7):631-637.
Veraldi S, Pietrobattista A, Liccardo D, et al. Fat soluble vitamins deficiency in pediatric chronic liver disease: the impact of liver transplantation. Dig Liver Dis. 2020;52(3):308-313.
Schreiber PW, Bischoff-Ferrari HA, Boggian K, et al. Vitamin D status and risk of infections after liver transplantation in the Swiss Transplant Cohort Study. Transpl Int. 2019;32(1):49-58.
Ross AC, Manson JE, Abrams SA, et al. The 2011 report on dietary reference intakes for calcium and vitamin D from the Institute of Medicine: what clinicians need to know. J Clin Endocrinol Metab. 2011;96(1):53-58.
Kurahashi I, Matsunuma A, Kawane T, Abe M, Horiuchi N. Dexamethasone enhances vitamin D-24-hydroxylase expression in osteoblastic (UMR-106) and renal (LLC-PK1) cells treated with 1alpha,25-dihydroxyvitamin D3. Endocrine. 2002;17(2):109-118.
Akeno N, Matsunuma A, Maeda T, Kawane T, Horiuchi N. Regulation of vitamin D-1alpha-hydroxylase and -24-hydroxylase expression by dexamethasone in mouse kidney. J Endocrinol. 2000;164(3):339-348.
Segal E, Baruch Y, Kramsky R, Raz B, Tamir A, Ish-Shalom S. Predominant factors associated with bone loss in liver transplant patients - after prolonged post-transplantation period. Clin Transplant. 2003;17(1):13-19.
Barchetta I, Carotti S, Labbadia G, et al. Liver vitamin D receptor, CYP2R1, and CYP27A1 expression: relationship with liver histology and vitamin D3 levels in patients with nonalcoholic steatohepatitis or hepatitis C virus. Hepatology. 2012;56(6):2180-2187.
Wagner CL, Greer FR, American Academy of Pediatrics Section on Breastfeeding; American Academy of Pediatrics Committee on Nutrition. Prevention of rickets and vitamin D deficiency in infants, children, and adolescents. Pediatrics. 2008;122(5):1142-1152.
McNally JD, Nama N, O'Hearn K, et al. Vitamin D deficiency in critically ill children: a systematic review and meta-analysis. Crit Care. 2017;21(1):287.
Ponnarmeni S, Kumar Angurana S, Singhi S, et al. Vitamin D deficiency in critically ill children with sepsis. Paediatr Int Child Health. 2016;36(1):15-21.
Wang Y, Shi C, Yang Z, Chen F, Gao L. Vitamin D deficiency and clinical outcomes related to septic shock in children with critical illness: a systematic review. Eur J Clin Nutr. 2019;73(8):1095-1101.
Veraldi S, Pietrobattista A, Liccardo D, et al. Fat soluble vitamins deficiency in pediatric chronic liver disease: the impact of liver transplantation. Dig Liver Dis. 2020;52(3):308-313.
Jensen M, Abu-El-Haija M, Bishop W, Rahhal RM. Difficulty achieving vitamin D sufficiency with high-dose oral repletion therapy in infants with cholestasis. J Pediatr Gastroenterol Nutr. 2015;61(2):187-189.
Bhatia V, Bavdekar A, Matthai J, Waikar Y, Sibal A. Management of neonatal cholestasis: consensus statement of the Pediatric Gastroenterology Chapter of Indian Academy of Pediatrics. Indian Pediatr. 2014;51(3):203-210.
Shneider BL, Magee JC, Bezerra JA, et al. Efficacy of fat-soluble vitamin supplementation in infants with biliary atresia. Pediatrics. 2012;130(3):e607-e614.
Holick MF, Binkley NC, Bischoff-Ferrari HA, et al. Evaluation, treatment, and prevention of vitamin D deficiency: an Endocrine Society clinical practice guideline. J Clin Endocrinol Metab. 2011;96(7):1911-1930.