Beneficial Effect of Oligofructose-Enriched Inulin on Vitamin D and E Status in Children with Celiac Disease on a Long-Term Gluten-Free Diet: A Preliminary Randomized, Placebo-Controlled Nutritional Intervention Study.
Nutrients. 2018 Nov 15;10(11). pii: E1768. doi: 10.3390/nu10111768.
Drabińska N1, Krupa-Kozak U2, Abramowicz P3, Jarocka-Cyrta E4.
VitaminDWiki
Items in both categories Children and Gut are listed here:
Overview Gut and vitamin D contains gut-friendly information
Gut-friendly, Sublingual, injection, topical, UV, sunshine
Getting Vitamin D into your body has the following chart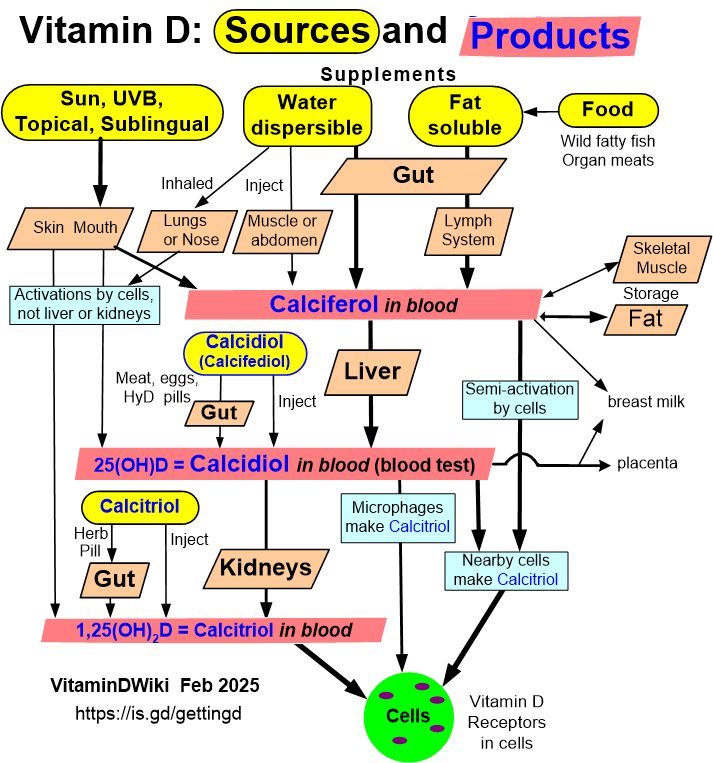 Getting Vitamin D into your body also has the following
If poorly functioning gut
Bio-D-Mulsion Forte – especially made for those with poorly functioning guts, or perhaps lacking gallbladder
Sublingual – goes directly into bloodstream
you can make your own sublinqual by dissovling Vitamin D in water or using nanoemulsion form
Oil: 1 drop typically contains 400 IU, 1,000 IU, or 4,000 IU, typically not taste good
Topical – goes directly into bloodstream. Put oil on your skin, Use Aloe vera cream with Vitamin D, or make your own
Vaginal – goes directly into bloodstream. Prescription only?
Bio-Tech might be useful – it is also water soluble
Vitamin D sprayed inside cheeks 2X more response (poor gut) – RCT Oct 2015
and, those people with malabsorption problems had a larger response to spray
Inject Vitamin D quarterly into muscle, into vein, or perhaps into body cavity if quickly needed
Nanoparticles could be used to increase vitamin D getting to the gut – Oct 2015
Poor guts need different forms of vitamin D has the following
Guesses of Vitamin D response if poor gut
Bio
Form
Speed
Duration
10
Injection ($$$)
or Calcidiol or Calcitriol
D - Slow
C -Fast
Long
10
Sun/UVB
Slow
Long
10
Topical
(skin patch/cream, vagina)
Slow
Fast nano
Normal
9
Nanoemulsion -mucosal
perhaps activates VDR
Fast
Normal
9?
Inhaled (future)
Fast
Normal
8
Bio-D-Mulsion Forte
Normal
Normal
6
Water soluble (Bio-Tech)
Normal
Normal
4
Sublingual/spray
(some goes into gut)
Fast
Normal
3
Coconut oil based
Slow
Normal
2
Food (salmon etc.)
Slow
Normal
2
Olive oil based (majority)
Slow
Normal
10= best bioavailable, 0 = worst, guesses have a range of +-2
Speed: Fast ~2-6 hours, Slow ~10-30 hours
Duration: Long ~3-6 months, Normal = ~2 months
&nbspDownload the PDF from VitaminDWiki

Prebiotics have been shown to improve absorption of some nutrients, including vitamins. This pilot study evaluated the effect of the prebiotic oligofructose-enriched inulin (Synergy 1) on fat-soluble vitamins status, parathormone, and calcium-related elements in pediatric celiac disease (CD) patients (n = 34) on a strict gluten-free diet (GFD). Participants were randomized into a group receiving 10 g of Synergy 1 or placebo (maltodextrin) together with a GFD. At baseline and after 3 months of intervention, 25-hydroxyvitamin D [25(OH)D], parathormone, vitamin E and A, calcium, phosphate, magnesium, total protein, and albumin were determined. Concentration of 25(OH)D increased significantly (p < 0.05) by 42% in CD patients receiving Synergy 1 in GFD, whereas no change was observed in placebo. Vitamin D status reached an optimal level in 46% of patients receiving Synergy 1. No significant difference in parathormone, calcium, and phosphate levels was observed. Concentration of vitamin E increased significantly (p < 0.05) by 19% in patients receiving Synergy 1, but not in the placebo. Vitamin A levels were not changed.
Supplementation of GFD with Synergy 1 improved vitamin D and vitamin E status in children and adolescents with CD and could be considered a novel complementary method of management of fat-soluble vitamins deficiency in pediatric CD patients.