Prospective, Randomized, Double-Blind, Parallel-Group, Comparative Effectiveness Clinical Trial Comparing a Powder Vehicle Compound of Vitamin D With an Oil Vehicle Compound in Adults With Cystic Fibrosis.
JPEN J Parenter Enteral Nutr. 2017 Aug;41(6):952-958. doi: 10.1177/0148607116629673. Epub 2016 Feb 22.
Hermes WA1, Alvarez JA1, Lee MJ1, Chesdachai S1, Lodin D1, Horst R2, Tangpricha V1,3.
VitaminDWiki
Cystic Fibrosis category listing has
45
items along with related searches

Poor digestion (diabetes, Cystic Fibrosis, etc.) results in less vitamin D getting into the body
Other sources of vitamin D helps a lot for people with poor digestion
Many of the diseases which require 3 X larger doses of vitamin D to treat as to prevent are those which the digestion becomes worse: such as Cystic Fibrosis, Diabetes, Multiple Sclerosis, Crohn's, IBD, Celiac Disease, Parkinson's
Other forms include: Gut-friendly, Sublingual, injection, inhaled?, topical, UV, sunshine
Getting Vitamin D into your body has the following chart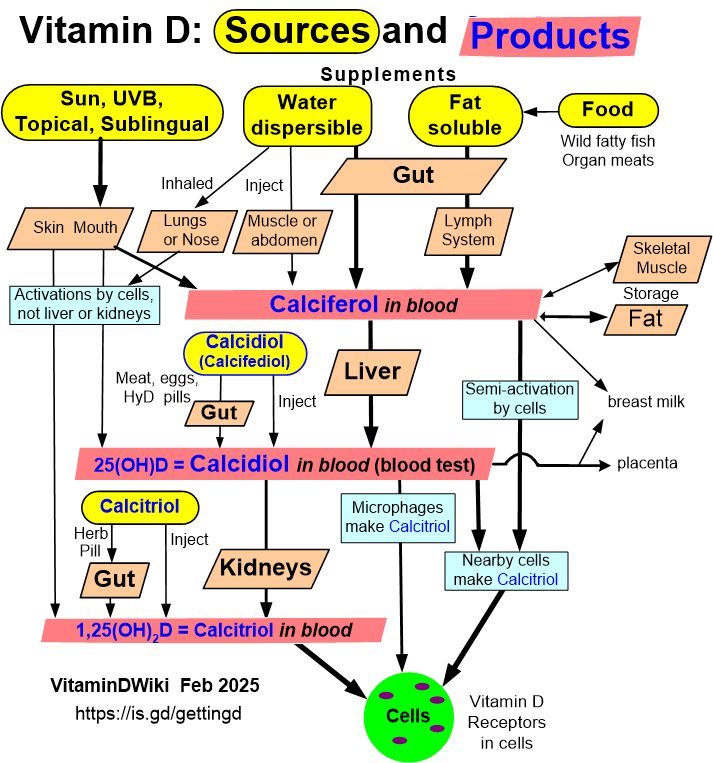 And also the following
If poorly functioning gut
Bio-D-Mulsion Forte – especially made for those with poorly functioning guts, or perhaps lacking gallbladder
Sublingual – goes directly into bloodstream
you can make your own sublinqual by dissovling Vitamin D in water or using nanoemulsion form
Oil: 1 drop typically contains 400 IU, 1,000 IU, or 4,000 IU, typically not taste good
Topical – goes directly into bloodstream. Put oil on your skin, Use Aloe vera cream with Vitamin D, or make your own
Vaginal – goes directly into bloodstream. Prescription only?
Bio-Tech might be useful – it is also water soluble
Vitamin D sprayed inside cheeks 2X more response (poor gut) – RCT Oct 2015
and, those people with malabsorption problems had a larger response to spray
Inject Vitamin D quarterly into muscle, into vein, or perhaps into body cavity if quickly needed
Nanoparticles could be used to increase vitamin D getting to the gut – Oct 2015
Poor guts need different forms of vitamin D has the following
Guesses of Vitamin D response if poor gut
Bio
Form
Speed
Duration
10
Injection ($$$)
or Calcidiol or Calcitriol
D - Slow
C -Fast
Long
10
Sun/UVB
Slow
Long
10
Topical
(skin patch/cream, vagina)
Slow
Fast nano
Normal
9
Nanoemulsion -mucosal
perhaps activates VDR
Fast
Normal
9?
Inhaled (future)
Fast
Normal
8
Bio-D-Mulsion Forte
Normal
Normal
6
Water soluble (Bio-Tech)
Normal
Normal
4
Sublingual/spray
(some goes into gut)
Fast
Normal
3
Coconut oil based
Slow
Normal
2
Food (salmon etc.)
Slow
Normal
2
Olive oil based (majority)
Slow
Normal
10= best bioavailable, 0 = worst, guesses have a range of +-2
Speed: Fast ~2-6 hours, Slow ~10-30 hours
Duration: Long ~3-6 months, Normal = ~2 months
BACKGROUND:
There is little consensus on the most efficacious vehicle substance for vitamin D supplements. Fat malabsorption may impede the ability of patients with cystic fibrosis (CF) to absorb vitamin D in an oil vehicle. We hypothesized that vitamin D contained in a powder vehicle would be absorbed more efficiently than vitamin D contained in an oil vehicle in patients with CF.
METHODS:
In this double-blind, randomized controlled trial, hospitalized adults with CF were given a one-time bolus dose of 100,000 IU of cholecalciferol (D3) in a powder-based or oil-based vehicle. Serum D3, 25-hydroxyvitamin D, and parathyroid hormone concentrations were analyzed at 0, 12, 24, and 48 hours posttreatment. The area under the curve for serum D3 and the 12-hour time point were also assessed as indicators of D3 absorption.
RESULTS:
This trial was completed by 15 patients with CF. The median (interquartile range) age, body mass index, and forced expiratory volume in 1 second were 23.7 (19.9-33.2) years, 19.9 (18.6-22.6) kg/m2, and 63% (37%-80%), respectively. The increase in serum D3 and the area under the curve was greater in the powder group ( P = .002 and P = .036, respectively). Serum D3 was higher at 12 hours in the powder group compared with the oil group ( P = .002), although levels were similar between groups by 48 hours.
CONCLUSIONS:
In adults with CF, cholecalciferol is more efficiently absorbed in a powder compared with an oil vehicle. Physicians should consider prescribing vitamin D in a powder vehicle in patients with CF to improve the absorption of vitamin D from supplements.
PMID: 26903303 PMCID: PMC4993695 [Available on 2018-08-01]
DOI: 10.1177/0148607116629673