The Prevalence of Vitamin D Insufficiency and Deficiency and Their Relationship with Bone Mineral Density and Fracture Risk in Adults Receiving Long-Term Home Parenteral Nutrition
Nutrients 2017, 9(5), 481; doi:10.3390/nu9050481
VitaminDWiki Summary
2,000 IU of vitamin D with Home Parenteral Nutrition (This includes initial 7,000 IU daily) Average of only 26 nanograms of Vitamin D
---
It is amazing that HPN does not use gut-friendly forms of Vitamin D
They know that the person cannot get nutrtion via the gut, yet they continue to give vitamin D orally!
With just 200 IU vitamin D in intravenous feeds, deficiency results
Vitamin D injection is far better than oral for diabetics (poor gut) – RCT March 2017
Getting Vitamin D into your body has the following chart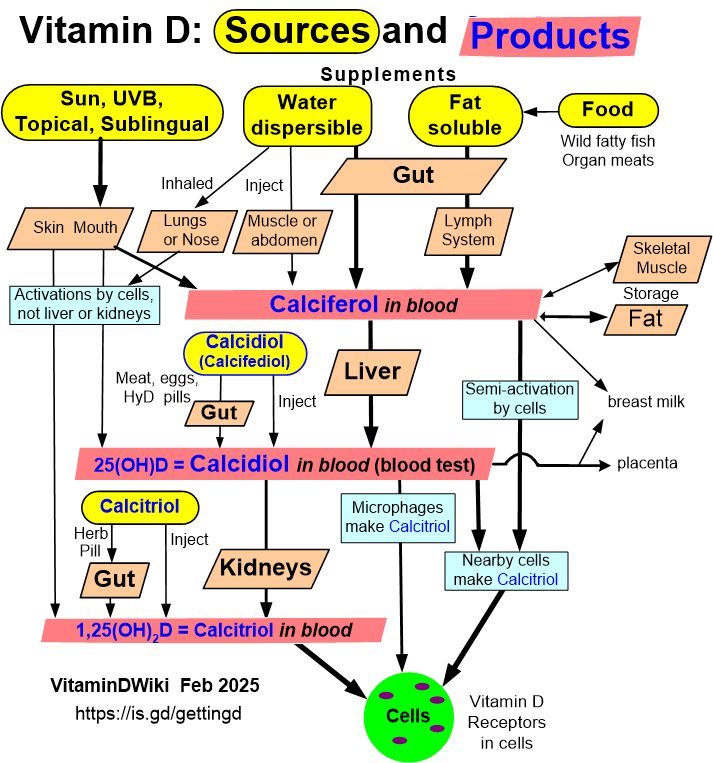 Gut problems result in reduced absorption of Vitamin D, Magnesium, etc.
Celiac disease has a strong genetic component.

Most, but not all, people with celiac disease have a gene variant.
An adequate level vitamin D seems to decrease the probability of getting celiac disease.
Celiac disease causes poor absorption of nutrients such as vitamin D.
Bringing the blood level of vitamin D back to normal in patients with celiac disease decreases symptoms.
The prevalence of celiac disease, not just its diagnosis, has increased

4X

in the past 30 years, similar to the increase in Vitamin D deficiency.

Review in Nov 2013 found that Vitamin D helped
Many intervention clinical trials with vitamin D for Gut problems (101 trials listed as of Sept 2019)
All items in category gut and vitamin D
187
items

Gut category listing contains the following

187
items in GUT category - see also Overview Gut and vitamin D, See also Microbiome category listing has
27
items along with related searches.


&nbspDownload the PDF from VitaminDWiki

Indications for HPN, %

| | |
| --- | --- |
| Short bowel syndrome | 61 % |
| - Crohn's disease | 53 % |
| - Bowel ischemia | 29 % |
| - Bowel atresia 1 | 3% |
| - Other short bowel | 16% |
| Mucosal defect | 6 % |
| Motility disorder | 11 % |


Navaporn Napartivaumnuay 1,* and Leah Gramlich 1,2
1 Department of Medicine, University of Alberta, Edmonton, AB T6G 2R3, Canada
2 Nutrition Services, Alberta Health Services, Edmonton, AB T5J 3E4, Canada
(This article belongs to the Special Issue Parenteral Nutrition 2016)

It has been demonstrated that low bone mass and vitamin D deficiency occur in adult patients receiving home parenteral nutrition (HPN). The aim of this study is to determine the prevalence of vitamin D insufficiency and deficiency and its relationship with bone mineral density (BMD) and fracture risk in long-term HPN patients.

Methods: A retrospective chart review of all 186 patients in the HPN registry followed by the Northern Alberta Home Parenteral Nutrition Program receiving HPN therapy >6 months with a 25 (OH) D level and BMD reported were studied.

Results: The mean age at the initiation of HPN was 53.8 (20–79) years and 23 (37%) were male. The mean HPN duration was 56 (6–323) months and the most common diagnosis was short bowel syndrome. Based on a total of 186 patients, 62 patients were categorized based on serum vitamin D status as follows: 1 (24.2%) sufficient, 31 (50%) insufficient and 16 (25.8%) deficient. Despite an average of 1891 IU/day orally and 181 IU/day intravenously vitamin D, the mean vitamin D level was 25.6 ng/mL (insufficiency) and 26.2 ± 11.9 ng/mL in patients with the highest 10-year fracture risk.

Conclusion: Suboptimal vitamin D levels are common among patients on long-term HPN despite nutrient intake that should meet requirements.