"Ominous pathogens seem to arrive every few years:
SARS in 2003,
swine flu (H1N1) in 2009,
Ebola in 2014,
Zika in 2016,
COVID-19 in 2019.
The World Health Organization calls these viral threats "Disease X,"
both to encourage policymakers to think broadly about what the next pandemic might be, and because it could be anything.
At this rate, 2025 is not looking good."
Vitamin D may protect against Ebola
Stop Zika Birth Defects with Vitamin D
Vitamin D shield against swine flu: Study 2015
Canada Examines Vitamin D for Swin Flu protection 2009
Pandemic influenza A (H1N1): mandatory vitamin D supplementation? April 2010
&nbspDownload the PDF Sci-Hub via VitaminDWiki
Influenza of 1918 and vitamin D
COVID-19 treated by Vitamin D - studies, reports, videos
As of Oct 4, 2023, the VitaminDWiki COVID page had: 19 trial results, 37 meta-analyses and reviews, Mortality studies see related: Governments, HealthProblems, Hospitals, Dark Skins, All 26 COVID risk factors are associated with low Vit D, Fight COVID-19 with 50K Vit D weekly Vaccines Take lots of Vitamin D at first signs of COVID 166 COVID Clinical Trials using Vitamin D (Aug 2023) Prevent a COVID death: 9 dollars of Vitamin D or 900,000 dollars of vaccine - Aug 2023
5 most-recently changed Virus entries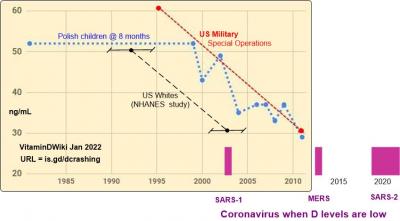 Click on chart for details
434
items Some Highlights: