Previous Roundup rat studies only lasted 90 days.
A French study, published in Nov 2012, studied rats for 600 days
Rats rarely die from GMO corn treated with Roundup before 400 days
Breast cancer, pituitary, liver and kidney disease were the most common resulting health problems
It appears that the genetic modification of corn caused it to concentrate Roundup in such a way that the plant avoids the problems.
This concentration of the Roundup however, is to the edible portion of the plant.
(Too bad that the concentration was not into the leaf, roots, etc)
Female rats died >2X more when eating GMO corn which had been grown with Roundup.
Male rats did not die as fast as the female rats, but significantly faster than non-GMO rats
Monsanto had said that Roundup was "safe as table salt" Nope!!
This study does not show a problem with GMO corn, but just the problem of GMO corn grown with Roundup..
This study does not show a problem with GMO food either – but does raise some serious suspicions about what else the public had not being told.
PDF is attached at the bottom of this page
Note the detailed testing that this study used compared to previous studies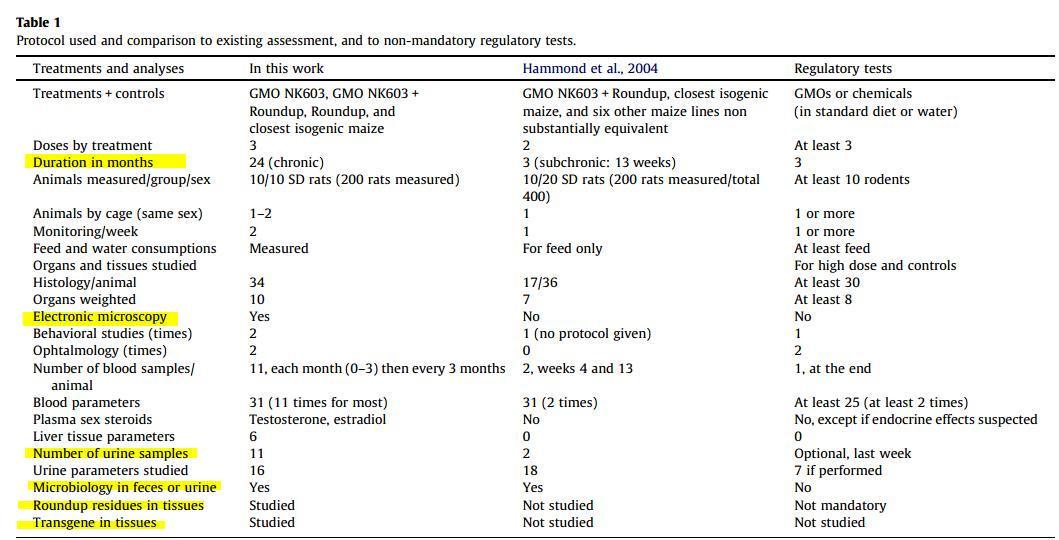 See previous reports of this paper in Sept 2012
Paper suspiciously withdrawn by publisher Nov 2013
Journal Retraction of Séralini GMO-Cancer Study Is Illicit, Unscientific, and Unethical
After a former Monsanto Employee was hired to the editorial board of the journal
Apparently the only thing wrong with the paper was that it failed to show the tumors on the control rats. Data was fine
Interesting publication 6 months before Monsanto Targets the Heart of Science: The Goodman Affair
See also web
See also in VitaminDWiki
10 most-visited pages in Glyphosate category in VitaminDWiki
See also on web GMO with bacillus thuringiensis designed to kill pests
Promoting Pesticide Resistance Union of Concerned Scientists - US]
"Monsanto's RoundupReady and Bt technologies lead to resistant weeds and insects that can make farming harder and reduce sustainability"
long article
Bacillus Thuringiensis, Bugs, and Humans
"It has been used as a pesticide for decades and is approved for organic production, due to the fact that it occurs naturally in the soil and doesn't persist in the environment long after spraying."
"Field corn, cotton, potatoes, and sweet corn are now genetically-modified with Bt genes."
"Since 2009, farmers in Iowa growing genetically-modified crops have found Bt-resistant corn rootworms."
"There are now 21 weed species resistant to Monsanto's herbicide Roundup"
" Now the makers of this seed are stacking up to six different genes – Bt genes and glyphosate-tolerant genes – into one corn plant. "
New Study Proves Bt Toxins in GMOs Toxic to Mammalian BloodGreenMedInfo May 2013
hemotoxic even at the lowest level of 27ppm administered only one time and one day