Update Risk of preeclampsia should drop to nearly zero at 60 ng of Vitamin D – July 2022

40-150 ng of Vitamin D need to treat various health problems
* Evolution of experiments with patients, often also need co-factors
From Grassroots Health Newsletter March 2017
What effect might vitamin D have on hypertensive disorders during pregnancy?
Data from two clinical trials demonstrate a reduction in hypertensive pregnancy disorders with an increased vitamin D level (Wagner CL et al., Health characteristics and outcomes of two randomized vitamin D supplementation trials during pregnancy: a combined analysis. J Steroid Biochem Mol Biol. 2013 Jul;136:313-20.).
Among 505 pregnant women, there was a 56% reduction in risk of a hypertensive disorder at 40 ng/ml and a 65% risk reduction at 50 ng/ml.
22 participants (4%) were diagnosed with a hypertensive pregnancy disorder; 18 were diagnosed with hypertension and 5 were diagnosed with preeclampsia (1 was diagnosed with both).
Among those diagnosed with a hypertensive pregnancy disorder, 73% had final 25(OH)D values below 40 ng/ml.
For preeclampsia specifically, all five were below 40 ng/ml.
There were no cases of hypertensive disorders among women with vitamin D serum levels above 60 ng/ml.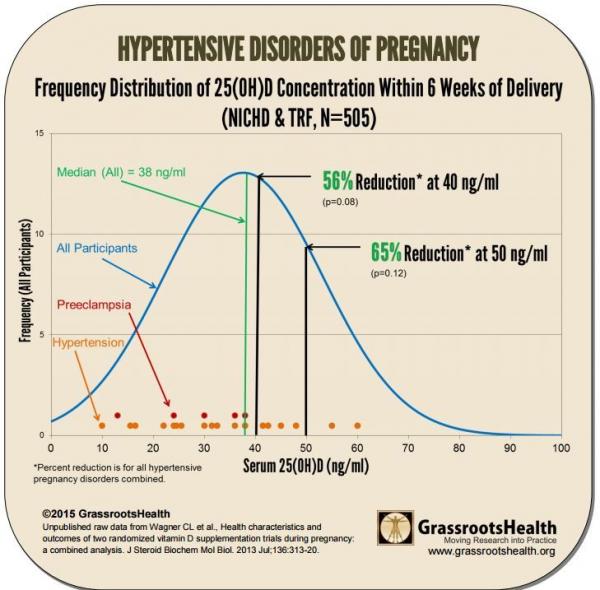 ---
VitaminDWiki pages containing PREECLAMPSIA in title
| Title | | Modified |
| --- | --- | --- |
| Preeclampsia reduced by Vitamin D - many studies | | 01 May, 2023 |
| Poor placental Vitamin D genes associated with gestational diabetes and preeclampsia - April 2023 | | 01 May, 2023 |
| 200 IU of Vitamin D does not prevent preeclampsia – RCT Aug 2012 | | 01 May, 2023 |
| Preeclampsia and Vitamin D - many studies | | 01 May, 2023 |
| Preeclampsia reduced by 33 percent if high vitamin D – meta-analysis Feb 2023 | | 23 Feb, 2023 |
| Risk of preeclampsia should drop to nearly zero at 60 ng of Vitamin D – July 2022 | | 22 Jul, 2022 |
| Vitamin D reduces preeclampsia, gestational diabetes and hypertension - 38th meta-analysis Dec 2021 | | 31 May, 2022 |
| Low Vitamin D associated with preeclampsia - meta-analysis Feb 2022 | | 24 Mar, 2022 |
| Seasonal variation on preeclampsia is correlated with sunlight intensity - June 2010 | | 28 Oct, 2021 |
| No Preeclampsia during pregnancy if more than 60 ng of vitamin D – RCT July 2013 | | 02 Jul, 2021 |
| Child 49 percent higher risk of being overweight if preeclampsia during pregnancy – Sept 2017 | | 02 Jul, 2021 |
| Hypertension in pregnancy (preeclampsia) more frequent in winter (low vitamin D) – Jan 2015 | | 22 Jun, 2021 |
| Preeclampsia (hypertension while pregnant) varies with season (O.R. 0.57) – June 2021 | | 22 Jun, 2021 |
| Preeclampsia (low vitamin D) doubles the risk of later cardiovascular problems – Sept 2019 | | 07 Oct, 2019 |
| Preeclampsia 11X more likely if poor Vitamin D Binding Protein (South Africa) - Sept 2019 | | 29 Sep, 2019 |
| Vitamin D cuts pregnancy risks in half – low birth weight, preeclampsia, gestational diabetes – Cochrane July 2019 | | 12 Sep, 2019 |
| Preeclampsia 2.7 X less likely if 50,000 IU of Vitamin D every 2 weeks – meta-analysis Sept 2019 | | 06 Sep, 2019 |
| Preeclampsia 2X more likely if poor Vitamin D Receptor – April 2019 | | 23 Apr, 2019 |
| Preeclampsia 3X more likely if low vitamin D at 25th week – April 2012 | | 20 Feb, 2019 |
| Preeclampsia 2.7X more frequent if low vitamin D – meta-analysis Sept 2013 | | 20 Feb, 2019 |
| Preeclampsia rate cut in half by high level of vitamin D – meta-analysis March 2014 | | 20 Feb, 2019 |
| Preeclampsia risk reduced 7X by 4,000 IU of Vitamin D daily – RCT March 2018 | | 20 Feb, 2019 |
| Preeclampsia of offspring cut in half if mother who smoked had vitamin D fortified margarine – Dec 2017 | | 20 Feb, 2019 |
| Preeclampsia is not reduced by vitamin D (if you ignore vitamin D level, dose size, frequency and duration) – July 2017 | | 20 Feb, 2019 |
| Preeclampsia inversely proportional to serum Magnesium – Oct 2014 | | 20 Feb, 2019 |
| Preeclampsia risk reduced by higher levels of vitamin D (VDAART 4,400 IU) - RCT Nov 2016 | | 20 Feb, 2019 |
| Preeclampsia reduced 1.7 X by aspirin (but reduced 7 X by Vitamin D) – Feb 2018 | | 22 Aug, 2018 |
| Vitamin D Receptor is associated with preeclampsia, gestational diabetes and preterm birth – Nov 2017 | | 10 Nov, 2017 |
| Preeclampsia reduced 2X by Vitamin D, by 5X if also add Calcium – meta-analysis Oct 2017 | | 24 Oct, 2017 |
| Preeclampsia risk reduced 60 percent if supplement with Vitamin D (they ignored dose size) – meta-analysis Sept 2017 | | 08 Sep, 2017 |
| Risk of preeclampsia might be cut in half if take an amount of Vitamin D – meta-analysis Sept 2017 | | 04 Sep, 2017 |
| Preeclampsia reoccurred half as often if get 50,000 IU of Vitamin D every two weeks – Aug 2017 | | 22 Aug, 2017 |
| Dark-skined mothers: preeclampsia 12X more likely if gestational hypertension – May 2014 | | 17 Aug, 2017 |
| Preeclampsia recurrence reduced 2 X by 50,000 IU of vitamin D every two weeks – RCT July 2017 | | 17 Jul, 2017 |
| Preeclampsia doubles the risk of mild cognitive impairment – July 2017 | | 05 Jul, 2017 |
| Preeclampsia changes to Vitamin D Binding Protein reduces Vitamin D in placenta – Dec 2016 | | 18 Dec, 2016 |
| Preeclampsia 3.5 times more likely if low vitamin D (affects 348 Vit. D genes) – RCT Nov 2016 | | 15 Nov, 2016 |
| Vitamin D supplementation of all pregnant women (in UK) would be cost effective – just considering preeclampsia – March 2016 | | 09 Jul, 2016 |
| Preeclampsia 4X less likely if vitamin D levels increased by 8 ng during pregnancy – March 2016 | | 05 Apr, 2016 |
| Preeclampsia 2X more likely if low vitamin D, unless adjust for vitamin D factors (BMI, skin color) – Dec 2015 | | 21 Jan, 2016 |
| 2X more preeclampsia when vitamin D less than 30 ng, etc. - meta-analysis March 2013 | | 16 Jan, 2016 |
| Preeclampsia and eclampsia associated with lower vitamin D, etc. – Sept 2015 | | 13 Nov, 2015 |
| Preeclampsia increased risk of Congenital Heart Defects by 60 percent (vitamin D not mentioned) Oct 2015 | | 28 Oct, 2015 |
| 5,000 IU Vitamin D was not enough to reduce preeclampsia but did help future infant – RCT April 2014 | | 15 Oct, 2015 |
| Preeclampsia reduced by Vitamin D (50,000 IU bi-weekly) and Calcium – Oct 2015 | | 15 Oct, 2015 |
| Why preeclampsia is 5X more likely if vitamin D insufficient – Jan 2015 | | 06 Sep, 2015 |
| Preeclampsia – hypothesis as to why vitamin D helps – June 2015 | | 09 Jun, 2015 |
| Preeclampsia was prevented or treated by vitamin D in majority of studies – review May 2015 | | 26 May, 2015 |
| Women with low vitamin D 4X more likely to have preeclampsia in pregnancy – Nov 2010 | | 28 Mar, 2015 |
| 7X increase in early severe preeclampsia associated with low vitamin D – Aug 2012 | | 20 Mar, 2015 |
Title change made July 2021 caused the visitor count to reset.
There have actually been
2430
visitors to this page since it was originally made




This page is in the following categories (# of items in each category)