Meta-analysis of Vitamin D Sufficiency for Improving Survival of Patients with Breast Cancer
Anticancer Research March 2014 vol. 34 no. 3 1163-1166
SHARIF B. MOHR 1⇑, EDWARD D. GORHAM 1,2, JUNE KIM 1, HEATHER HOFFLICH 2 and CEDRIC F. GARLAND 1,2
1 Scientific Programs Office, Code 01A, Naval Health Research Center, San Diego, CA, U.S.A.
2 Department of Family and Preventive Medicine 0620, University of California, San Diego, La Jolla, CA, U.S.A.
Correspondence to: Sharif Mohr, Scientific Programs Office, Code 01A, Naval Health Research Center, San Diego, CA 92106, U.S.A. sbmohr75 at gmail.com
Background/Aim: To determine whether higher serum 25-hydroxyvitamin D [25(OH)D] at diagnosis is associated with longer survival of patients with breast cancer.
Materials and Methods: A meta-analysis was performed of five studies of the relationship between 25(OH)D and mortality from breast cancer. A pooled hazard ratio was calculated using a random-effects model. The Der Simonian-Laird test was used to assess homogeneity.
Results: Higher serum concentrations of 25(OH)D were associated with lower case-fatality rates after diagnosis of breast cancer. Specifically, patients in the highest quintile of 25(OH)D had approximately half the death rate from breast cancer as those in the lowest.
Conclusion: High serum 25(OH)D was associated with lower mortality from breast cancer. Serum 25(OH)D in all patients with breast cancer should be restored to the normal range (30-80 ng/ml), with appropriate monitoring. Clinical or field studies should be initiated to confirm that this association was not due to reverse causation.
---
PDF is attached at the bottom of this page
Studies in all 3 categories:
Breast Cancer, Meta-analysis and Mortality
---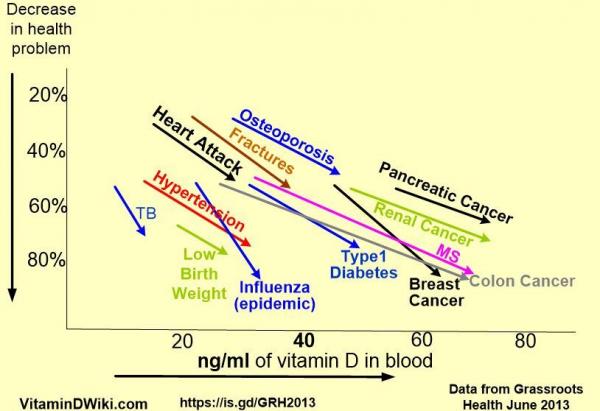 All Breast Cancer Meta-analysis studies in VitaminDWiki
Studies in all 3 categories:
Cancer, Meta-analysis and Mortality