Primary Vitamin D Target Genes Allow a Categorization of Possible Benefits of Vitamin D3 Supplementation
PLOS ONE
Carsten Carlberg carsten.carlberg at uef.fi, Sabine Seuter, Vanessa D. F. de Mello, Ursula Schwab, Sari Voutilainen, Kari Pulkki, Tarja Nurmi, Jyrki Virtanen, Tomi-Pekka Tuomainen, Matti Uusitupa
Vitamin D deficiency has been associated with an increased risk of developing a number of diseases. Here we investigated samples from 71 pre-diabetic individuals of the VitDmet study, a 5-month high dose vitamin D3 intervention trial during Finnish winter, for their changes in serum 25-hydroxyvitamin D3 (25(OH)D3) concentrations and the expression of primary vitamin D target genes in peripheral blood mononuclear cells and adipose tissue.
A negative correlation between serum concentrations of parathyroid hormone and 25(OH)D3 suggested an overall normal physiological vitamin D response among the participants. The genes CD14 and thrombomodulin (THBD) are up-regulated primary vitamin D targets and showed to be suitable gene expression markers for vitamin D signaling in both primary tissues. However, in a ranking of the samples concerning their expected response to vitamin D only the top half showed a positive correlation between the changes of CD14 or THBD mRNA and serum 25(OH)D3 concentrations. Interestingly, this categorization allows unmasking a negative correlation between changes in serum concentrations of 25(OH)D3 and the inflammation marker interleukin 6. We propose the genes CD14 and THBD as transcriptomic biomarkers, from which the effects of a vitamin D3 supplementation can be evaluated.
These biomarkers allow the classification of subjects into those, who might benefit from a vitamin D3 supplementation, and others who do not.
Increased CD14 associated with increase vitamin D response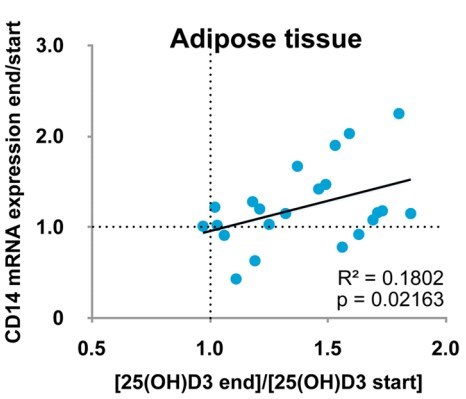 ---
PDF is attached at the bottom of this page
See also VitaminDWiki